It was a pleasant surprise for everybody to see Alex Oxlade-Chamberlain start against France and I can only see him getting better and better in this tournament.
He had a nearly game, if you like, on Monday. He nearly beat two players and broke through. He had a couple of great passes that nearly came off. There were times when his crosses nearly landed on an England head. He was very close and I think he has a really bright future.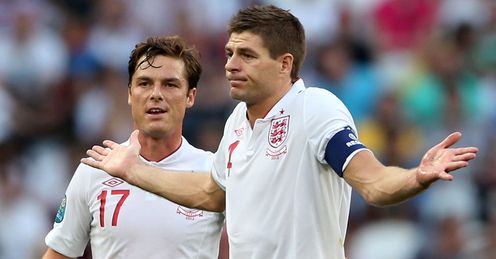 I'm really happy that Roy Hodgson played him because it gives us a completely different approach, but at times you have to let him go. There's no point making him play defensively all the time; we need him to be the player who can stretch the play.
We need to be able to give him the ball and let him take us 30 or 40 yards up the pitch. That will give the likes of Steven Gerrard, Scott Parker and John Terry a bit of a break because he's a devastating player with devastating pace. We need to make the most of the ability he has.
Zlatan Ibrahimovic is the only Sweden player that would get into our team - you sense that their nation's hopes rest on him - so let's not be afraid and show what we're about.
Jamie Redknapp
Quotes of the week
I would definitely start him again against Sweden and a lot will depend on how he does in that game. If he looks like a world beater then he'll probably keep his place for the rest of the competition.
But we have to remember this is his first major tournament and it will be mentally and physically demanding for him. If he looks a little lethargic I can see Ashley Young moving to the left-hand side for the final group game with Wayne Rooney coming into the role behind Danny Welbeck.
As long as everything goes well fitness-wise, that's the only change I can see in the next two games. There isn't really much else Hodgson can do and I think we'll see the same XI against Sweden.
Too much for midfield?
There is a worry for Hodgson in the centre of midfield because I felt the workload for Gerrard and Parker was far too heavy against France.
To play with two in midfield in international football is very, very difficult. They worked so hard and at times I thought they did more than they actually had to do. As a former midfield player myself, I felt for them because it was two against three and every time they closed down one French midfielder they'd just pop it off to the next one. There was a lot of work for those players.
That's where it would have been nice to have someone like Gareth Barry or Frank Lampard to take the load off them because Gerrard and Parker looked physically drained by the end of the match.
But I don't see what else Hodgson can do. Phil Jones can't get into the Manchester United midfield, so it's a big ask for him to go and play there for England; and Jordan Henderson is getting some great experience, but I don't think he's close to Gerrard and Parker at the moment.
In an ideal world we'll have the game wrapped up after 70 minutes and we can take one of them off, but I don't think that will be the case. Hodgson would bite your hand off now if you offered him a 1-0 win.
I think those players just need to be organised and they need to be ready. If Parker and Gerrard have to last the 90 minutes then so be it; we'll ask the questions afterwards.
At the moment it's a case of needs must because we haven't got the personnel.
Getting goals
People are asking if there are goals in this team, but we haven't seen enough goals from England teams for a long time in major tournaments.
We only scored three goals at the last World Cup - shared between Gerrard, Jermain Defoe and Matthew Upson - and while I wouldn't deny that Rooney is a world-class player, even he hasn't scored at a major tournament since Euro 2004.
So it's a case of everybody chipping in. If it comes to Joleon Lescott or John Terry scoring from a set-piece then let's not complain about that. We are a physically strong side and we can be very good in those situations.
I like Welbeck up front too. I've said all along that he is our best option in that position. I prefer him to Andy Carroll because he has more about his play and midfielders can link up with him or play off him. He's a very good player and I think he'll do a job for us during this tournament. He is 11/2 to open the scoring with Sky Bet.
As for Rooney, I imagine he is appreciating what it's like to be a footballer more than ever. He's probably sat on the bench dying to get on and get amongst it.
Things have always come very easy for Wayne; he's always been guaranteed to be picked, but he's had to sit and watch everybody else so far.
I hope when he comes back that he uses that as a real positive.
Time to show our style
I don't think Ukraine's win over Sweden was the ideal result for us. It has made Friday night a must-win game and if we lose it I think we'll have to accept an early exit.
But on the other hand, it's also a game that Sweden need to win or else they could well be going home. Normally they would look to soak up the pressure and hit us on the counter-attack, but they will need to go forward. That means we can counter them - and that should suit us because we have pace up front and in the wide areas.
Hodgson is very good at setting teams up to not get beat, but when he makes his team talk against Sweden then yes, they have to be organised, but also they can't forget to play a bit. Zlatan Ibrahimovic is the only Sweden player that would get into our team - you sense that their nation's hopes rest on him - so let's not be afraid and show what we're about.
No disrespect to Anders Svensson, but I was with him at Southampton a long time ago. He was a nice lad and a good player, but he was a sub for Southampton and he wouldn't get near an English Premier League team now. Yet he came on for 30 minutes in Sweden's opening game of Euro 2012!
England's team are all a level above that and that's why Hodgson must stress to his players that they need to play with belief. Tactics are one thing, but making players believe is another - and that's probably more important than anything else.
Under Fabio Capello it couldn't have been much worse. There was a guy who couldn't speak English, but now we have a manager who is engaging in dialogue with his players. Football isn't rocket science; you need to talk to the players, look them in the eye and tell them when they do well. A manager's players are an extension of himself, so he has to involve himself and from what I can see, Hodgson looks like he's done that.
We're better than them, we have more options than they have and there's nothing to be afraid of. I'm not being patriotic or trying to claim that we're better than we are, but despite all of our problems, we have to believe we can go and beat Sweden.
Jamie's judgment
A draw would be a nightmare for us. We've got to go and win this game and I fancy us to win 2-1. They've got a goal in them, but I think we're a better team and we'll win this game. We can then go and play the Ukraine full of confidence with Rooney back in the side.
England to beat Sweden 2-1 is 15/2 with Sky Bet.
Comments (11)
Kalle Ivarsson (Tottenham Hotspur fan) says...
It's funny how you Englishmen always underestimate Sweden. It would not surprise me if Anders Svensson is in the first line-up tonight. With all due respect, but England is not Ukraine.. Neither when it comes to fighting spirit or the number of fans .. ;)
Posted 09:32 15th June 2012
John Donnachie (Liverpool fan) says...
I find it interesting how most pundits and Gerrard view France as the top team in this group. The French are certainly a big improvement since the WC but had one of the easier routes via qualifying. The Ukraine meanwhile showed just as much technical ability and willingness to attack in their win over Sweden as France did against England. Also, Sweden beat Croatia 3-1 in Zagreb albeit in a friendly just before these championships. That shows they've got a bit of firepower about them and with their record against England they are sure to be no pushovers. Above alI I think the Ukraine on their own patch instilled with a desire to perform as hosts are more likely to be the biggest hurdle-even if Rooney returns.
Posted 08:01 15th June 2012
Kop Prophet (Liverpool fan) says...
Joseph - please try to understand that Michael Carrick REFUSED to be picked unless the team revolved around him, REFUSED to be on the standby list, and unlike Henderson CHOSE to go on holiday. Don't even start on Scholes - he turned his back on his country during his prime. FORGET them and support the players that are willing!
Posted 05:09 15th June 2012
Vinny Vinny (Tottenham Hotspur fan) says...
"Zlatan Ibrahimovic- you sense that their nation's hopes rest on him" kind of like England with Rooney then!?! i find it a bit arrogant and annoying how pundits come out with oh its sweden we have too much quality..this from a team that's been under performing for the last 40+years
Posted 03:19 15th June 2012
Andrew Barker (Manchester United fan) says...
I think we have made a mistake by not selecting Carrick as he would have slotted in nicely alongside Parker and Gerrard. However, I think the best option now would be to play Phil Jones alongside Parker and push Gerrard slightly further forward, with Young on the left, Welbeck up top and any one of Chamberlain, Walcott or Milner on the right.
Posted 02:49 15th June 2012
Martin Fields (Stoke City fan) says...
I think we will win tonight but a draw is not a "nightmare" as we would go through, maybe even as group winners, with a draw against Sweden and a win against Ukraine.
Posted 01:58 15th June 2012
Vik Deen (Manchester United fan) says...
have to admit i agree with most of this, normally england are a bit over hyped but in this case quite frankly man for man we shud be too good for sweden. agree with joseph about the carrick henderson debate, carrick wud pass henderson off the park and parker/gerrard already give us enough steel/work rate in the centre. getting a little tired of this ox-laide chamberlain hype its getting pretty silly now. yes he has the confidence to run at players and yes he has control with the ball but he's 18 and hardly a young messi or ronaldo. he's wasteful with the ball and makes poor decisions often trying to hard (probably because of the expectation). the same thing happend with walcott and he collapsed under the expectation....give the boy a chance to develop properly. i hope we go more offensive against sweden with 2 upfront and young out on the left, chamberlain on the bench. let gerrard play with more freedom and welbeck link the play.
Posted 00:21 15th June 2012
Doc . (Aston Villa fan) says...
I like Jamie and find his comments concise an he usually doesnt pull punches, but to say ibrahimovich is the only sweden player who would get in englands team and that to a man england are the "better" side is fairly rose tinted. First of all seb larsson will be the best dead ball technician on the park friday night even counting ashley young and sure england have got "pace", "determination" and players like milner will put a shift in but where is their creativity going to come from, where are they going to carve chances from? Bottom line is i think most people can see sweden scoring, even if that is only based on them having ibrahimovich but can they say the same about england...who half the time lets be honest do not look like scoring.
Posted 23:26 14th June 2012
Matt Addams (Manchester United fan) says...
Joseph, Hodgson was going to pick Carrick reportedly but Carrick himself turned the call down citing he wanted to have a break from football after a strenuous football season. Completely agree with Jamie's points as per usual, such a brilliant journalist/pundit and I agree they do look like a side (Sweden) with a goal in them however, after the display that the England defence showed put up against a formidable French attack last time out, I have to say, I do not see the Swedish getting through the wall that is the English defence.
Posted 23:07 14th June 2012
Joseph Merrington (Manchester United fan) says...
To be fair to Rooney- England have only been involved in two championships since 2004. 2006 was a wash out for him, thanks to his broken foot, whilst 2010 was a disgrace. People seem to forget qualifiers are still part of the competition. On another note the decision to pick Henderson over Carrick was shown up against France. With Carrick in the starting line up, alongside Parker, Gerrard more advanced in Young's role and Young replacing Milner- we would have kept the ball better, and looked far more dangerous and solid.
Posted 13:55 14th June 2012
Robin Johansson (Arsenal fan) says...
" but despite all of our problems, we have to believe we can go and beat Sweden." Do you guys realle need to do that? I mean against little Sweden? Shouldnt be a problem right? Oh now i remember, you have just beating us 1 time in a friendly in over 40 years..
Posted 13:38 14th June 2012