England's win over Sweden has papered over a few cracks.
Sweden's excellent set-plays are not something we are likely to defend against again in this tournament, but that 20-25 minute phase in the second half when Olof Mellberg scored their goals was very worrying from an England point of view.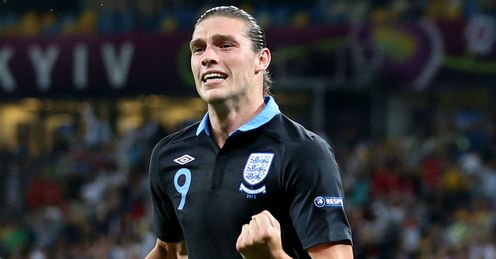 Erik Hamrén's team could have scored more than twice and you feared it might be like Germany in the last World Cup because we completely lost our shape. Sweden are not great but they made us look average at times, and if we play like that against Spain or Germany we could be brushed away.
The senior players like Steven Gerrard, John Terry and Ashley Cole, who have got a lorry-load of caps, need to turn around and say: 'Right, we're having a bad spell but if we settle down we'll get back in this game and create chances'. That happened eventually but we cannot have what happened last night in another game.
Sweden are not great but they made us look average at times, and if we play like that against Spain or Germany we could be brushed away.
Paul Merson
Quotes of the week
The defence wasn't great at times and there were a lot of last-ditch efforts which you don't really want, but Gerrard and Scott Parker pushed the team on from midfield, especially Parker, who looked out on his feet first half but was outstanding in the second.
And fair play to the lads for fighting back. Theo Walcott came on at 2-1 down and it was completely different; we had a go, we attacked and if we were more clinical at the end we could have won four or five.
Walcott is a must to start now. People will say ask whether he can do it from the first whistle but what he has is sheer speed and that frightens defenders at the highest level.
James Milner started off brightly but then he faded and Walcott showed the effect of pace, which is priceless. You need a bit more than Milner's hard work to go deep into tournaments and Walcott has it.
Sublime
The big problem Roy Hodgson has is who of Danny Welbeck and Andy Carroll do you leave out, because Wayne Rooney has to play.
Carroll, whose headed goal was sublime, helped cope with Sweden's big players at both ends of the pitch and later in the game he made two clinical headers out of England's box, while Welbeck also scored with a brilliant finish.
Carroll doesn't deserve to be dropped - but I think he will be. We will probably play on the counter against Ukraine and I would expect Roy to go with Welbeck's pace and Rooney in the hole behind him.
Rooney will hit passes for people to run onto and Welbeck is better at that than Carroll, plus Rooney will drop off into pockets and give Ukraine something to think about
We are going into the final group game with our fate in our own hands, and I think that is all you can ask for as a player, manager or a fan.
You could argue that Ukraine are the weakest team in the group, but they played better than France in the first half of Friday's game and caused them more problems than we did; they just didn't score when they were dominant.
We will be 4-4-2, very difficult to beat and play from a shape. Ukraine have to win and will come at England and we can sit back like we did against France.
It's not a forgone conclusion but I don't see us not getting a result, and we really should be looking for a victory and try to win the group.
MERSON'S MARK: B+
We were pretty good for the majority of the match, but that period in the second half really worried me and if we play like that against better teams we will be out of the competition. The fightback, though, was different class.
Comments (13)
Glory Hunter (Derby County fan) says...
Carroll took his goal really well but I hope he starts on the bench. With him on field the team plays more long ball than usual, giving away possession far too much. At this level, possession is everything. Play Rooney instead of him and we should have better possession. Then again we sit so far back it might not make much difference.. I'm not sure why we revert to parking the bus.. I can't decide whether it's to compensate for JT's pace or just a general lack of confidence.
Posted 11:24 19th June 2012
Adrian Page (Charlton Athletic fan) says...
Chris Sands do you even know who Welbeck is? His constant movement and link up play was fantastic for England. The first 3 times we played it up to the front man all went to Carroll and everytime he was blown up,harshly in England but regular elsewhere, for a foul after that we looked for Welbeck's touch and movement. Carroll is another Walcott not a great footballer but his size, Walcott's pace, mean that if we really need a goal late on bring him on. The difference for me is against Spain or Germany Carroll wouldn't have been able to wander across the centre half and get a free header for the goal, whereas Welbeck's goal couldn't be defended
Posted 15:01 18th June 2012
Peter Higgins (Coventry City fan) says...
Come On England!! 3 more points tomorrow night and we are there. After that it does not matter who follows in the Quarters as we are capable of beating them all. Amazing , what a difference it makes when the press stay of their backs because we are only there to make up the numbers, the same people who gave Chelsea no chance." I like them odds when its coming from them". Minimum Semis then in a one off match who knows!!
Posted 14:27 18th June 2012
Mike Connolly (Everton fan) says...
Walcott should be in consideration but not if he is not FULLY fit. I am a blue and have been a huge critic of how Carroll actually headers the ball. He seems to attack it fantastically but then just put his head in the way of the ball. That changed greatly towards the end of the season and his goal was just reward for his efforts. I think, despite his goal which was great, Welbeck is vastly over-rated and is in the squad cos he links up well with Rooney at club level. The Ukraine team will not fear Welbeck as much as Carroll. If England dont win the group is id down to poor finishing and play in the final third. Against France they scored and took their foot off the gas but still could have used the ball better. Johnson has to be replaced, he has been our worst player of the tournament so far. Apart from one intervention in both games I cant think of anything he has done apart from be at fault (at least in part) for each goal. He consistently stands off a winger when he is preparing to cross and ball and cant generally defend, he is very fortunate that Smalling got injured. Terry man of the tournament so dar, and that hurts for me to say
Posted 13:22 18th June 2012
Mahfuz Rahman (Liverpool fan) says...
Paul Merson has got one thing completely wrong; Walcott to start? - Walcott is most effective when he comes off from the bench when all legs have been worn out. You need a hard worker like Milner from the start to ensure that England settle in. Also Walcott is too inconsistant for my liking especially in tournament football where too many sloppy mistakes can cost heavily. He would be a great asset to have up our sleeves on the bench. The win would be nice but main priority is to ensure that we qualify which only requires us not to looose; must i remind you 12 years ago after beating Germany 1-0 all we needed was a draw against 'inferior opposition' Romania. We ended up loosing that game. Thankfully Roy Hodgson is more tactical astute; than to ever think about starting with Walcott. I see a compact England absorbing the Ukraine pressure and when the home nations legs are tired and ideas worn out; well then throw on a Walcott and beleive me he'll cause them nightmares.
Posted 10:37 18th June 2012
Ivan Curic (Manchester United fan) says...
Rooney is the best English player and the most creative so he should play and English should lay down on him and show him some respect.You're not Spain or Argentina so you can't just drop a player like that because he's miles better than any other you've got.And stop giving him the stick,the whole national side is underachieving back from 1966. not just one player.
Posted 08:02 18th June 2012
Chris Sands (Crystal Palace fan) says...
Sorry, but lets not get over hyped on certain individuals, but apart from the great finish at the end, tell me what Welbeck did all game apart from mis-control the ball? I like Danny, but he was looking leggy whilst Carroll is looking up for it and has hit form at the right time, give it to big Andy, after all the stick he has had, he deserves this chance.
Posted 00:09 18th June 2012
Grant Smith (Leeds United fan) says...
In my opinion Glen Johnson was at fault for both goals against Sweden. The first one can be said it was an unlucky deflection off of him but he was well behind the defensive line playing Mellberg onside and you can't tell me Johnson hasn't got a left foot strong enough to clear that ball off the line afterwards, seen him score from range with it plenty of times. The second goal was a free header and Mellberg was Johnsons man. Maybe we should sure up the defence by playing Jones at right back to be safer that we don't lose? Rooney does have to play!
Posted 17:25 17th June 2012
Martin Boonham (Manchester United fan) says...
In the hole I believe you mean Mr Merson, although in fairness we do know that rooney will cover the whole pitch unlike Carroll
Posted 10:53 17th June 2012
Johnjohn Mackie (West Ham United fan) says...
Why does rooney have to start ,should we leave him as sub and bring him on if needed, after all the team we have can build on what they have done, it cant all depend one man.
Posted 22:52 16th June 2012
Phil Muldoon (West Ham United fan) says...
Spot on Mers. Last night's performance merely "papered over the cracks" that England got away with it last night. I thought Mellberg had retired years ago, and he made England's defence look leaden footed. But for Sweden,s keeper making a complete hash for Walcott's goal, I think Sweden may have went on score a third.
Posted 17:54 16th June 2012
Paul Jawando (Manchester United fan) says...
For Sweden`s two second half goals we were guilty of simple ball watching, our defence was flat-footed and no England players wanted to attack the ball. Overall problem we have is experience, we have a new coach who has only had a brief time with the team we need to avoid heaping pressure on them, the longer we stay in the Comp` the better we will look on the pitch I think. Against Ukraine I would play Wellbeck and Rooney simply because they know each others game from playing together at Old Trafford.
Posted 17:10 16th June 2012
Baz Chandler (Liverpool fan) says...
Issues with last nights performance: 1 - Zlatan showed up JT's lack of pace, and Zlatan isn't THAT quick anyway. 2 - Lack of movement throughout the whole team. a Lot of teams in the EPL play pass & move to create space (see MU, MC, Arsenal, Chelsea, Spurs, LFC, Fulham, Swansea) but England were far too static last night. 3 - Scott Parker is lazy. He can win the ball when it's nearby, but doesn't move and lets others (noticeably Gerrard) do all the running for him. 4 - There is no concentration. Never mind the rubbish defending of set plays, there was far too many lazy passes that went straight to the opposition (Scott Parker and Ashley Young more than most). 5 - Where was the pace? The EPL is played at 1000 mph, but last night was pedestrian. The reason we've been so (reasonably) successful in the Champions League is mostly due to the pace at which the English clubs play the game. Ok, a lot of the players in the EPL are playing in the Euros, but the "foreign" national teams set themselves up to play in deliberate ways (eg. Spain play more like Barca than Chelsea - Torres - or Liverpool - formally home to Torres, Arbeloa & Alonso), so why aren't we playing to our strengths? The above is what I took from last night and, although I believe we can/should beat Ukraine, I can't see us getting any further than the quarter finals unless certain players start playing up to their reputations instead of believing their own hype.
Posted 16:42 16th June 2012