Guillem Balague will be bringing us the inside track from the 2012 European Championships in the Ukraine and Poland with his tournament diary.
The Spaniard will be watching his countrymen defend their title of Euro kings under Vicente Del Bosque and will bring Sky Sports the exclusive lowdown on his experiences at this year's big football event.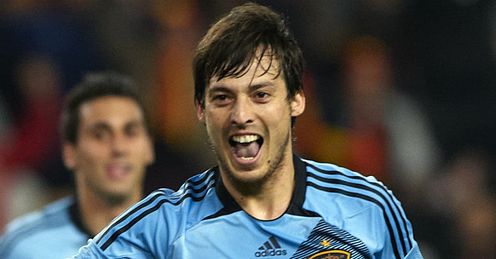 In his second entry, Guillem looks at the pressure on Spain to replicate their wins at Euro 2008 and the 2010 World Cup, as well as the strength of Del Bosque's squad...
Part Two
Over the last few days, some key players from the Spain team have been coming together to remind their fellow countrymen, especially the headline writers, that this group has more than paid off the historical debt, and they feel perhaps now it's time to cut them some slack.
Two successful international tournaments in a row means the Spanish might deserve to be able to relax and enjoy the ride, rather than being weighed down by demand and expectation. If glory comes, it comes.
However, the co-ordinated effort by the players to reduce the pressure on them will fail - and should fail. In my opinion, it would be hugely disappointing, and a betrayal of those players' talents, if Spain were to aim for and accept anything other than a tournament win.
If they cannot accept the pressure that comes with the territory, of existing in that solitary place at the top of the tree where everybody wants to beat you and emulate you, then there is something wrong.
The absences of David Villa and Carles Puyol serve to remind us of their importance (Puyol has been invited to accompany the team for part of the tournament as a guest) and also highlights our weaknesses at the back (Alvaro Arbeloa, Sergio Ramos, Gerard Piqué and Jordi Alba don't sound bad as a combo but unfortunately there are no replacements of similar quality or experience).
And up front (David Silva has scored more goals than the three strikers, Fernando Llorente, Fernando Torres and Alvaro Negredo, managed between them during the qualifiers). The solution? Keep the ball as far away from Iker Casillas and the goal as possible - and perhaps use a false striker in Silva, the most in form player.
Xavi is suffering with injuries, while Sergio Busquets and Xabi Alonso will have to improve their synchronisation and understanding. On the bright side, the alternatives on the bench are perhaps more complete than ever.
Whatever the injury situation or recent form may say: the fact is, we've got used to winning - we are the reigning world and European champions so learn to live with it; because like it or not guys, Spain expects you to deliver.
Guillem Balague's Euro Diary will become, along with added entries and interviews, an eBook at the end of the tournament.
For more info, check www.guillembalague.com