There's just one game to go at Euro 2012 and if you'd asked me before the tournament, I certainly didn't think Italy would still be involved at this stage.
With all the trouble they were experiencing in their domestic game, a poor run of form leading into the tournament and a group of players who were not being heralded as potential European champions, I didn't give them a chance.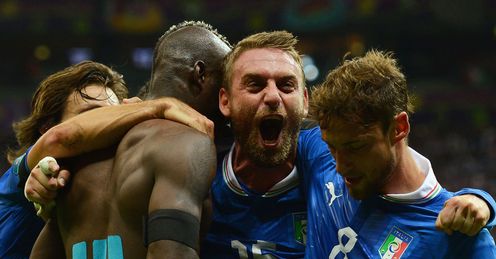 But against Germany in their semi-final, Cesare Prandelli's men played in a manner I don't think anybody really thought they were capable of producing at the start of the tournament. They could have scored six against the Germans who, up until that point, had cruised through the competition.
Germany had been playing terrific football and had enjoyed a couple of extra days' rest, while Italy, who had extra time and penalties with England in their legs, should have been out on their feet. But they weren't.
Cesare Prandelli's men played in a manner I don't think anybody really thought they were capable of producing at the start of the tournament.
Jeff Stelling
Quotes of the week
They wobbled at the start but once they began to see a bit of the ball they got a grip on the midfield. Their 2-1 win was a thorough demolition job and right through the team, from Gianluigi Buffon to Mario Balotelli, the Azzurri were fantastic.
I criticised the selection of Balotelli in a previous column and I have to say, when he took off his shirt after scoring last night and got booked I thought: 'He's not going to last the 90 minutes'. As it turns out he didn't - but because of a knock rather than a second yellow.
There's no denying his finishes for his two goals were fantastic, and with three goals in the tournament now, he'll be eyeing the golden boot. But the question for me is always, will he do it in the next game? Will he keep his cool against Spain?
He showed on Thursday what he could do and, of course, he's going to start in the final - but he's always a risk. That's not just my opinion. If you ask Roberto Mancini, his biggest ally, he'll tell you the same thing. Every time he goes on the field he knows it's a risk. We shall see on Sunday if it was one worth taking.
Spain disappoint
I was far less impressed with Spain. I thought they were rotten in their semi-final with Portugal.
Portugal were the better side in the game, at least for 90 minutes, and if they had a half-decent striker rather than Hugo Almeida they surely would have won the game. As it was, they spurned a host of chances and then disgracefully left Cristiano Ronaldo to take the fifth penalty in the shootout!
I know Ronaldo has come out and said it was the manager who told him to take the fifth penalty, but you can't help feeling the Real Madrid man thought whoever would take the final penalty would have the chance to be the hero and that he wanted the headlines for himself.
I was standing with some Portuguese fans during the game and they knew Bruno Alves wasn't happy taking a penalty, so it was a shame Ronaldo opted to wait, especially as Nani stepped up and took his penalty so professionally.
During the game, though, I thought Spain were incredibly poor. Their coach makes bewildering decisions. He goes with this 4-6-0 system, then, when he does decide to play a striker, instead of playing Fernando Torres, who looked terrific against Ireland, or Fernando Llorente, who's had a fantastic season, he goes with Alvaro Negredo, who didn't look like he could trap a bag of Spanish cement. It was a very strange decision.
Encouragement
They've got to the final so these criticisms may sound churlish, but this certainly isn't the Spain we've known for the last few years.
Italy can give Spain some real problems in the final, especially with players such as Balotelli, Antonio Cassano and Andrea Pirlo in their side.
Spain haven't had that many questions asked of them so far in this tournament but when Portugal attacked them I felt, if Portugal had a better finisher in their side, we would be watching a different team in the final. Italy will take encouragement from that.
I didn't give Italy a hope before the tournament, but I'd like to see Italy win it now. In the past Italian sides have bored their opponents to death, but this one is different.
This Italian side excites people - and it's been a while since there's been an Italian side like that. Hopefully they'll get their rewards. I'll go 2-1 to Italy.
Comments (5)
Lloyd Longley (Manchester City fan) says...
To be honest i think only a few of people would have tipped Italy to be at the finals. And i thought it was gonna be another Spain - Germany final. but Italy look the stronger side and they will be taking that enthusiasm from the Germany win. And i can really Italy taking the game to Spain. However Spain have been in my opinion terrible. From the standards on how Spain operate. Of course they keep the ball but this year they have just lack the vision and imagination from a Spanish side we've come to known. And i think they were very lucky to make it to the final because Portugal were causing problems. In the end i see Italy winning but this could go anyway.
Posted 18:12 1st July 2012
John Smith (Manchester United fan) says...
Finally someone else who sees spain for what they actually have been this tournament!! Poor and overrated! Previous years they were unreal and a pleasure to watch, this year... well theyve been poor, boring and (oddly) look like they lack imagination
Posted 11:30 1st July 2012
Mark Djuric (Swansea City fan) says...
Both sides play great football, and whoever wins it in the end will fully deserve it, but I'm backing Italy for this one. The pressure on Spain to win three tournaments in a row may become too much of a burden.
Posted 23:18 30th June 2012
Pratip Polley (Barcelona fan) says...
How Can You Blame Spain? They Had Two Less days To rest Their Bodies,the only thing matters is that they won and you should criticize your own country first before criticizing others,your so called "Golden Generation" took only 6 shots against 31 of Italy.Maybe you should stop taking 'Good Points" of your misery performance.
Posted 09:22 30th June 2012
Killian Donnellan (Newcastle United fan) says...
Well if Ronaldo is a glory hunter for being asked to take the last penalty, then that makes Fabregas a glory hunter for being asked to take the last penalty for Spain. I'm Balotelli is performing, wiping the smirk off pundits faces
Posted 16:21 29th June 2012