Imagine, Qatar 2022 (yes it still seems slightly ridiculous), England contesting a World Cup Final at the Doha National Stadium against the hosts in front of 100,000 fans (supporters, not the cooling devices).
England's team, managed by Gary Neville and boosted by the youthful impudence of three brilliant teenagers, overcome the air conditioning with a possession based game that sees them to victory.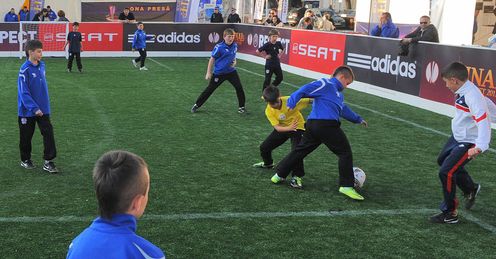 66 years of hurt since '66 are over.
Yes, it does all sound rather far fetched, doesn't it?
And no, not just the part about a World Cup being played in the desert.
But this is the dream in the corridors of power at the Football Association and the Premier League; they may not agree on much but it would be in both their interests to see a successful England team.
From next season local FA's will be asked to phase in a new youth development charter aimed at improving the quality of young players.
David Jones
Quotes of the week
It's that ambition which has led to a major overhaul of our game's youth structure from bottom to top, and from next season local FA's will be asked to phase in a new youth development charter aimed at improving the quality of young players at our disposal.
Smaller pitches, smaller goals, smaller sized teams, more touches, more game time, less competition, more fun.
Technique
Gone will be the days of twenty 11-year-olds chasing the ball around a full-size pitch with goalkeepers who can't get near to touching the crossbar.
The progression from five-a-side through to seven, nine and 11-a-side will be gradual and as the kids grow so will the pitches and the goals.
By the time young players reach their teenage years, so the idea goes, all will be comfortable in possession and possess excellent technique.
From there our top academies, enriched by the Premier League's all singing and all dancing Elite Player Performance Plan, will have their pick of masses of more talented youngsters ready for their final nurturing before becoming professional players.
And in 10 years time, when all these improvements bear fruit, the England team will be the envy of the world.
Can it really happen?
On The Footballers Football Show this week we'll have a special programme looking at youth development featuring Nick Levett, the FA's National Development Manager, who's been instrumental in reforming grassroots football.
Alongside him will be Ged Roddy, the architect of the EPPP for the Premier League, and Tony Carr, head of West Ham's Academy, envied across Europe for it's output.
I'll be asking them if that masterplan can really work.
The Footballers' Football Show: 10.30pm, Thu, Sky Sports 2 HD
Post to your View!
Be the first to post a comment on this story