It's perfectly possible that next season's Championship will pitch into battle clubs from opposite ends of the financial spectrum.
A quick glance at the League One table reveals Yeovil Town are perfectly placed to grab a play-off spot or even one of the automatic places.
Somerset's finest, with an estimated annual wage bill of £1m, who's biggest signing this season was the £15k they shelled out for Paddy Brennan from Carlisle (Brennan's 22 goals suggest it was a steal, but that's another story).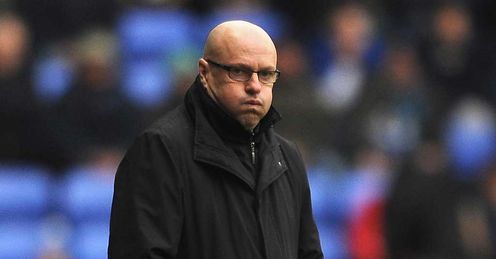 Yet next season, Yeovil, who would hope to encourage more than this season's average 4,000 through the turnstiles, could be competing directly with fallen giants of the Premier League.
Were Sunderland to fall, the comparison would perhaps be most stark (their revenues approached £100m in 2011/12).
Their 48,000 capacity Stadium of Light stands as a beacon of unfulfilled ambition, whilst billionaire Ellis Short has continued to chase the elusive dream by backing a succession of managers in the transfer market.
Of the last nine teams to win promotion to the Premier League, five dispensed with the manager who got them there.
David Jones
Quotes of the week
The parachute payments mean that, should the worst happen, Sunderland's coffers would still be swollen by a £24m cheque from the Premier League.
If Yeovil are promoted they would bank a £2m solidarity payment and a £2m share of the TV pool - and be expected to compete!
Fair? Both would probably say not.
Injustice
We'll discuss the parachute payments on The Footballers' Football Show this week whilst also addressing another injustice creeping the game.
Did you know that of the last nine teams to win promotion to the Premier League, five dispensed with the manager who got them there? Brian McDermott and Nigel Adkins are the examples from this season.
So what incentive is there for a manager who overachieves when his likely reward for a season of struggle beyond his club's means is the boot?
Gus Poyet, one of the most talked about managers in the football league, joins us this week along with McDermott and the always wise Aidy Boothroyd to have their say on those issues.
The Footballers' Football Show: 10.30pm, Thu, Sky Sports 2 HD
Comments (3)
Paul Spencer (Bristol City fan) says...
Paddy Brennan? The Glovers have a secret striker! Schoolboy error - try Paddy Madden.
Posted 12:28 11th April 2013
Christopher Kayode (AC Milan fan) says...
The manner in which managers are being sacked is very Unfair
Posted 12:49 10th April 2013
David Armstrong (Carlisle United fan) says...
It's Paddy Madden, not Brennan.
Posted 12:01 10th April 2013