Not long now until the big day and it's the one we've all been waiting for - Froch v Kessler - the rematch!
At Wednesday's press conference we had the coin toss to see who would walk to the ring first. In the event Kessler won it, choosing to walk second and be introduced first.
That's fine with us as we made a decision that if we won the coin toss we would walk first, because I want Carl to have that challenger's mentality going into this fight, and I want Kessler to really feel it when he walks out.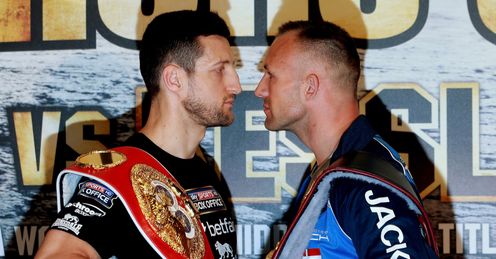 We did the same against Lucian Bute and the one thing we remember so much was Bute getting booed and you could see it his face. We want that same kind of atmosphere going into this fight.
I think everyone wants to walk out second but Carl wants to feel like he's up against it, rather than being expected to win, so it's an interesting one and adds a little bit of spice to the mix.
You always know when Carl is ready to go because he does start getting a little bit nervous and apprehensive. But all the training is done, Thursday is a rest day and then it's the big weigh-in.
Kalle Sauerland and I live the moment with our fighters, we're quite similar in that way and we're good mates with our fighters. We know what it means to them. I've not thought once what I've got on the line - Carl is our flagship fighter and actually if he loses it ain't great for us - but I'm just thinking about Carl.
If he loses I don't know how he will respond to that, because it would break him so I'm desperate for him to win and he deserves it so much that I'm engrossed in the fight and making sure everything is perfect between now and when he steps in the ring.
Jimmy Montoya (Kessler's trainer) made the point in saying that some feel Mikkel will be fresher because he hasn't had tough fights in recent years, and some will say he won't be in the groove because he hasn't had those tough fights. You can make an argument for either case and believe what you want to believe.
All I know is Froch has never been in this shape before, he's never been as fast and he's never been as hungry. I couldn't think of any place I'd less like to be on Saturday night than in that ring with him. He's a relentless pest in the ring, with an iron jaw and will trade and trade, will never give up and never give in.
Shattered
Watching the first fight after four rounds he told his trainer Rob McCracken he was so tired and he was ruined for that fight. He had to take weight off late, after five rounds he was shattered. He could go 25 rounds on Saturday he's that fit and strong. He'll just stand in front of him and won't be denied.
Carl can't sit down. He's comfortable when he's on the go and that's his personality. He won't want to sit down and chill for a few hours and think about the fight, he'll want to keep his mind active and that's where Rob, his brother and myself come in. The moments when you are sitting there thinking about what's about to happen is when you get apprehensive.
On the undercard George Groves is in a fight he's expected to win against a huge-punching Uruguayan who quite fancies it, says he's watched George and thinks he can knock him out.
It's a really interesting fight, George has been embroiled in this sparring with Kessler thing. I don't get involved in those things. Adam Booth knows exactly what's best for George and sparring with Mikkel Kessler will definitely improve George Groves as a fighter and that's all he and Adam care about.
He doesn't like Carl Froch, Carl doesn't like George Groves. They owe each other nothing. You can talk about patriotism and that but it was done to improve George as a fighter. George has got to come through Saturday night and then maybe we can look at the winner of Saturday night after one more big name, and then the winner. Maybe even the loser.
I'm also quite fascinated with the Bellew-Chilemba fight. When there's been a draw and you come into a rematch straightaway, you've somehow got to devise a way to beat that person. I don't think Chilemba likes to work, he's now saying he wasn't well before the last fight...if he drew then maybe he'll be better this time. I know Tony will be better. The winner gets to fight Dawson or Stevenson - it's a massive fight for both of them.
It's worked in Tony's favour being on the undercard of Froch-Kessler, he hasn't had to sell the fight and sometimes you feel under pressure to deliver but it's been low-key and that will help him a lot.
Looking back at last weekend, Lee Purdy was always up against it against Devon Alexander, he had just over three and a half weeks to get there and make the weight, he couldn't turn it down because of the opportrunity, the money, the profile.
He did well, just missed the weight but Darren Barker protected him, he wasn't going to win the fight so pulled him out and let him see another day. Darren was taking orders from Tony Simms in the corner but Darren had been with Lee all the way through the camp, he knew what he'd been through so he knew he'd get more and more tired. He was taking shots, he wasn't going to win.
Kell Brook (who was originally due to fight Alexander) didn't watch the fight and everyone said the same thing - Kell would have won that fight. That's okay, he's got to get back to it now, he'll be down here on Saturday and fighting Carson Jones on July 13 and a big fight in September.
He's got to get on with it, there's nothing else you can do other than give up. He'd beat Alexander all day long but there's no point me just saying that because I'd just look stupid.
With Darren, Daniel Geale's the IBF champion, we wanted to get him over to the UK but the numbers weren't working out, they wanted it in America - HBO like Barker, they were looking at the Chavez fight initially.
The fight is a close run thing but that's the one Darren has been asking for for maybe a year, and to get it makes me very proud. He deserves it so much and he'll beat Geale, I really think he will, he'll do what Carl did to Bute, I think he'll just run through him and I'm chuffed for him because he nearly quit. So it's brilliant.
Comments (2)
Andrew Dugdale says...
Hi Eddie, Got my ticket and can't wait now for the big one! I think it will be a barn stormer, top fight and I believe it will go the distance with Froch wining by 3 / 4 rounds. I have a feeling there will be a shaky moment also for one of them but my belief is Carl comes on stronger at the end whereas Kessler goes a bit 'Wild'. Other fights I suspect will go to plan also, with Tony and George wining.
Posted 17:12 23rd May 2013
Glenn Cowie says...
Good article Eddie. I cannot wait for Saturday night. Watched all the build ups/behind the scenes etc and both Froch and Kessler look in A1 condition. I do think Froch wins this late, Rds 10 or 11 for me. Not sure he could beat Ward though who looks nothing short of outstanding. Even so, would still back Froch to make it much closer than the first fight with Ward. I also reckon Bellew could surprise a few people and knock Chilemba out too; cannot see that one going 12 rds this time. Watching the Alexander/Purdy fight I too thought Brook would have very little problem dealing with Alexander, who looked very vulnerable to the short left hook, imo one of Brook's better punches. Credit to Purdy for taking the fight, but he was just not quite on the same level as Alexander. He could have some huge domestic scraps with Gavin/Vassell, or even up to LMW and a scrap with Brian Rose - could be a cracker that one.
Posted 13:26 23rd May 2013