It's here!
The first game kicked off last night and what a game it was to begin the new 2014 ZEO Netball Superleague season.
It was close-fought, end-to-end stuff between Mavericks - who won 49-45 - and Celtic Dragons and a great advert for how we are all hoping the games this season will pan out.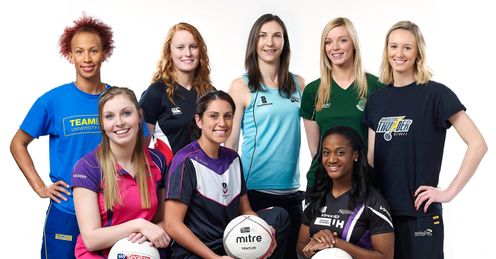 The league has returned to its original form this season and sees eight teams play each other home and away before the top four qualify for the finals.
It's a welcome return for the old format after what we've had for the last couple of seasons. Last season the league was split into two groups, with the four top teams and four bottom sides competing - and it all got fairly complicated!
With the growth of the game, and players and coaches involved this year this season should be one of the closest seasons yet.
Here are my thoughts on the year ahead.
TEAM TO BEAT
This is tough as there are probably three teams that I'm struggling with and they are Thunder, Bath and Mavericks. For me, looking through the squads across the whole court, at the experience, their imports and overall talent the team that stands out is Mavericks. Why? Well their first big move was recruiting England International Kadeen Corbin from rivals Team Bath. Partner her exciting talent alongside captain, sister and fellow international Sasha and you've got a very strong and dynamic attack end. Throw in to the mix two imports from Australia with ANZ experience - Sarah East from Perth and Sam May from Sydney - and you've not only got quality but you start to build in tactical changes, which are important when you play different styles. Add all that to the remaining players you have in the England INTC programme - Keable, Guscoth, Austin and Morgan-Smith and you start struggling to find a weakness.
THE WILD CARD
For me this year it's Loughborough Lightning; they are always tough to beat, with that bed of talent from being based at one of the top sporting universities in the country and they continue to attract great players. Having gained a new coach in Marg Foster I am intrigued to see how she gets them playing. Will she put her Kiwi style on them and will they be able to adapt to the new tactics? What impact will the three New Zealand imports have and how will they settle in the team? Will losing Sophia Candappa and Jodie Gibson be huge for them? There's so much we don't know and I cant wait to see them play.
PLAYERS TO WATCH
Thunder: Sara Bayman, quality centre court and leader of the team. Bayman is also looking to play herself into the Commonwealth Games squad. The best way to sum her up is as an intelligent player, a real winner.
Storm: You just can't take away the fact that Rach Dunn will shoot you 40+ goals a game. Storm wouldn't be where without her and she's the best holding shooter in the country, but then I am biased!
Team Bath: on her recent performances I have to go with Serena Guthrie with her bouncy bundle of athletic flair. I love her, I love her hair, I love her play.
Mavericks: Kadeen Corbin has real quality already and is still learning - a scary thought for any opposition is.
Loughborough: I've heard a lot about Jess Waitapu from her ANZ days and really want to see her play.
Northumbria: Aussie import Georgie Beaton - who played in ANZ alongside England's star defender Geva Mentor - is a big signing for them. They've also got half the Northern Ireland squad as well!
Jets: I was disappointed not to see Nat Haythornwaite in the England A group. I personally really rate her, she's the playmaker of their attack end, smart, skillful and creative.
Celtic Dragons: It has to be Timmy Cato, when they get the feed right she's impossible to defend. End of.
THE TACTICS
You're definitely going to see plenty of styles of play this season; from the holding GS of Cato at Celtic Dragons, the quick rotation of East and Corbin at Mavericks, the man on man hassle at Jets, or the off marking of Bath. Then there's the long feeds we have at Storm, and the short, sharp possession at Thunder. The new look Northumbria and Loughborough will add another mix too I'm sure. Every team will line up with a slightly different spin, the question is who can change when needed?
THE BIG GAME
Other than the obvious semi final and final I want to talk about the Storm Mavericks clash at the Copper Box. Finally this venue will see some netball, as it hosts what is tryng to be the biggest domestic game the Superleague has ever seen. The plan is to get a record crowd down at the Copper Box and with some of the countries best players on show there is no reason why we shouldn't. The game renamed 'Netball London Live' has it's own website, fancy! And tickets are on sale now, so be part of it and I promise we'll put on a great game.
THE REIGNING CHAMPS
You can't write about this season without giving a special mention to the most successful team in the league's history, Team Bath. Don't for one minute think that I have written this team off, jam packed with internationals and exciting young talent, they are always going to be in the mix, and if its one thing that Bath breeds it is the will to win. These guys will be a class act and tough to beat this season.
THE KIDS
During the season look out for these new names that people will be talking about.
I'm starting with Helen Housby and Alice Travis who have both been equally impressive in the England A team and are both shooters at Thunder; accurate and fearless, I'm expecting them to make an impact. Joining them at Thunder is GD/WD Jodie Gibson, who is absolutely rapid and turns over the ball for fun, which brings me to a similar player at Storm, Amy Flanagan, who plays the same position as Jodie and is just as ruthless.
At Jets, you have to look at Jess Shaw - sister of international Rach Shaw - she is an exciting talent, playing well beyond her years and a real talent for the future.
OFF THE COURT ACTION
There's always the action on the court but if you can take your eyes away for just a minute there has been so much happening off of it. Firstly, the introduction of the mainline sponsor, ZEO popping up at games with their distracting - for all the right reasons - all-male tingle crew serving tasters and dancing away.
Then of course there is Sky Sports, whose coverage has been awesome; slick, professional and really making a difference to the sport we all love. I was so giddy the other day when I spotted the netball advert on TV, it's finally there!
Then of course there are all you lovely lot. Now, is it just me or has social media been in netball overloaded recently? There's a real buzz, people are being thrown into our amazing sport every day and long may it continue.
THE COMMONWEALTH GAMES
Well it wouldn't be 2014 without talking about the CWG. Hosted in Glasgow this summer, you may wonder why it's so important to the Superleague. Well this is Netball's version of the Olympics and come the end of the season there will be 12 happy players being told to pull on a Team England dress. That can only mean one thing, competition, competition and more competition. This is their time to shine and players will be looking to impress coach Anna Mayes to make sure their name is on that list.
Tamsin's Zeo Netball Superleague side Surrey Storm have launched Netball London Live, which will see them take on Hertfordshire Mavericks at London's Copper Box Arena on Saturday 8 March.
For more information head to www.netballlondonlive.com