What a whirlwind couple of weeks it's been, three games in eight days.
It's crazy to think that you spend all that time training and prepping for the season then before you know it it's here, you're in it, you blink and it's all over. So now the season is officially in full swing I thought I'd give you an insight into what it's really like to be a Superleague player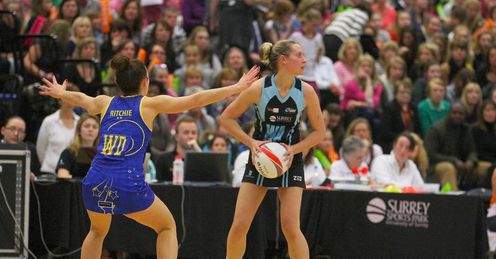 Pre season
At Storm we begin our preseason in August, although technically the squad hasn't been trialled! We just put on a couple of sessions in the week for those players returning to the squad and for those who are around and for the Netball Performance League girls to join with in with the seniors.
The plan is to start getting them all in shape. This consists of getting fit but also strong and we do a mixture of things, from playing touch rugby (not our team's strength) to court shuttles, from wall work to outdoor frisbee.
There's nothing better than when someone surprises you at trials, it's exciting for you as a coach as you build a new squad.
Tamsin Greenway
Quotes of the week
We do loads of core and balance work as well as body strength work; the aim is to challenge our bodies but to also mix up the environment for our minds. We spend a lot of time in a sports hall throwing a ball around, so for the player's sanity that's important.
What I personally love about preseason is the improvement, you come in August out of shape and six weeks later after some tears, throw ups and generally laying/collapsing on the floor you feel good(ish).
Trials
As October arrives we host team trials. Personally I wish we didn't have to have trials as I find it very old school, players put in an application, they turn up play and we pick.
However, as we are not a professional club we don't have the luxury of having scouts out there looking for players. Although we keep in touch with our local Prem Clubs you still never know who is going to show up.
Reality is, because we are based near London, we get random players all the time and we have found some of our best ballers this way. Whether they've moved here for Uni, to work or just come home to live; we've had Aussies over on gap years and of course youngsters that may not have made the NPL team but have progressed just as well.
There's nothing better than when someone surprises you at trials, it's exciting for you as a coach as you build a new squad.Training Schedule
Once the squad is picked it's down to business, 15 players and a lot of hard work, it's when all the tactical work and the basics begin. Depending on how many new players you have, you have to get them up to speed with how the squad operates and how you like them to play.
Although The Superleague players will only do two on-court sessions together a week, there will be plenty of other training going on behind the scenes. They are expected to do two weights sessions a week, which include upper and lower body work, as well as core and stability.
Personally this is not my strength, I've never much enjoyed lifting, but all our sessions are individualized by our S&C coach (Strength and conditioning), so why Rach Dunn is in the corner squatting and bench pressing I'm over the other side doing a press-up challenge and some box jumps.
I think it's important you enjoy you're training else you quickly become disengaged. The girls also have to fit in two fitness sessions a week, at the start of the season we integrate it into our training with lots of ball skills at high intensity and court shuttles so players understand how to push themselves.
I think this is important, if you don't know how far your body can go you won't push it to the limit. It's teaching you mind more than anything that it hurts but you're ok.
As the season plays out the players just need to keep on top of their fitness, this is easier if you're playing every week, but for those who don't it becomes hard. I remember in the early days when we used to go on England tour for a few weeks and you didn't get on court, you'd come back in worse shape! You'd end up still eating the same and preparing the same as if you were playing but then didn't get to burn it all off.
Things are very different now though and all players are looked after, you'll notice after some of the games the players in the background that haven't played a certain amount doing top up activities on court. This means they'll keep in shape throughout, they also have programmes they can do on the treadmill, outside, on court, on a bike and in the pool. This again is crucial as some players need to keep off their feet to help injury prevention.
On top of that the players have to do a speed and agility session once a week, this is probably the most difficult one to fit in as it can't just be done anywhere and it's easier if there are people there to do it with. We usually tag this on to the start of our training session and our warm up. It involves, off the mark speed, change of direction, ball reactions, plyometrics and change of pace, all the small things that can make a massive difference on court.
Finally the players have to practice their individual skills as well, whether it be shooting, ball skills or tactical work. I link this in with video sessions, so far I've not been able to sneak the Skypad out of Sky Studios yet, so we get our video analysis team to crop things up for us and get it online so the players can see what they need to.
Work
As you can see it's a busy week for the players, and I think most people forget that the majority of the team are in full time jobs or education. In our team we have three students, one part-time worker and the rest are in full-time jobs ranging from teaching to accounting to business work in London; as you can imagine it's very full on. Players have to get organised to get time off work for matches and training and have to have an understanding boss!
Their time management is also key, not only to fit in training, but also to rest up; some of our players have a good three hour round commute to training and with our sessions starting at 8pm and finishing after 10pm, recovery is crucial.
Starting early before 7am and finishing late is the norm for most of the team. I remember the first few weeks at Bath when we began 7am sessions, catching and throwing was a challenge, but as with anything you get used to it.
Intensive Netball Training Centres
The INTC's were brought in last year by England Netball and so far we have three in the country; Manchester, Bath and Brunel. There are about 50 athletes in the programme, ranging from national squad to development to potential athletes.
These are basically the best players in the country that want to sign up for the national programme. Each player is on a different level which means they have to commit to so many sessions per week. This involves fitness, SAQ, weights and court craft sessions all led by England coaching staff. Their are pros to it - fantastic sessions, with the best athletes in your area can only mean improvement for netball nationwide.
And cons - the locations, if you don't live close it's difficult to get to sessions at 7am and in the evening as well as work or lectures.
The future
There are two things I'd love to see happen in the future...
A) A semi-pro league, moving our game forward the same way the ANZ has done in Australia and New Zealand. I'd hope a lot more players are then able to work part time and fully commit to training during the season.
B) The INTC's based at all 8 Superleague franchises, that way all the players good enough to be in your team can access the quality training that is happening at the moment, I'd also love to have more access to my players. I was so spoilt when I was at Bath, we all trained together four mornings a week, and three evening sessions, as well as club sessions and tactical sessions. At Storm we are so spread out that it makes it impossible.
Surprises
So as we move into round 4 this weekend have there been any surprises?
Well if I'm honest I think Team Northumbria have really stepped up this season, they kept all their team very quiet before the league started so we didn't really know what they'd be like and it's no surprise how well they are doing with all their Northern Ireland players. I have played them a few times and they are quality, a really tidy team.
I think this season will help them develop as a national team. I know Celtic Dragons will be disappointed with their start, but they have had a lot to deal with, with their starting GK Rosie Pretorius going down injured in the first game. I know they'll come back fighting for the rest of the season so I expect our clash on Monday night to be a hard fought game.
Other than that I still believe the teams to beat are Bath, Thunder and Mavericks. They all have so much quality through their squads, its just about who will make it count.
Don't forget you can see Tamsin's team at Netball London Live, which will coincide with International Women's Day on Saturday March 8 and will see Surrey Storm go head-to-head against local rivals Hertfordshire Mavericks in what will be a record-breaking domestic match with crowds of up to 7,500.
Or click on this link to enter our competition to win one of five pairs of tickets.