It's one week to go until our big match at the Copper Box. My team Surrey Storm take on London rivals Hertfordshire Mavericks, and it's set to be huge!
With over 2000 tickets sold already the game has smashed the domestic netball league record of 1607 for last years final and it's set to get even bigger.
Every year at Storm we sit down and discuss what went well and what we want to do bigger and better. I think as a franchise we've worked as hard off the court as we have on it. We've tried to push the boundaries on match day experience, community work and building the brand. So when the franchise Director Mark Garfoot and I had our first initial meeting with the Copper Box we came away pretty excited. Initially we looked at running a pre-season game there but as time went on the idea came about to play our rival fixture there, and that was how Netball London Live was born.
Big Games
At the Sports Park we have several partners, one of those being the Harlequins. A few seasons ago a few of us got invited down to Twickenham to see their 'big game' V Saracens. I'm a massive sports geek and have been to many big sporting events, however I'd never gone to Twickenham. I wasn't sure how good it'd be watching club rugby and not an international, plus I am a Tigers girl so I felt a little apprehensive. However I needn't have worried, the game was amazing and the atmosphere electrifying. The club had put flags on all the seats and the ground was bursting. There was something very special about that match from the crowd to the players to the game. I wanted to be part of it.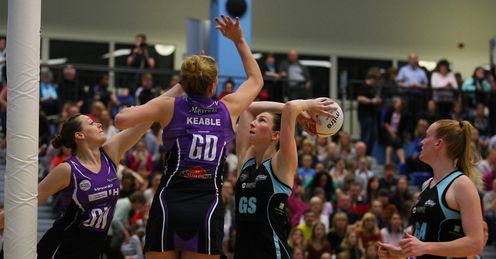 History
Now the match against Mavs will be as competitive as ever, over the years there has been some serious match ups, and although Storm have had the better of them in the last two seasons, it's Mavericks who have the overall bragging rights beating us in the Superleague Final three seasons ago. With Mavs based in Hatfield and Storm in Guildford there tends to be this North and South London split and of course there is always a cross over.
Kadeen Corbin was brought through the Surrey Storm Youth Team and after some time at Uni playing for TeamBath has now come back home to join Mavericks. Other Storm players have crossed over too. Natalie Seaton our WD, who took a break this season had time at Mavericks before joining Storm, as well as current player Stef Bello. A lot of the girls also train with each other at Prem Clubs, Uni teams and INTC and are really good mates off the court. Not that you'll see any of that when the whistle goes!
The finer details
Now the game has been under planning for ages and the Staff at the SSP have not stopped. During the day there will be coaching sessions and courses for coaches across the region as well as all the Academy players. We have show games from schools and of course loads of entertainment.
Zeo will bring their tingle, Storm have launched their new cool fanzone, we have new merchandise and Sky will be there to broadcast it all live. What's even cooler is that it falls on international women's day and so Surrey Storm have teamed up with The Women's Sports Network (WSNet) support it under the theme 'Women inspiring Change through Sport'. what's better than celebrating the best women's sport, with some of the bets netballers in the country, with a record crowd at a new venue.
The buzz
Now over the years I have played in some quality games, but there have been a few that have made the hairs stand up on the back of my neck. Winning the bronze at the last Commonwealth Games was pretty special after coming so close to making the final, we were just determined to smash it in the playoff. I remember at the end just dropping to the floor as I'd given that week everything and Sara Bayman just picking me up and giving me the biggest hug. Then there was beating Bath at Bath to make the final three seasons ago in the Superleague after we were nine down. We won it in the last quarter, and I as I put the final long ball into Rach Dunn I just remember hitting the floor, with excitement.
Of course I have to also mention two seasons ago, playing Northern Thunder in the rounds and coming back to win by one in the final few seconds. I still remember the noise, It was just insane in the arena and as we put that last gasp goal in, and the whole place went erupted, there was nothing quite like it. So when I get asked what I'm most looking forward to about the Netball London Live game, well it's that. There is nothing quite like that feeling.
Your support
So as we come into the final week, it becomes all about you, setting new records and proving to everyone out there just what netball is about. When the two teams line up on Saturday 8th March we'll have done something that domestic netball has never seen, and personally I'm excited. When I saw my first ever international netball match, I was blown away and that's what we plan to do to everyone making the journey. So if you're a regular or you have never been to a game before this is your chance to come down and be part of it. We can't wait to see you there.