As we move into the second part of the season, I thought this week we'd focus on the attacking end of each team.
It has really varied from franchise to franchise - some seem to have found their combinations, others are still looking for that seamless partnership.
As the goals keep tallying up I thought we'd have a look at who is getting things right and who needs a few more hoops...
Surrey Storm: Goals - 519
Sitting top of the goals scored table is Surrey Storm, who also currently sit top of the league. Averaging 57.67 goals a game with a highest score of 69 shows their shooting circle is on fire - but why? Well, there has to be mention of England international Rachel Dunn, who takes on 90 per cent of the goals each match and will shoot from long and short range.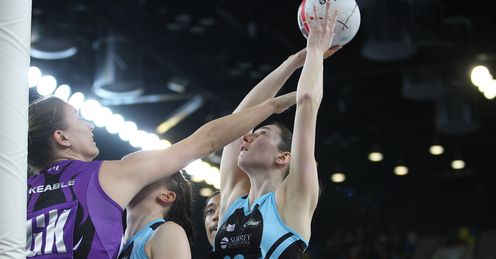 What makes her so valuable to Storm is that she's as comfortable taking ball overhead and non-ball side as she is popping in front. Dunn will also drive out of the circle to release the pressure on the attacking end, making her an 'untypical' holding shooter and also very difficult to defend against.
What Storm now need to focus on is bringing their GA into the game more. Both Katie Harris and Becks Jury have had solid performances alongside Dunn, but moving forward into playoffs there will have to be more of a connection if they want to continue to beat the top teams.
Cookey prefers to be closer to the post while Allison can often be found just brushing her heels on the edge of the circle before swishing through.
Tamsin Greenway
Quotes of the week
Celtic Dragons: Goals - 498
With Dragons sitting so far down the table it's hard to believe they have the second highest goal tally in the league and the highest score of the league so far with 70 goals against Jets. It's not so hard to believe, though, when you see their 6"5" shooting machine Timmy Cato standing at the other end.
Rife with injuries in their defence end, they've had to work hard to patch that up and get them working together as a unit, which has meant at times they've leaked more goals than they'd like, but they are making up for it at the other end.
Though she never shoots from more than one metre from the post, Cato is a force to be reckoned with. She's a typical holding shooter with limited movement but over the past few seasons she's got stronger on the take and more agile in her pops, step ons and rebounds, causing big problems for the other teams. With Cara Lea Moseley happy to take a long shot on at GA with accuracy, this is one shooting circle that is tough to stop.
Team Bath: Goals - 490
Probably one of the most seamless pairings this year, England Captain Pamela Cookey and fellow international Rosie Allison take the line up in Bath. Both have exceptionally high shooting percentages and compliment each other very well indeed.
Unlike the previous combinations it is Cookey who prefers to be closer to the post while Allison can often be found just brushing her heels on the edge of the circle before swishing through!
Cookey's movement is quick and clever as always, she never fails to amaze with the ways she sneaks through the baseline and carries ball from outside right under the post with her powerful spring.
For Rosie it's a lot calmer. Although not the quickest and rarely moving out of the circle, she has great timing to release ball side and offer a quick pop towards the ball carrier.
Her height and strength make her difficult to get around and when she plays higher she leaves the baseline open for Cookey. With percentages hitting 90%+ these two punish teams regularly.
Manchester Thunder: Goals - 489
Thunder had big shoes to fill after Karen Grieg retired and Janelle Lawson returned to Australia - but if there's one thing Manchester are very good at it's bringing through young talent.
With the experienced coaching of ex-international GA Tracey Neville coaching them forward, there seems to be a conveyor belt of young shooters emerging again from up north.
First, Alice Travis flew on to the scene with her height and accuracy and then this season, fresh off her call up to the England A squad, Helen Housby has been exciting to watch.
A smart GA, who has the height, speed and change of direction to match, she has rarely been fazed this year and is playing as a youngster with no fear. Partnering Housby has been Krista Enziano, another tall shooter who can move around the circle and will again shoot from anywhere.
Add Kathryn Turner, who is another tall, agile and accurate GA, and Thunder certainly seem to have a lot of depth on their bench. Although all four styles are similar, they know what they are doing in there and work exceptionally well together, which means whatever combination you face is going to be solid.
Yorkshire Jets: Goals - 456
Jo Walker has been the rock at the back for Jets and for me is probably the most similar in style to Rach Dunn. She's happy to take ball over and forward and will move out of the circle as well. This year they've partnered Walker with Kiwi import Kendra Failfitu with Nat Haythornthwaite making several appearances there, too.
Both GAs are shorter smart playmakers, they will happily get into the circle taking the quick one-twos to work themselves into better positions and pull the 2v1 on Walker off. Again it is Walker at shooter who puts majority of the shots up with Failfitu probably more comfortable getting in and taking on the goals.
When they've needed a change up they've played a rotating circle; Failfitu moves back to shooter and Haythtornthwaite playing out. Although they have the skills and movement for this, they do miss the target (Walker) they had in there before.
Team Northumbria: Goals - 423
Partnering with the Northern Ireland Squad this season has been invaluable to Northumbria and it has certainly helped their goal tally. With Noleen Lennon calling the shots at GS, she is making big progress every week.
Lennon's timing is spot on allowing her to post up on defenders to take the over ball but also pop off forward when needed. She is agile and has good ball-handling skills, plus when she gets her confidence up she shoots very well indeed.
She has been partnering with international teammate Oonagh McCullough who is a very smart player. She uses the top of the circle well to pull players off Noleen and does a lot of work out in the end third to help her WA and C.
What I love about her is her shooting from distance, she often uses a step back because of her height in there which takes her way out to the edge but she doesn't often miss.
Northumbria also use Darcie Worsdale who is based onsite in Newcastle. Different to McCullough, she tends to drive in the base and so mixes up the style of play. Not seemingly as accurate as McCullough, however still happy to get in the circle and do her job.
Herts Mavericks: Goals - 413
Mavericks on paper have the most depth in terms of the versatility of their shooting circle from rotating tactics to holding tactics. However, due to Kadeen Corbin and Sarah East being new to the squad this season and the injuries/illnesses they've had to deal with pretty much every game, they have probably not got all combinations firing how they would like to, hence the tally.
Interestingly, coach Karen Atkinson had been calling for her team to be hitting the 60 mark each game like her other playoff rivals and in the last few weeks they have started to push that way.
Opting at the moment to play Kadeen Corbin and youngster Sophie Hankin, the pair have really got people talking the last few games. The speed of the rotation, the no-fear attitude to putting a shot up and the agility in there has been frightening to watch.
I suppose their only downfall is that they don't have the target height in there so they often take longer shots which affects accuracy and the feed always has to be spot on.
However, with Vicklyn Joseph able to give them that hold and elevation in there and East with her smart timing and strong positioning they do have four viable shooting options which will key for them come playoffs.
Loughborough Lightning: Goals - 312
So finally on to Loughborough Lightning, who are sitting bottom of the league in both areas. For Lightning the shooting circle was strengthened last year by two Caribbean athletes and this year two New Zealanders.
The problem with imports is that it can be sometimes difficult to build a team around them and can often take longer than a short pre-season to get everyone working together.
There is no doubt in my mind that ex-Magic GA Jess Waitapu was a great steal for them and brings a wealth of knowledge and steady play, however they haven't really cemented a partnership as such.
They persisted with fellow kiwi import Liz Hayman at the start at both GS and GA, but she hasn't had the same impact as some of the other high scorers in league.
Becky James has also been playing there and again been a real steady influence. Happy to shoot from anywhere, James has been solid and a great outlet for them, but I'm not sure they've had enough time to get her really working well with Waitapu.
The last few games they've looked at Powell in at GS, she's a very tall, strong, holding GS, and I must say she was impressive as the team were also happy to feed her. I would like to see over the next few games if they build a partnership with her and James/Waitapu what difference that will make to them.
Moving Forward
It's hard to say which shooting combination will make the difference come finals time. I guess for the coaches it's not just about the individual players, its about who works well together, what style of defence you are playing against and, of course, if your attacking players can actually feed them. What is for sure is we're going to see those goal tallies rising and the partnership that gets it right on the day will be unstoppable.