In 2012, after eight years and 51 caps for the England team I decided to take a break.
When I was younger I used to think it was so weird watching players quit or decide not to do it anymore, I couldn't understand how or why they'd just give it all up, but now I had become one of them. I'd spent eight birthdays on tour or in camp and I was adamant that my 30th would be different.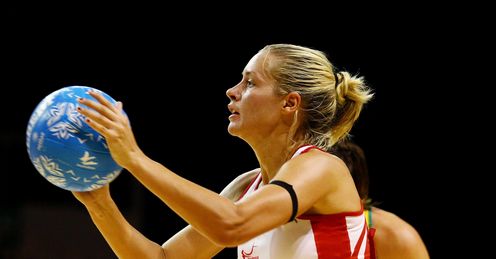 That all sounds quite lame, but you have to remember netball is an amateur sport so in between the early mornings, late nights and weekends you end up getting a snippet of life outside a sports hall. You have to really love what you do, it has to be your dream, your passion and it was certainly mine. But the same drive for the weight sessions, the meetings, the debriefings, the schedules and the training had faded and it was time to step away for a bit.
The goal this season was always to just get fit and enjoy being back playing; it genuinely wasn't about getting back to international level.
Tamsin Greenway
Quotes of the week
When I got pregnant it was the most surreal experience, I suddenly wasn't able to do netball anymore; I'd never had a major injury and had never not been able to play. It was the laziest nine months ever, and although I kept working up until the birth I didn't step foot inside a gym. Three months after giving birth I was ready to come back, I'd missed it and it was such a nice feeling to have.
The goal this season was always to just get fit and enjoy being back playing; it genuinely wasn't about getting back to international level. The squad at the moment has been training so hard for the last two years and they are in incredible shape, it's amazing to see. As Storm have continued to play well and my partnership with Rach Dunn has cemented, again the rumours have started about Commonwealth Games selection.
Sensible
I've been asked a lot by people whether I'd do it and the reality is, that even though in my heart I'd love to give it a shot, my head is being sensible.
Having spoken to England Netball and looking at all the options, the commitments are too great whilst trying to be a mum to a 10-month-old baby.
The reality of being in Bath three days a week to train when I live in London, the idea of going away if there was a tour for a couple of weeks and with not having the chance to train with all the players in the mix and not knowing the squad until fairly late, make the situation too hard to commit to.
I think moving forward it would be good to see, and I'm sure England Netball will look at how players and coaches with children will make it work, I know in New Zealand there will be at least five or six players with kids vying for a spot in their CWG squad and I'd love to know how it works there basically, how they do it? I think it helps that they don't need to travel half way around the world to get the best competition as they are the best.
Not semi-centralizing the programme in Bath could also help. The players have to go down there for three days some weeks, which can alienate players. If you are in a full time jobs, or studying specific courses at Uni, or have a child it becomes very difficult. It obviously works for some, students and part-time work are fine, but you have to remember there is a life after netball where you need a career and only 12 players get picked each time so you can end up giving a lot to not make it.
Strength
Personally I'd love to see seven INTC's at all the English Superleague Franchises, so players don't have to give up on things or travel huge distances to train. We could then have all the players in our squads training more so there isn't such a gap between Superleague and international players. This would then lead to the Zeo Netball Superleague improving. And as lots of sports show, the best leagues in the world usually have a strong international team linked to them.However, I'm not naïve enough to understand that all this takes funding, and with recent events these things become harder. Plus what they've achieved with this current set up has worked for them and England Netball are doing a good job.
Although gutted I cant give it a shot I'm also really excited. The last couple of years have been huge for England Netball, beating Australia in a test series and putting in some impressive performances. The squad is in fine form and I genuinely believe we can go on to win it this time. So rather than focus of what could have been I thought we'd look at the potentials, with so much young talent knocking at the door, Anna Mayes is in for a tough couple of months finalizing her squad.
The ANZ crew
Each weekend I keep setting my alarm for the crazy hours to catch the live sport TV stream of the ANZ games. There have been some crackers so far and it just goes to show why it is the best league in the world. The English recruits are of course in fine form with super shooter Jo Harten's team Magic sitting top at the moment, she is not only leading their attacking line up she's also getting to train with and against Casey Kopua and Leana De Bruin every week which is amazing for CWG preparation. Geva Mentor, Eboni Beckford Chambers and Jade Clarke are all starters for their teams and in very good form with Ama Agbeze getting the low down of all the Kiwis at Pulse. When these five return to the squad in a couple of months their experiences and playing level will be invaluable.
Captain Cookey
Pam Cookey has had her work cut out for her in the first few rounds of the Superleague with some tough battles for TeamBath. However,the goal for goal games and last gasp winners are becoming something of the norm for the England Captain Cookey looked like her old self as Bath defeated Thunder earlier this week, which is great news for England. She carved up the circle and took on the shots leading her team to victory. With the added pressure she's taken from the close games this season we should see her go into the Games in the best possible form.
The Centre Court
There are probably the biggest decisions to made here, with Jade Clarke a must as personally one of, if not the best WD in the world at the moment, that leaves only 3 spaces up for grabs if you go with the traditional 4,4,4. So Sasha Corbin clearly the out and out WA in the squad, has not lost any of her speed and dynamic agility after a slight niggle at the start of the season. She is partnering so well with her sister Kadeen and will be a certainty. So then there is Serena Guthrie and of course Sara Bayman both captaining their teams and leading the way in the C, but both more comfortable in WD as second choice. Knocking on the door then is Laura Malcolm picked in January's senior squad and Mia Ritchie who will cover all three positions.
The Shooting machines
Rach Dunn has to have got people talking with her impressive stats so far this season. Kadeen Corbin is wowing people at Mavericks playing well both at GS and GA and causing a headache for any defence. Throw into the mix Rosie Allison, who is building her partnership with Cookey at Bath and is shooting exceptionally high percentages from all over and I think in the end, the key to circle choices will be about styles of play.
The wildcards
So finally, what about the outsiders? Who have we been talking about and keeping an eye on this season? Well the two young ,GA's Helen Housby and Sophie Hankin, have been key for their teams and been the players everyone has been impressed with. Then of course Layla Guscoth, who took some time out from the England squad, has been solid for Mavericks. Jodie Gibson was in fine form for the England A group in Jan, but probably hasn't been a starting 7 every week for Thunder. A favourite of mine, Nat Haythornwaite, has been tearing it up for Jets every week and getting regular runs out at WA, and finally Hannah Reid at Storm, such a smart player and brings something very different to the defence end.
All in all I can't wait for the summer and the games. I might not be in the red dress but I'll certainly be supporting them.