Well it feels like if you blinked you missed it! How are we already heading towards the end of the 2014 Zeo Superleague Netball season?
It's been one cracking competition, with more coverage than ever, more support than ever and I would say more exciting games than ever and it's nearly all over, but the question is, who will be champions.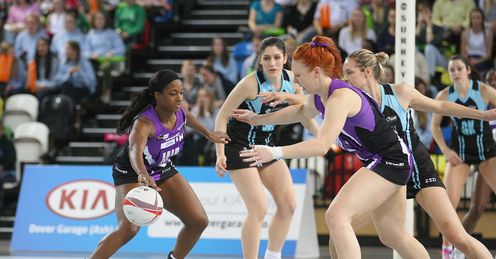 I'm not sure I enjoy writing about this, as the reality of Monday night looms ever closer and another playoff dawns upon me and my team, but before we get to that let's have a round-up of the story so far.
The bottom
So I guess the biggest disappointment for me this year were Loughborough, and I have to say that as I backed them to be the dark horses of the league. With the appointment of a new head coach, kiwi Marg Foster, the inclusion of three imports and the bed of Loughbrough Uni talent, I thought that maybe they could upset some people.
Unfortunately for them it just didn't quite pull together. It must have been a difficult year for the team, with the coaching staff coming in quite late and the fact they weren't always there for all the sessions and games, must have made it tough for the players. The imports perhaps didn't have the same impact as perhaps other players in the league such as Sam May at Mavericks, and at times the group looked lost.
I guess speaking from personal experience, overseas coaches need time to work with a team, as you're often having to change a whole culture. This doesn't happen within 3-4months, it can take years and so I'm guessing there will be lessons learnt. I have to say I was most impressed by Lauren Steadmans leadership, keeping the group together and looking after the youngsters. And although there was talk about the quality of the young players, I still saw some sparks and was particularly impressed with Desmond and Joseph and look forward to them returning to Surrey in the future.
The all-mosts
So there were some close calls when it came to make that final 4th spot and these three were not far off the mark.
Let's start with Northumbria, a new line up and a new culture/era for them. The inclusion of a core Northern Ireland group, a good solid import in Georgia Beaton and a dual coaching role for Kate Carpenter and Lisa Stanley saw a very strong start for the Newcastle team. And although all their victories came against the bottom half of the table, they also came close to upsetting a few big teams along the way.
They had a huge win against Celtic and a tight home match against the Mavericks have to be etched in their minds. For me I was impressed with several players, McCulloch at GA with the ever steady Lennon and Toner at WD, able to read the game with the best of them.
I guess the split training sessions for the Irish and Newcastle based girls and the constant travel must have again taken its toll on the team and the final hurdle of being able to compose themselves for a full 60 minutes was their downfall. We know the Northern Irish girls will have benefited hugely moving forward to the Commonwealth Games, the question is we will see a similar set up for next year?Onto Yorkshire Jets, and what a season they had, again, I'm guessing they must be asking what they need to do to gain a top four spot. They've become the team that always takes a scalp, last season a one goal home win again Storm and this year a big win over Mavericks. Couple that with a one goal defeat to Thunder and a high scoring loss to Celtic and they know they are certainly in the mix.
So what is it? Well consistency is an easy word to throw around, but it matters when it comes to playing the top picks. There is no doubt they have the talent, I'm a big fan of Jo Walker, personally I think she's the closest thing to Rach Dunn. She can take ball forward and back and causes headaches for defenders.
Then of course there is the the playmaker Nat Haythornwaite, who leads their attack end. Jets always have a way of bringing in quality imports too and I think they haven't disappointed this year, although young, always fearless. But the problem with a young side is that you can never know what performance you're going to get. However they keep building their culture and if they can keep the group together long enough I don't think it'll be too long before we see them really challenging for playoffs.
Finally Celtic Dragons, and what a year they have had. Three major injuries all to circle defenders, the loss of key centre court Sophie Morgan early on and the decision to whether keep Cato in the front or back. With all that going on it was amazing to see how they kept it together and still challenged everyone.
Taking a draw and a victory off Bath is no mean feat, coming back in the Jets game to win 70-67 and of course narrowly losing to us by one goal away from home in the last few seconds, shows what a different season it could have been for the welsh side. Melissa Hyndman was very clear about what this season was all about in terms of the Commonwealth Games, however maybe if they had played it differently in the first half of the season with their no fear feeding attitude that came in to force at the games played on I think they'd be in a semi-final again.
However as they start preparing for International duty now they must be pleased with players performances this year and how some have really stepped up, for me in particular the youngsters and WA Bethan Dyke was someone that really stood out and impressed.
The play-offs
So as Easter Monday arrives the two semi-final fixtures are set and it was no surprises for me with the final four, although I perhaps wouldn't have predicted the order and that Mavericks the team I tipped to beat this year would have cemented their spot with only the last game of the regular season, but they made it and the stage is set for what is going to be two cracking games.
First to go will be Thunder v Bath. As it stands so far this season they have a victory each, both defeating each other away from home. Both tightly contested and never really convincing victories over each other, this is set to be a tough one to call.
Match ups
So if we look at the match ups, Serena Gutherie and Sara Bayman have to be the key players in this game. Both in C, both fighting for Commonwealth Games spots, this will not disappoint. For me Baymans flair and every other ball game in attack, will be trying to combat Gutheries spring and incredible intercepts in the defence end. If either one gets on top of the other, their team is going to be tough to beat.
Other key players for me will be the match up of Housby on Francis, can she continue to have the incredible season she has so far and not be fazed by the England defender? Or will Francis step up after a lot of the season out injured and show her authority on the youngster?
Down the other end, surely Dovey has to start to try and stop Pamela Cookey - who is one of the five players nominated for player of the season. In frightening form at the moment, if Cookey gets free reign in that circle, she will be difficult to stop, Dovey will have a tough job.
Injuries
The loss of Sara Hale is big for Thunder as it was a regular change of the northern side throughout the early rounds; however with Jodie Gibson and Georgie Webster on the bench, they still have depth.
For Bath they have been plagued with injuries, none more so than to key player Francis, however she is back and will hopefully not be on court restrictions so can have a real impact. Rumour has it Sam Cook is back on the training circuit too, and with her call up to the May England Tour, will we see her at any point over the next week?
Won or lost
Thunder with the home advantage should have a slight upper hand, however for me this game will be won or lost in the attack end and in particular the final third. You know both teams are well structured defensively and will always turn over the ball before it gets in the circle, out in that end third and line. So the team that can keep patient, keep ball and frustrate the other team will be victorious for me.
Storm v Mavericks
The second match will be table toppers Storm against rivals Mavericks. If it's anything like the last two games with a two goal victory in each to Storm, then we're in for a good match. Undefeated Storm have become the team to beat, and although probably one of the more consistent teams in the competition, it's Mavericks that have improved throughout and are finally coming into their own when it matters.
Match ups
Looking at the ends, two nominated player of the season's Storms GS Rach Dunn V GK Layla Guscoth. Layla has had some impressive games at keeper this year none more so than when she took apart Cato at Dragons. The match up here will be no different, the competitions leading scorer has been on fire, and will be looking to continue, Guscoth job, is simply to do anything to stop her.
Down the other end, Storm Captain Hannah Reid at GK up against England superstar GS Kadden Corbin. With Reid being called up to the May England tour, she'll have alto to prove when it comes to combating Corbin. Her rotating style of play definitely doesn't suit Storm's D, so Reid will have her work cut out.
Injuries
Both teams go into the match will full line ups, Storm having limited injuries through the year, whereas Mavs have suffered with the Corbin, East and Buchannen all key players out at several points.
Won or lost?
Storm's home advantage may not be so much as was proven at the copper box, with just as many Mavs fans attending the game, and with the last two games so close, no one can have real bragging power. For me this game is all about the defensive pressure. If Storm can finally work out how to stop the power and speed of the Corbin sisters they're in with a good chance, however if May and Guscoth work out how to stop Dunn well then Storm won't really have an answer.
All in all we know Monday will be as exciting as ever, and this time I'm too involved, so I'll leave you to make up your own minds who will win...
Watch Manchester Thunder v Team Bath, Mon, 17.30, Sky Sports 3 and Surrey Storm v Hertfordshire Mavericks, Mon, 20.00, Sky Sports 3