Coach, player, author, commentator, analyst... Anita Navin's list of netballing expertise is long.
So here at skysports.com we've asked her to take up the post in our Coach's Corner to analyse all the big talking points from the ZEO Netball Superleague...
Bath time!
ANITA'S VIEW: It was a shock result for all Mancunians as they rocked up to their home venue to witness a reformed Team Bath side take all three points on Monday night.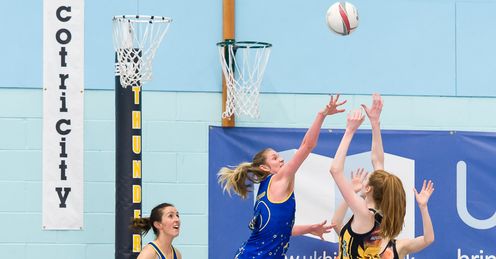 It was a night of sheer class and control as Pamela Cookey, the England captain, made a firm statement that she is back and on a mission to see her blue and gold army sneak not only third place in the table but a coveted place in the ZEO Superleague final.
Named ZEO Player of the Match, Cookey capitalised on the inexperience of Georgie Webster at GD for Thunder in the early stages and secretly smiled at the thought of not having to battle the game out for 60 minutes against her usual opponent Emma Dovey.
Cookey is the nation's favourite with her smile and flair which is applauded even by the opposing spectators.
Anita Navin
Quotes of the week
Cookey is the nation's favourite with her smile and flair which is applauded even by the opposing spectators and on Monday night she connected superbly with her shooting partner Rosie Allison; there appears in the making another power pairing to add to the ever-growing dynamic duos in this campaign.
Her one step moves and ability to front cut and close out the defender at the centre pass were world class and almost left the Thunder's 'three over strategy' at a loss on many occasions. Cookey has her speed back, she looks more in tune with her game and most of all that spirit and desire is firmly back in her stride.
In her post-match interview it was all summed up when Pam said she believes she is now putting all aspects of her game together and most of all was having fun again!
The base line runs of Cookey leave many a defence standing and her ability to stop suddenly and pop to receive the pass is second to none in the world.
Rumbling Thunder
It was a below-par performance from Manchester Thunder, though Sara Bayman worked tirelessly to engineer and manoeuvre her side through some of the difficult patches with Laura Malcolm steeling some crucial turnover ball.
Helen Housby struggled a little on the timing of her move and was not always reading the play when in the GS position.
So far we have witnessed a raft of flawless performances by Housby but mainly in the GA position where she is often progressing with the ball to goal.
Housby and Kathryn Turner are an emerging pair but the experience of Billy Pritchard and Sarah Penny seemed to stop the connection.
It was Team Bath who were in control from the outset, patiently maintaining possession in the mid court and effectively using their WD and GD through two thirds of the court on attack. In contrast, Thunder were often guilty of losing possession through individual and unforced errors in their attacking play.
A late comeback ensured Thunder remained in touch with Team Bath which seemed to be a result of their positional and personnel changes later in the game and a strong quarter three performance (14-9) which reduced the seven-goal margin from the first half.
It was in the end only four goals which separated the two sides with a final score of 55-51.
COACH'S TIPS
So what can a coach do to reduce individual error and ensure players keep possession when faced with high pressure situations?
- Often the centre third and mid court area is the hot spot for losing possession with so much movement with potentially ten players in this third area. A practice often used in training would be to overload the centre third with 5-7 defenders covering a specific area. Teams of three players would be tasked with working the ball through the third under this increased pressure and overloaded situation.
- Using a similar set up but this time the players would have a tight one on one defender and would need to receive a set number of passes (x6) in the third area. A player can be static on the sideline of the centre third as the outlet should no player be free allowing the attacker to pass the ball to them and keep possession.
- Working the ball on and off the circle edge would also be useful for any team to work on in training following a loss of possession and high error rate in the goal third area. A condition would be set where the attacking players must work the ball to the edge of the circle but must then reset and pass back to a WD or GD on the transverse line. In this situation an additional floating defender can be added working around the circle edge to ensure the attack open out their vision.
In the competition phase of a season it is vital that game simulations feature heavily in the training and I am sure it will be Tracey Neville's game-related strategies and contextual practices which keep the Thunder up top!