What's on the box
Check out our Sky Sports channel guide...
Sky Poker Cash Game, Episode 3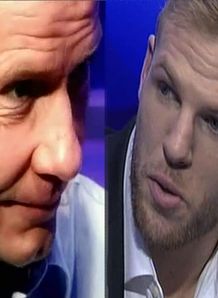 This week's game (Tuesday, Sky Sports HD3 at 10pm) sees former horse racing jockey Mick Fitzgerald and current England Rugby Union international James Haskell join the fray.
Mick rode two Grand National winners, Rough Quest and See More Business, and had a long association with twice champion trainer Nicky Henderson. Mick is now a popular and respected figure on various TV racing programmes.
When Mick won the 1996 Grand National, Des Lynam asked him how it felt. "After that, even sex would be an anti-climax" was the gist of his reply, a remark that subsequently became the title of Mick's splendid autobiography "Better Than Sex". You can't follow that, but you can follow Mick on Twitter, @mickfitzg
James Haskell plays for Wasps and England, and is currently featuring in the RBS Six Nations. During the game against Ireland, he was sin-binned somewhat unluckily, but he is quite a character and not someone I would suggest it is wise to argue with. Immensely good-looking and huge fun at the poker table, his banter was top class. James's Twitter feed gets a bit lively at times; if you wish to follow, his moniker is @jameshaskell.
Mick and James are joined at the table by Sam Razavi, Neil "BadBeat" Channing, Rob Yong & the incomparable Rastafish in what became quite a lively table.
If you are new to poker, it is worth watching how Sam Razavi and Rob Yong play the game. They rarely limp into a pot, preferring to seize the initiative by raising. The difference between limping and raising is a metaphor for life, we are making things happen rather than letting things happen. We don't need good cards to raise - position and a bit of thought are all that is required. We must have good cards to call, though, as we will miss most flops and the aggressor will likely bet again. This means we are at a severe disadvantage against an aggressive player. In short, that is the key to poker - position and aggression.
Good cards are not needed: you never hear a good poker player bemoan lack of cards - they find a way to win no matter what hands they are dealt.
If you want to learn more about how to play the wonderful game of poker, Skypoker.com have a 24/7 TV channel, Channel 861, dedicated to helping players play the game better. There is also a fun Community, which includes sections such as "Poker Clinic" where you can learn to play online poker aided by the Sky Poker regulars.
Episode 3 of the Sky Poker Cash Game goes on air at 10pm on Tuesday evening, 19th February, on Sky Sports 3.
If you need reminding when the show airs, you can follow @SkySports or @Sky_Poker
Worth a watch, if only to see how much fun it is possible to have playing poker. I would not go as far as Mick Fitzgerald did, but it's the next best thing.
Sky Bet Odds:
Click Here for Your Free Bet