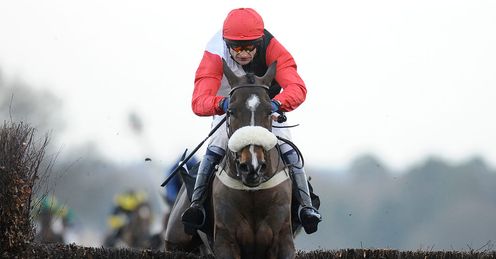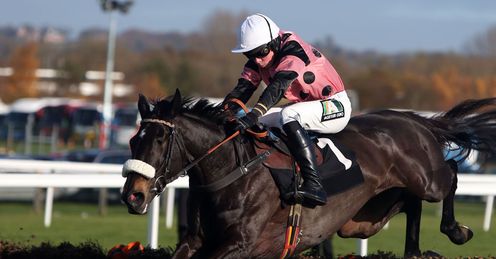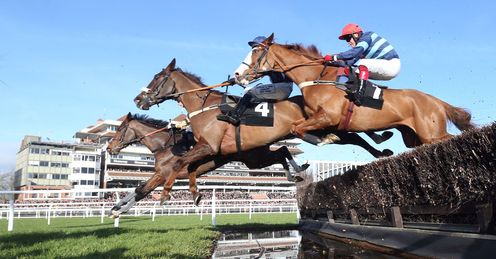 16:15 Time to draw things to a close. I could already have told Nicky Henderson that life always seems rosier once you've had a couple of winners - it seemed like a revelation to the great man. But I won't do any more sniping. Just when Paul Nicholls thinks he might have a chance of stealing a march (along with Jonjo O'Neill of course), up comes that man Hendo again with his army of talent. Maybe he did leave the Grand National behind given that he'll surely go up 10lb or so for winning today, but the £99,662.50p first prize of the Hennessy will at least give him a few more tenners to throw on the fire when the house is getting cold tonight. What a game. In about threehours' time, I will be found in Buddie's American Diner, expediting my departure from this world by enjoying a 12oz Hawaian burger. But for now, from The Racecourse Newbury, I bid you adieu.
16:10 More Hennessy news - Highland Lodge goes for the Welsh National after his excellent effort today on ground that would have been quick enough. That's the aim for the runner-up too - another who won't mind the traditional testing conditions. Rocky Creek is now the 8/1 joint-favourite with Sky Bet and Highland Lodge is a 10/1 chance.
16:05 Looking at the long line of red lights heading away, or more pertinently, not heading away from the racecourse, nobody will be going anywhere too quickly for an hour or so. Alan King had the right idea. He's probably sailing through Aldermaston by now. (I don't actually know for sure where Aldermaston is - I just thought it sounded like the sort of place he might be sailing through).
16:00 It's also been confirmed that Imperial Commander has run his last race having eventually being pulled up after spinning round happily towards the front for at least the first half of the Hennessy. I sincerely hope he enjoys a happy retirement somewhere and knowing how much his owners love him, I'm certain he'll want for nothing over the years to come. What a smashing horse he's been.
15:55 Meanwhile, the latest news is that the stewards have spoken to Dominic Elsworth and two as-yet-unnamed witnesses over his alleged (do I have to still keep saying alleged?) altercation with Timmy Murphy in the weighing room yesterday. The enquiry has been adjourned until Wincanton on Thursday - presumably because that's the next time that all of the stewards would be available.
15:47 1540 result: 1 Filbert 6/1 2 Parsnip Pete 12/1 3 Greywell Boy 7/1
15:45 I told you. Those dastardly fences did it again and Next Sensation came down a long time before we can be sure as to whether he would have won or not. Instead it was the well-backed Filbert who eventually got on top of Parsnip Pete to take the closing Bet365 Jim Joel Trophy.
15:33 They're about to get underway for the last time today. The man next to me tells me that Next Sensation is going to make all. But don't take his word for that. Or mine.
15:30 More from Henderson: "He's stabled next door to Bobs Worth but his best mate is Simonsig. He spends the summer in a field with eight bays and Simonsig. When you go and look at them, he's the chestnut and he's virtually inseparable from the grey, which is Simonsig and the eight bays just ignore the two of them. Four or five weeks ago things were looking pretty desperate but suddenly you have a couple of winners and the world seems like a happier place again. Racing will do that to you."
15:25 The winner is available at 25/1 with Sky Bet for the Grand National and that's firmly on the radar for Triolo D'Alene, who has already proved himself over the fences by winning the Topham last season. Henderson explained: "I spent most of the summer trying to persuade the owners to let him go for the National, but to tell you the truth, Barry Geraghty has spent the last couple of months trying to persuade not to do what we have just done here and risk ruining his mark for Aintree by running in the Hennessy. We've pretty much blown that now, but I'll settle for this!"
15:15 1500 result: 1 Triolo D'Alene 20/1 2 Rocky Creek 8/1 3 Theatre Guide 33/1 4 Highland Lodge 6/1
15:10 A big meeting at Newbury doesn't seem complete without Nicky Henderson welling up after a big winner and this time it's Triolo D'Alene - well flagged up in the Catching Pigeons column - who does the business for Henderson and Geraghty after a promising reappearance at Ascot.
14:58 Eyes down then for the big one. Good luck to all of them. Especially any of the nine I've backed.
14:48 At least the marvellous Hey Big Spender has just delivered the goods in the Rehearsal Chase. What a marvellous old boy he is - and well done to jockey Brendan Powell who could not have been more positive about his prospects in his weekly column with us. You read it here first!
14:42 A helpful friend has just texted me to say 'You'd have got through that leg as well too, I bet'. It is a text which has offered me little comfort. Today's Placepot is going to break records and I am going to get within a whisker but no further of a slice of the pie. 'The Placepot - pleasure, mixed with so, so much pain'. They can use that in their marketing for nothing.
14:34 It looked as if Barry Geraghty's first thought was to pull his mount up, but having given At Fishers Cross the time to re-gather his momentum, the favourite ran on again on the run-in. At Fishers Cross is now 11/2 from 7/2 for the World Hurdle with Sky Bet - an over-reaction given that the conditions of this race wouldn't necessarily have suited him? William Hill keep him unchanged at 7/2.
14:30 Would it have won? Wouldn't it have won? Opinion in the press room is divided, but let's take nothing away from Celestial Halo, who loved bowling along in front and still just about had the upper hand when At Fishers Cross ploughed through the second-last hurdle and nearly unseated Barry Geraghty. Celestial Halo was left alone to score by 17 lengths with Medinas getting up for second place.
14:23 And the next good thing appears in the form At Fishers Cross. He's not for me, but I'll wager there'll be a bit of money rolling on from My Tent Or Yours. He won't want to give Celestial Halo too much rope though. Good luck if you're playing.
14:15 "Thoroughly commendable" is the assessment of commentator Richard Hoiles and that's pretty much on the money. My Tent Or Yours wins the first domestic Grade One of the season and is 4/1 from 5/1 with Sky Bet for the Champion Hurdle. I thought that was a perfectly fine performance.
14:05 Time for the Fighting Fifth. Will we see an upset or will one of My Tent Or Yours or Melodic Rendezvous cement their credentials?
14:03 1350 Result (through gritted teeth and tears): 1 Vendor 16/1 2 Shotavodka 12/1 3 Don't Be Late 20/1 4 Saphir Du Rheu 14/1.
14:00 Agh. The end of the Placepot. When Vendor won here nearly two years ago, he looked to have the world at his feet. Indeed I think he was favourite for the Triumph Hurdle at one stage. But there have been some tough times since and he's put an unpromising run of form behind him to win the Bet365 Handicap Hurdle at 16/1 - a double for the train-travelling trainer.
13:45 Racing's best value bet is about to begin. The weekly Trifecta rollover (whereby all unwon Trifecta pool money from the previous seven days) is today carried forward to the 1350 (rather than the Hennessy). You are playing for other people's money. Click here to get on now! (The Trifecta link is at the bottom of the page.)
13:30 1320 result: 1 Tatenen 14/1 2 Carrigmorna King 9/2F 3 Ruben Cotter 10/1 4 No Secrets 14/1
13:28 More jumping-related dramas in the third race here, the bet365 Handicap Chase, as the well-backed Opera Og and The Druids Nephew both come down at a very early stage. The race eventually goes to the talented Tatenen, who finds the ease in grade to his taste. He's 16/1 from 40/1 for the December Gold Cup at Cheltenham with Sky Bet and that might not be the very worst bet in the world now he's back in some form although connections have other options, including a race on Welsh National day apparently.
13:20 Oscar Rock is turned over by Ballyalton at Newcastle. Disappointing - I had high hopes for OR this season, although winning trainer Ian Williams can't stop sending out winners at present.
13:10 Elliot writes: "As a famous bookmaker would say 'What's mine worth?" and with a glint of hope in my eyes I reckon I've solved the big one already. There are two that predominantly stand out for me, namely Highland Lodge and Hadrian's Approach. The former comes from a stable on fire, will relish the trip and will likely take up a position at the front of affairs which is always useful in the race. But I think it is Henderson's charge who I think is being overlooked slightly. Since last year my friends and I have been drawing our own schedule up for HA culminating in this race today. Don't let Henderson's coolness over this horse fool you. His engine is outrageous and with some improvement in his jumping he has to be a player today. Away from the big one I see ATF getting chinned, but it may be more in hope for my The New One, Big Buck's, Sir Des Champs treble that was placed the Saturday after the Festival finished earlier this year..." Graham Cunningham made his feelings plain on the Hennessy in his live chat yesterday and I tend to agree. It's a race in which even the shortest of shortlists probably contains half a dozen names. Almost anything could win. Apart from Cape Tribulation, Loch Ba and the bottom one. There - that narrows the Trifecta perm on the other 18 down to 4,896 lines (it really does - I looked it up).
13:05 Derek 'Tommo' Thompson popped up into the press room earlier and I asked him about sales of his book 'Tommo: Too Busy To Die', which we've given a fulsome-ish plug to on these pages before. He said he was hopeful of "a Christmas rush" and suggested that it would make a good stocking-filler for my friends and family. I thought I should pass that on. I later saw him appearing on the racecourse closed-circuit television channel holding a copy of the book under his arm while talking.
13:00 1250 result: 1 Valdez 2/1 2 Un Bon P'tit Gars 11/2
12:55 It's one for the train travellers, as Alan King's Valdez takes advantage of the fall of favourite Black River to win the bet365.com Novices' Limited Handicap Chase by the small matter of 24 lengths. Alan King's stable are right back on track again. Locomotive power err... wheels in motion err... etc etc.
12:50 Valdez is not a looker, but he carries the hopes of my Placepot in the next. Go Valdez and your big white face. Jump well for me.
12:45 Racing is full of marvellous stories and that is a marvellous story. Left with only her right eye after an accident as a foal, As I Am has shown that handicap to be no barrier to success whatsoever. Her energetic breeder, owner and trainer Don Cantillon - who was proudly wearing the bluest pair of denim jeans you will ever see (and looked very smart in them) (and the horse's groom was also wearing jeans) - said: "Right from the start, the other horses had to look after her and help her around the field, but she's as tough as anything and she doesn't mind which way round she goes - left-handed or right-handed, it's all the same to her." I wonder if Don is still driving the same battered 20-year-old VW Polo I saw him in the last time our paths collided in Newmarket. What a top man.
12:30 1220 Newbury Result: 1 As I Am 11/2, 2 The Pirate's Queen 12/1.
12:28 Can't imagine will be in the mood for a friendly chat now. Maybe I can cheer him up by telling him that my Placepot is still going.
12:25 Due to ongoing WiFi issues, I had to put my Placepot on using cash. That must be the first cash bet I've placed for over a year. I feel quite sad about this. Anyway, they're off, and the Willie Mullins-trained Vicky de l'Oasis has gone off quite a warm favourite. Should she win, it'll be interesting to pop down and try and get the latest news on some of his stable stars.
12:10 Some technical issues briefly allowed me the chance to go in search of some welcome sustenance. At £6.50 for a beef roll, I'd genuinely rather starve. Or eat three Racing Posts. In the end I went for three Fry's Chocolate Creams, for the price of one Racing Post.
11:45 Greetings to Dunk frae Scotland, who once memorably got me out of trouble at Cheltenham with an obscure winner at Ayr or somewhere. He writes: "Morning Will, Some favourites of mine out today - Oscar rock and Imperial Commander. Oscar Rock (1305 Newcastle) will hopefully outstay the decent Ballyalton whose stable are red-hot. I hope Imperial commander stays safe before retirement and then makes the frame as he has a lot of class with not that many miles on the clock for 12/13. Katenko may prove he's the real deal today. In the Fighting fifth I've been impressed with Duke of Navan who I think may be a 160 horse that might run a huge race at 25s for 3 places." Some interesting thoughts in there. If all eight go for the Fighting Fifth, then Cotton Mill will be my attempt at each-way thievery with headgear on. Conspiracy theorists still have plenty of time to be proven right and for another withdrawal to appear from that race though.
11:20 My mole on the 1040 from Bedwyn to Newbury tells me that no less a pair of trainers than Alan King and Warren Greatrex are letting the train take the strain rather than getting stuck in the traditional Hennessy day gridlock. I remember catching a train back to London on this day a few years ago and thinking that this was as close to being in Sodom and Gomorrah as I would ever want to experience. At Thatcham, a man memorably 'relieved himself' out of the doors on to the platform.
11:15 On the subject of dress codes, Newbury are offering a special class on 'How To Wear A Suit' today, which is well-timed. I wouldn't have the faintest, as I only wear them to weddings and I don't get to go to many of them any more - not since that incident with the cake a few years ago.
11:00 Since arriving at the racecourse two and a quarter hours ago, I would estimate that 70 per cent of the conversations I have earwigged have involved scrapping in the weighing-room, 20 per cent have involved the dress code and roughly 10 per cent have referred to today's racing. A depressing statistic indeed, but I'll continue to fly the flag for racing. Might Notus De La Tour have a big run in him at a big price in the handicap hurdle at 1350? He didn't look very happy held up on his reappearance at Chepstow and has clearly had major problems in the last 18 months, but a 4lb drop in the weights makes him very well treated off 131 if the fire still burns within and I could see Conor O'Farrell going from the front this time and producing a Buena Vista-style performance.
10:40 From the Sky Bet shop of special offers comes the fact that they are paying out on five places to each-way punters in the Hennessy Gold Cup today. This is good news, although to a pessimist like me it simply means that whatever I back is destined to finish sixth. Also from the very same shop is the quote of 9/2 about My Tent Or Yours to win the Fighting Fifth Hurdle by over nine lengths. If you think this horse is going to win and win clearly, this price might make some appeal. Finally, on the 'specials' counter at the end of the aisle is the chance to take part in the Sky Bet Hennessy Tipping Challenge with various quite good prizes to be won - prizes so good that Sky Bet's Michael Shinners admitted earlier "Perhaps I should have run them past someone first". Sensational scenes. Sensational job-jeopardising scenes. You can take part here.
10:30 Something tells me At Fishers Cross might get beaten today in the Bet365 Long Distance Hurdle. I can't quite put it into words. But Celestial Halo and Reve De Sivola set a really decent standard to aim at today and I'm just not convinced AFC will be up to the task first time out this season.
10:10 According to Timmy Murphy's wife in the Racing Post, the jockey managed to dislocate his shoulder while he was "swinging" his arm in the weighing room yesterday. I think we should maybe leave it at that, although Mick Fitzgerald told Morning Line viewers this morning that he'd apologised to the other jockey who may or may not possibly have been stood in the vicinity while Murphy was doing his swinging routine. Anyway, it's Murphy's loss and Conor O'Farrell's gain as O'Farrell comes in for the ride aboard Our Father in the Hennessy despite Murphy having done all of the preparatory work this summer with the horse he looks after for the owners at his own stables when not in training David Pipe.
10:05 It's a clear, dry day at the track and the going has dried out a little with conditions on the chase course now described as 'good, good to soft in places' from the reverse yesterday. Judging by the way they came home spread out behind remorseless stayer Mickie in the three-mile handicap hurdle, it definitely is - as the official going suggests - slightly slower on that track. However fresh ground has been produced by moving the rails for the third day running on the inside of the track.
10:00 Dress code rumpuses (or should that be rumpi?), fisticuffs in the weighing room, 10/1 the field in the Hennessy. Whatever can be next at Newbury? Stay tuned for the rest of the day and join me in finding out.