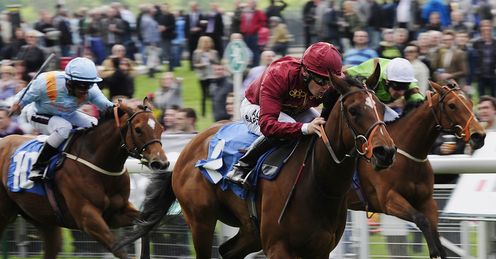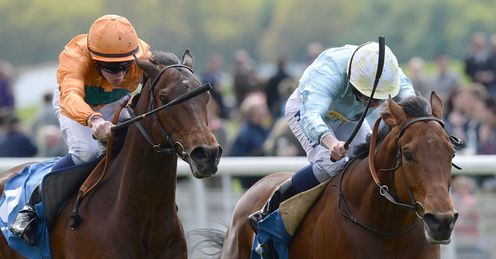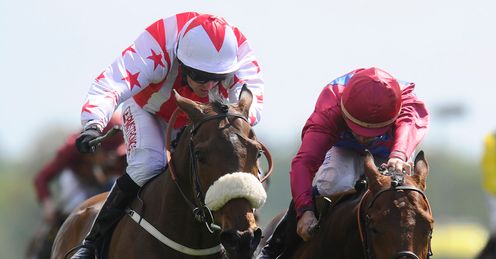 17:20 And that ends the Dante meeting. Highs, lows, winners, losers, rain, rain, a bit of sun, and some more rain. No Derby winner from the Dante itself I fear, but a nice winner of the Musidora and plenty of evidence to suggest that the Stoute/Moore combination will be churning out a few more winners than has been the case in the past couple of years. Thanks for joining me and for all of your correspondence over the past three days. And good luck to Hadley and I tonight with Mijhaar. Always leave with a tip...
17:12 The sponsors of the last race have just emailed me to request a plug, but I believe them to be a rival website, so I won't. In fact I'm going to log in to the system and rewrite the race title on the cards and results.
17:10 Meanwhile the Frankie Dettori saga rumbles on, with various people saying that he can and can't ride at Leicester on Monday. The truth is out there, but nobody seems to know what it is. The BHA say they have news but will tweet it as soon as they can. Rather than just say it. Which seems to be the modern way. If someone asked me if I wanted a cup of tea, I'd just say yes or no. You wouldn't tweet them. The world's gone crazy.
17:05 The strong-travelling Esteaming didn't find as much as it looked, but it was still enough to take the finale to the Dante meeting at 7/1. Ryan Moore was narrowly denied yet another winner abord runner-up Rundell, while Sioux Chieftain ran his heart out for third.
16:55 I'm going for Chocola and Sioux Chieftain to end the meeting with a winner. It's been a tough day, but not if you are a fan of Richard Fahey or Sir Michael Stoute and Ryan Moore. Good luck all.
16:42 Chocala chased home Mister Impatience on his last start (beaten six lengths) at Nottingham, and that horse is now rated 97 (he was the one behind Ruler Of The World at Chester last week). Chocala is rated 70 and is 12/1. Interesting?
16:30 Another one for Ryan Moore as Rye House scoots away from Maven in the straight and some of the bookies will be on their knees. Stoute, Moore, York. It's easy this game.
16:15 There are a few rumours swirling around about another potential twist in the Frankie Dettori tale. I'll keep you posted if I hear anything more. Meanwhile, they're going down to post for the penultimate contest, the mile-and-a-quarter handicap. The field has been considerably reduced by non-runners, but it's Rye House who heads the betting. Given that Stoute and Moore have already been on the mark twice today, it's a brave man who goes against them.
Greetings to Garth, who writes: "I've been following your live blog down here in Sydney, Australia (and loving it!), got the GBI pictures coming in on my computer, hitting the refresh button on the Sporting Life's "Live Show" odds until just before the race and then plonking a small each way wager on your York races (and had Princess Cammie yesterday, very nice price, paid $19.30 down here), it doesn't get any better than this! I was there for 2 of the 3 days of the carnival back in 1997 (took a train trip to Whitby on Day 2 and missed the Dante), brings back many fond memories ! My prognostication for the 5pm (Race 7) - saddlecloth 9, Wyldfire!" Good luck to Wyldfire. And well done for visiting Whitby - there are few nicer seaside resorts in the world. I trust you enjoyed your fish and chips. I'm more of a pie man, as you'd be able to tell if you were here Garth.
16:00 The one to take out of that is Top Boy in fifth. Most encouraging. He can win on turf before long.
15:55 It's another winner for Yorkshire (and another photo finish ruined by the insistence of the racecourse of putting up a silly graphic saying 'photo finish' rather than a helpful still on the winning line or even a more helpful replay) as 8/1 chance Moviesta, trained at Hambleton by Bryan Smart, gets the best of a tight call with outsider Vincenti to win the five-furlong handicap. The winner is part-owned by Harry Redknapp, but sadly he's not here in his 4x4 to collect the prize. Paul Ince appears to be though.
15:40 Tony Hamilton collected a two-day ban for using his whip in the incorrect place aboard Glens Diamond. Apparently, the horse's owners are thinking about the Melbourne Cup for the winner.
15:20 Yet another winner for Ryan Moore and another for S'Michael too. Pavlosk wins well at 3/1 from Senafe and Pearl Sea. As you might expect from Lord Grimthorpe, Pavlosk is tremendously well named being by Arch out of Tsar's Pride. The Pavolsk Arch in St Petersburg was built by Emperor Nicholas in the 18th century (it says on Wikipedia). Clever old his Lordship.
15:12 Next up an unfathomable Listed fillies' race. Rae Guest is a nice man and I'd like his How's Life to win. I haven't had a bet and the Placepot is down. I'm not sulking - just biding my time for Satsuma in the next (although the going quite clearly isn't bottomless).
14:59 Tony Hamilton does the obligatory 'silly photo' pose with the Yorkshire Cup sat on top of his shaven head, but the winning trainer isn't here. He went down to Newmarket to watch Dutch Courage come second in the opener. What a game.
14:50 It's Glen's Diamond who wins the Yorkshire Cup for Yorkshire. The 25/1 chance holds off Top Trip and Monsieur Doumen's nice brown suit by the smallest of noses. A great result for Richard Fahey and jockey Tony Hamilton. The pair came together close home, but you couldn't apportion blame in either direction.
14:40 Francois Doumen looks good in his nice brown suit. It's a nice suit.
14:35 Old Eagle Eye Shinners has arrived from fresh from the parade ring with his paddock notes. When he has finished being rude about the fact that it's not your average Group Two when a quarter of the field are sporting first-time headgear, he describes Top Trip as being "tiny", but likes Quiz Mistress, who looks particularly "fit and well". Royal Diamond also gets a positive mention. It's easy to get wowed by a flashy chestnut, but I have to agree that Quiz Mistress looks particularly well in her coat.
14:30 Don't forget that if you are thinking of taking advantage of the 'dead eight' scenario to have an each-way bet on the Yorkshire Cup, the next race, if you do so with Sky Bet you'll get paid out at one-quarter the odds rather than the standard one-fifth. Worth bearing in mind. Click here for the latest Sky Bet prices on the race.
14:25 Great run from Saptapadi on his first start back from an unsuccessful stint Down Under. His owners will be taking plenty of encouragement from that and must already be thinking about the Ebor.
14:22 Again no Sir Michael Stoute to welcome back his winner and then run away from the press. He's still battling the effects of a gall bladder infection, which has laid him low for a few weeks now. Get well soon, S'Michael.
14:18 And once again the market gets it right as the strongly-supported 13/8 favourite Sir John Hawkwood just holds off the persistent challenge of Hanoverian Baron to score, the pair finishing well clear of the running-on Brockwell.
14:10 Another really well-backed favourite here in Sir John Hawkwood. He was backed off the boards when flopping at this track last season, but looked a different prospect when winning at Chester last week.
14:00 I've realised why I'm feeling so tired. No caffeine. I'll be off to get my usual gallon of Diet Coke (other caffeinated beverages are available) after the next race. If it's good enough for John McCririck...
13:55 A lovely winning hamper of Yorkshire produce goes to David Redvers, representing the owners, and one to trainer Clive Cox and another to Spencer. I'd love to know where that will all end up tonight. Great prizes though. I love a bit of Wensleydale.
13:50 The winning time for that race (60.67secs) was by no means slow, suggesting that the ground - considering the headwind - is probably good to soft at worst, despite all of the rain last night. Something to consider for later punting.
13:47 Ouch. Hands up to being wrong there. Beldale Memory wins and wins very nicely indeed. She travelled well off the pace and quickened up tidily when asked to go by Jamie Spencer. That was a very good performance. Royal Ascot surely beckons.
13:44 Beldale Memory looks incredibly short in the betting here. It was only a Bath maiden she won.
13:42 Meanwhile, the first of Adam Robinson's previously-dispensed good things, Championship, has hosed up in the opener at Newbury as he predicted. Fair play, Adam.
13:40 1340: I've just been filmed by Channel 4 Racing, asking me about my favourite Derby memory. I tried to persuade them to talk to some real racing journalists instead, but they insisted. I hope I didn't have any bits of lasagne left in my teeth or a yellow tinge from the mustard. The cutting room floor almost certainly beckons, in any case.
13:30 Scurillous stuff from Brownie on the email. "Morning Will, sorry to hear of your issues with Mr. Doumen, however I think it wise to move on as you say, rumour has it he was unwell at York yesterday, he left early, had to get the bus and left his jacket somewhere, if you feel brave, please, please mention it to him! On to the racing, I like Bedale Memoey in the opener, got the 4's early. Sir John Hackwood to follow up on his Chester win last week at 11/4 and Guarantee in the Yorkshire Cup @ 12's, hoping that Melrose win last year can be repeated."
That certainly was a very good renewal of the Melrose, for sure. But you've got to hope that headgear will make a difference (as it did for his sire, Authorized) after such a lack-lustre run on his reappearance.
13:25 York have put an awful lot of extra prize money into this meeting, but still don't seem to be able to attract many runners to the very biggest races. The big-field handicaps might annoy the purists who feel that they dilute the quality, but most of them can be guaranteed to fill and that's more than you can say about the pattern races.
13:20 Sorry, I am still here. I was just having a look at the other cards and generally dozing. I think the lack of sleep is catching up with me. The kids seem to enjoy playing tag-team at present, one going up as the other goes down. I put the oldest one in front of Bob the Builder this morning and woke up on the sofa at the end of Chuggington. I was gutted to miss the whole of Postman Pat Special Delivery Service.
12:52 I would give you the going stick reading, but it hasn't changed, despit the going - apparently - having done. I take it all with a pinch of salt, as regular readers will know.
12:48 An announcement that the going was now 'good, good to soft in places' caused some consternation for a few seconds, until it was corrected to 'soft, good to soft in places'. What a palaver. I will also now be leaving Top Trip out of my Placepot perms, based upon information received from a colleague who said Doumen told him yesterday 'We'll be there as long as there is no soft in the ground'. Evidently, they must have set off before it started raining in the evening.
12:38 That made me sound very ungrateful for lunches. I didn't mean that at all. I'll always appreciate a lunch. Always.
12:35 Lasagne and mustard doesn't really work, I have just found out. You live and learn. Time to start thinking about the Placepot, buoyed by yesterday's success. A few years ago I went to a strange lunch celebrating the birthday of the Placepot which was hosted by Derek 'Tommo' Thomson, who hailed at as "the greatest bet ever invented... and I really mean that". But I started to smell a rat when at a subsequent lunch the same host described the food as "the greatest meal ever cooked... and I really mean that" and the sponsors as "the greatest holiday venue in the world... and I really mean that." I bet he's never even had a Placepot. He's probably had a few good meals and nice holidays though. What a game.
12:20 In the fashion news from the back of the grandstands (I've been staring absent-mindedly out of the window for 10 minutes), bright colours are in this year. And big hair. With little feathery things in it. Not for the blokes though. Meanwhile, it's like Piccadilly Circus on the track - there are nearly more people currently walking it than aren't. A lot of them are shaking their heads and muttering to themselves.
12:10 The gates are open and the punters are starting to arrive. There's a reasonably stiff breeze now blowing in the face of the runners as they come up the home straight. It will be a proper test. The course-walkers (and there are a few) all seem to be concentrating upon the middle to far side of the track rather than the stands' rail so hopefully we won't see any more stands' rail shennanigans as they all get in each other's way again. Eric and Sue Alston are the latest to tread the turf. Mr Alston has gone far side, Mrs Alston middle-to-stands' side. Maybe they should have a race for a furlong, in order to try and work out where the ground will be quickest. Now that would be worth turning up early for.
11:55 1155:Hadley Fox appears to be offering me a free bet, which is tremendously generous. "I thought today was going to be another super day for Stoute and Moore, hence I have gone for Rye House, Sir John Hawkwood and Pavlosk... but all the money is for DUTCH MASTERPIECE, a Moore ride I have not included, the gamble seems to be sustained 6/1 last night to 4/1 to 7/2...seems infectious...Whats your one for the day, I can't seem to find or pick a banker material Oriel, Nijango, Championship are all on the shortlist any thoughts on one today you would go for if presented a free bet Will???????"
If presented with a free bet, I'd go for a non-runner and get the money back Hadley. But that's the Yorkshire way. My old foe Mijhaar (who made me weep real tears when getting all but brought down in the John Smith's Cup last season) runs at Hamilton tonight, without his crown jewels for the first time. Is he worth one more try?
11:45 Another I am particularly sweet on today is Satsuma, although she'll have to be sharp away (boom, boom) to peel away (stop it, Aggers) from her rivals in the 3.50. Her form on heavy ground in the Super Sprint is very good and she should be seen to better effect on this straight track than at Chester last time.
11:25 Greetings to Adam Robinson, who like me, will be keeping a close eye on the action both here and elsewhere. "With the ground being testing at York, many of the runners in the Yorkshire Cup could well fail through lack of stamina," he writes. "One who won't is Quiz Mistress, who will love this stamina test and most importantly will love the ground. I was massively against Cavalryman, so a bit gutted he isn't running. Away from York, we have a couple of Royal Ascot horses running. Watch out for Championship at Newbury, and Alfaayza at Newmarket, both working exceptionally at home."
11:15 I don't mind having a pop, when required, but praise where it's due and the York racecard really is a fantastic tome. It would give you a good hour's read on the train on the way home. Did you know that Ardross is the only horse to win the Yorkshire Cup twice? No, me neither. Did you know that York racecourse now has its own herb garden? No, me etc etc...
11:05 My esteemed colleague Mr Dave Ord is right now chatting live (live, I tell you) with Graham Cunningham. You can see what the great man has to say right here. But do come back later please.
11:00 I quite fancy Top Trip in the Yorkshire Cup today, but the last time I saw Francois Doumen he was incredibly rude to me (using words that most Frenchmen shouldn't know), and that is putting me off from backing him. A mile and three-quarters is uncharted territory for Top Trip, but his French form is pretty decent and I can't help but feel that he is overpriced. Maybe it's time me and Francois laid our ghosts to rest. I'm sure he still thinks about it too, but I won't bring it up again if I see him. One has to move on.
10:55 But enough of such tawdry matters. On with the racing. You can get hold of me at will.hayler@gmail.com to send me your news and views.
10:50 There is a downside to being a local resident during the races though. As I walked into town for a soothing ale last night, I took a few photographs to offer an alternative perspective of 'York races'. I have decided against publishing them on public taste grounds for now, but one of them featured a jacket (complete with cardboard members' badge) that had been abandoned hanging up in a bus shelter after a gentleman racegoer had... err... befouled it. All over it. I know it's hard to take when you lose out in a photograph but...
10:45 Soggy it may will be, but as I strolled across the cricket pitch to the track, I concluded that I'd still rather be racing on the Knavesmire than anywhere else. Furthermore the Yorkshire Cup remains an intriguing puzzle.
10:40 It's fairly bright and sunny now, but you obviously couldn't rule out further rain arriving. There are already a few non-runners coming in, most notably Cavalryman who won't line up in the Yorkshire Cup. He doesn't appreciate testing conditions.
10:30 Good morning from a still-soggy Knavesmire, where the going is unsurprisingly 'soft'. Clerk of the course Anthea Morshead can complain all she wants about yesterday's rain having not been forecast - my phone app said heavy showers. She only needed to ask if she wanted to borrow it.