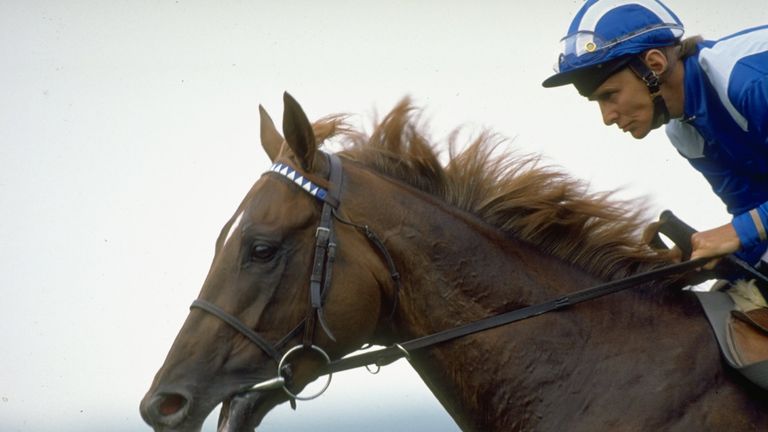 Glory in the King George VI And Queen Elizabeth Stakes may have escaped the clutches of Jason Weaver, but it is a race that still evokes many fond memories for the jockey-turned-broadcaster.
On Saturday the Classic-winning rider will form part of the ITV team at Ascot that will present coverage of this year's renewal of the mile-and-a-half prize, in which the Aidan O'Brien-trained Highland Reel will bid to become just the third horse to win back-to-back renewals of the race.
Having watched many epic runnings of the Group One contest through the years, Weaver took a trip down memory to lane to select his favourite five winners:
NASHWAN (1989 Dick Hern/Willie Carson)
"I will say Nashwan only because he is my favourite racehorse of all time. I think he and Willie Carson in splendid isolation was a thing of sheer beauty. It was jockey and horse in unison. He floated over the ground. He was just a champ.
"From early on in his career when he won the 2000 Guineas I think that was the horse that really lit it for me and he would be my number one winner of the race."
DAYLAMI (1999 Saeed bin Suroor/Frankie Dettori)
"They kept him in training and he just seemed to get better and better all the time. He was an absolute bus of a ride and a jockey's dream.
"Frankie Dettori and him were a formidable partnership in the race. He was so tough and durable. He turned up in all the best races and he was a horse you grew to like as your saw so much of him."
SWAIN (1997/1998 Saeed bin Suroor/John Reid/Frankie Dettori)
"I think any dual winner is worthy of a spot in here. He also sneaks in because he was by Nashwan and he was the last double winner.
"He was tough durable and you always saw him race at the top level. He was a lovely horse to have anything to do with."
HARBINGER (2010 Sir Michael Stoute/Olivier Peslier)
"It was a little bit of a story of what could have been as that was to be his last race. From a visual perspective you don't see those sort of races won like that.
"People can pick holes in anything if they look at it for long enough, but just looking at it from a visual perspective it was spectacular."
MONTJEU (2000 John Hammond/Michael Kinane)
"We knew Mick Kinane was the best rider of a spectacular era for jockeys, yet when he was required for finesse as well he showed that he had that in the locker as well.
"He didn't just have pure controlled aggression, but style and class as well - very much like Montjeu did and the pair won the race as you liked on the bridle."