Friday Carlton House D-Day
A decision on whether The Queen's Carlton House will run in Saturday's Investec Derby at Epsom will be made by Friday.
Last Updated: 01/06/11 6:56pm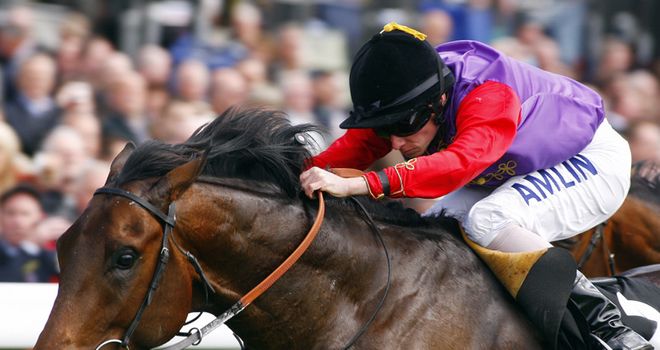 A decision on whether The Queen's Carlton House will run in Saturday's Investec Derby at Epsom will be made by Friday.
Sir Michael Stoute's colt has been a warm favourite for the premier Classic since winning last month's Dante Stake at York.
But his preparation for the race suffered a considerable jolt when he sustained a strained ankle in a work-out on Monday.
Connections must now consider whether to keep him in the Epsom line-up at the final declaration stage on Thursday morning.
Her Majesty's racing manager, John Warren, said: "We've got the next few days to see if it (the ankle strain) is cooling itself down - that's going to be key.
"The good thing is the horse is sound and he's moving well.
"He's on trotting exercise but, of course, Sir Michael Stoute would love to be getting some good cantering into him at this point.
"Luckily, we've got the most experienced trainer in the country and the best rider (Ryan Moore) in the country.
"We've got a chance (of running). It's not without a possibility that he'll stand in the line-up.
"He won't run unless the trainer is completely content that he's sound.
"By Friday we'll know more."
Carlton House worked over six furlongs on Sunday, and also had a routine canter on Monday, after which the problem was discovered.
Stoute's colt underwent X-rays on Tuesday morning, but no serious damage was revealed.
Warren added on talkSPORT: "There is no medication allowed into a horse going into a race.
"All that can be done is to ice him, wrap him, and hose him, and just get the blood circulating into that joint to speed the process up.
"It's wait and see for the next 48 hours."
Rival update
French trainer Alain de Royer-Dupre, by contrast, issued a more upbeat bulletin when assessing the progress of Vadamar.
The Aga Khan's colt had a genuine excuse when finishing third at odds-on behind fellow Classic hopeful Pour Moi at Saint-Cloud four weeks ago.
"He had an injury in his last race. He cut his leg, but now he is perfect, which is why we want to come and try for the big race," he told At The Races.
"He can go on soft and good ground and he is a very easy horse to ride.
"He stays and could have a big acceleration and I think he has a chance.
"He didn't have a good result the last day, but I think he is interesting to run."
.