O'Meara excited about new season
David O'Meara is looking forward to the season ahead after attracting more horses over the winter to his Helmsley stables.
Last Updated: 01/04/12 11:57am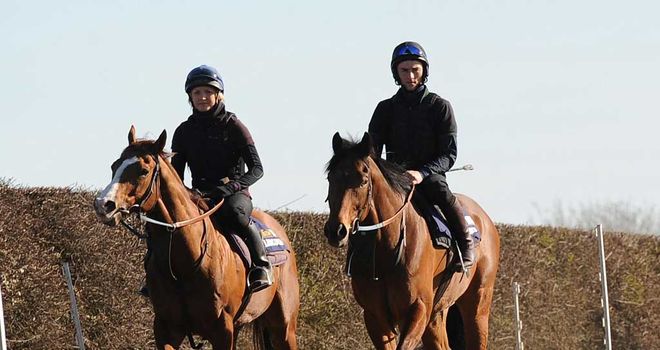 David O'Meara is looking forward to the season ahead after attracting more horses over the winter to his Helmsley stables.
The former jump jockey has made huge strides in just three years with a licence and having started out with just 12 horses back then - six of which he dispatched straight away - he already has more than 70.
Training from a yard near Helmsley in North Yorkshire he has helped develop with former Huddersfield-based businessman Roger Fell, the 35-year-old is aware there will be a lot more focus on him from now on.
"We have more horses than last year, but we do have a lot of the same horses also," said O'Meara.
"A lot of them were winning off low marks and whether they can carry on improving is another thing.
"Middleham Park have come along and bought a few and we've been busy at the sales, so out of the 75 there are a few new faces.
"It has been a surprise how quickly it's all happened. I didn't expect Group winners, big handicaps and 75 horses just 18 months or so into it.
"When I came up here in October 2009 there was about a dozen horses and it then took me nine months to get all my qualifications. We got rid of half of them straight away.
"I don't find it frightening how quick it's all happened, you don't go into it wanting to do half a job.
"It might be a little bit frightening that we had 48 winners on the Flat last year. We've got to match that or even do better.
"The stable stars are back, Blue Bajan, Pepper Lane, Smarty Socks, they'd be our best horses.
"I packed in riding at 31 with a view to hoping to try and get into this industry and it's gone really well. I met Roger and that was lucky.
"The owners of Pepper Lane, Dave Lumley and his wife Lynne, put me in touch with Roger. Dave is a builder and built the yard and Roger bought it off him and put me in touch.
"Pepper Lane (Great St Wilfrid winner) was one of the original inhabitants and was running in sellers.
"Roger wanted someone to come in and get it off the ground. He was going to pay a reasonable salary and we set a business up between us.
"That was so I wouldn't just sit back and be happy, it was in my interest to grow the business and it was hard work in the beginning."
O'Meara admits he does not find the social side of training his favourite part of the job, he was after all nicknamed 'Black' in the weighing room because of his moods.
"Roger has been great at the social side of it, I'm fairly shy and dealing with owners isn't top of my list. He's very successful in business so going in with him is like having one of the dragons off the den on board," he added.
"I've worked for some very good people. When I was at school I rode out for Jim Bolger and everyone from Tony McCoy to Aidan O'Brien will tell you that he's the best teacher, and when I was at university I rode out at Michael Hourigan's.
"I then went to Philip Hobbs and then the Easterby's, you're bound to learn working in those yards. I worked for Sue and Harvey Smith, too
"I noticed they did a lot of the same things, they had a lot in common so if you copy them you might do all right.
Fell is enjoying his retirement more than he thought he ever could, but admits he has been taken aback by the immediate success.
"At lot of people applied for the job, I put an ad in the paper, but David didn't apply," said Fell.
"He's not really Mr Personality but he's certainly better for knowing. I didn't give him just a job, I gave him an incentive to turn it into a successful business.
"I never expected this success and we've had to expand to accommodate extra horses. I come down most days and sometimes drive the wagon to the races, it's a nice way to spend my retirement."
While O'Meara admits some of his better-known horses will need to improve again to make their mark this season, he did pick out one who he thinks could still be ahead of the handicapper.
"We've got a few second-hand horses and one or two from Ireland and about 15 two-year-olds, hopefully one or two are nice, we don't know yet," O'Meara said.
"We've still got War Poet who is a lovely horse and could improve a lot as he was immature last season.
"There is nothing special we do to improve horses. With having a bit of a reputation for improving some we have been sent some bad horses and we tend to get rid of them very quickly.
"We give them a run for the benefit of the people who have paid for them but we don't hang on to them indefinitely as I don't want to stand there trotting out excuses when I don't believe them myself.
"We move on, get them something that will win, that way they'll have much more fun."
It seems a simple statement but one that is serving the ambitious, young O'Meara very well indeed.