Buck's targets Aintree history
Big Buck's will attempt to create history when he chases his 17th consecutive victory in the Grade One BCG Partners Liverpool Hurdle on April 12.
Last Updated: 03/04/12 11:05am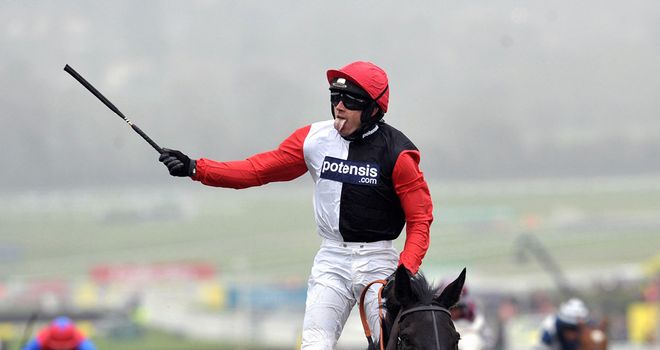 Big Buck's will attempt to create history when he chases his 17th consecutive victory in the £100,000 Grade One BCG Partners Liverpool Hurdle on April 12.
The nine-year-old equalled Sir Ken's record of 16 straight Jumps victories at the Cheltenham Festival last month, when he also became the first horse to win four Ladbrokes World Hurdles.
Owner Andy Stewart has confirmed the Paul Nicholls-trained superstar is on course for the hurdling feature on day one of the John Smith's Grand National meeting, along with stable companion Celestial Halo.
Stewart said: "Big Buck's is running in the BGC Partners Liverpool Hurdle on Thursday as is Celestial Halo. Big Buck's has been absolutely fine. Obviously he had a race at Cheltenham as they all did, but there have been no problems at all and Ruby (Walsh) will take the ride on him at Aintree and I imagine Daryl Jacob will ride Celestial Halo.
"I will watch the race in the middle of the parade ring with Paul (Nicholls) as I have done the past four years at Liverpool. Big Buck's has never been beaten at Liverpool because he ran in a chase race the year before he won his first BGC Partners Liverpool Hurdle and, despite hitting every fence in the back straight, he still managed to get up and beat the RSA Chase winner Albertas Run. Hopefully this year we will be able to make it four Liverpool Hurdles.
"I wouldn't say he is better at Aintree as the fields he's been facing there haven't been as strong as at Cheltenham, though saying that, last year he beat Grands Crus one and three quarter lengths in the Ladbrokes World Hurdle and then five lengths on the bridle in the BGC Partners Liverpool Hurdle. I think Grands Crus just had a very hard race at Cheltenham, and, albeit we had a race, Big Buck's just seems to recover so quickly. After this year's Ladbrokes World Hurdle you wouldn't have known he had a race - he could have gone round again. Obviously he is feeling it because he is nine years of age now, so youth is just on his side but it's not quite the same as when he was seven.
"One day he will turn around and say I don't want to do this any more but I think we are miles away from that at the moment."
Reflecting on the career of Big Buck's, Stewart added: "The first Ladbrokes World Hurdle was pretty special and it has been amazing since then - the reaction he got before his fourth Ladbrokes World Hurdle was amazing, I have never seen anything like it. After the race the reaction from the crowd was quite overwhelming and on Cheltenham Gold Cup Day everyone was saying what a remarkable horse he is and it's very nice of them to say so and it's an absolute privilege to be a part of it.
"We have had a lot of interest from the local press up in Liverpool because they have worked out that a few extra people might turn up to see history being made as he attempts to surpass Sir Ken's record of 16 consecutive victories."