Telescope produced a workmanlike gallop as Sir Alex Ferguson looked on
Sir Alex Ferguson was among those watching Derby hope Telescope gallop but the colt's work proved underwhelming .
Last Updated: 22/05/13 9:18pm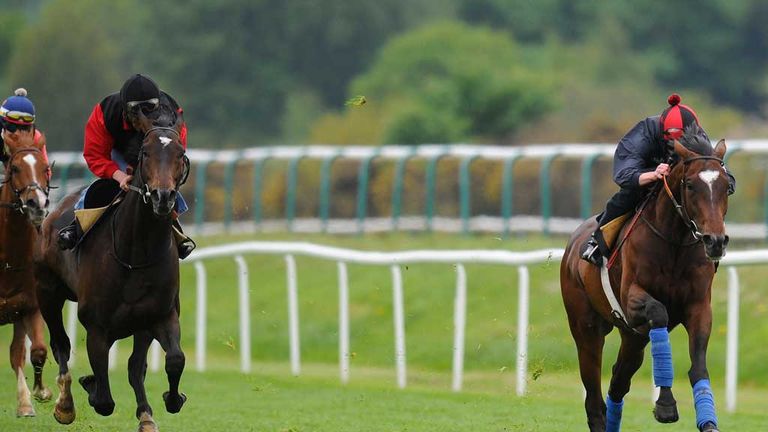 The recently retired football manager is part of the syndicate that owns the colt who could have his first run of the season in the Epsom Classic.
He had been due to run in the Dante Stakes at York but was ruled out after a last minute injury with grazes he sustained on his legs becoming infected.
Instead connections opted to give him a racecourse gallop at Lingfield in order to prove his wellbeing ahead of a possible trip to Epsom; Sir Michael Stoute also took his most recent Derby winner Workforce for a gallop at the Surrey venue prior to his success.
Telescope galloped with two companions, Commend and Opinion, who gave the star colt a lead with Commend giving way as Opinion attempted to keep the three year old company.
Telescope went on inside the final furlong under Ryan Moore and passed the winning post around three or four lengths clear under the watchful gaze of a number of members of the Highclere Syndicate.
The gallop proved disappointing with Telescope getting rather warm and sweating while he also got his tongue over the bit and didn't work as well as had been expected.
He is set to work again at Newmarket on Saturday before connections commit him to Epsom.
Stoute told At The Races: "We felt it was more of workmanlike display. He's worked with these horses this spring and has been more impressive than that.
"I felt that he didn't really switch off - even cantering down he was just taking a bit of a tug. Hopefully it will do him the power of good to get back to the racecourse as it's been a long time.
"We will see what today has done for him, mentally more than anything else. We'll work him on Saturday and chat again."
Some bookmakers responded by pushing out Telescope for glory at Epsom and further cutting favourite Dawn Approach who is now odds-on in places.
Highclere racing manager Harry Herbert was also slightly downbeat following Telescope's gallop.
He said: "Anyone watching that, especially those who have seen the horse work in the spring, would say he lacked that usual zip.
"He hasn't put in a performance that was as good as had been hoped. I suspect this is a combination of tongue-over-bit and freshness.
"'Workmanlike' is the right word for it. Ryan said it wasn't as good as he'd hoped.
"The final piece of work on Saturday is obviously going to be critical. The clock is ticking. We will see what his piece of work is like on Saturday before deciding whether to go all out for Epsom or not.
"While this may have been disappointing I suspect there might have been a reason for it. No horse is going to work properly with the tongue over the bit, hopefully we'll see the real Telescope on Saturday and the dream will still be alive."