Rugby union ace Mike Tindall is looking forward to his first Crabbie's Grand National
Last Updated: 26/03/14 6:13pm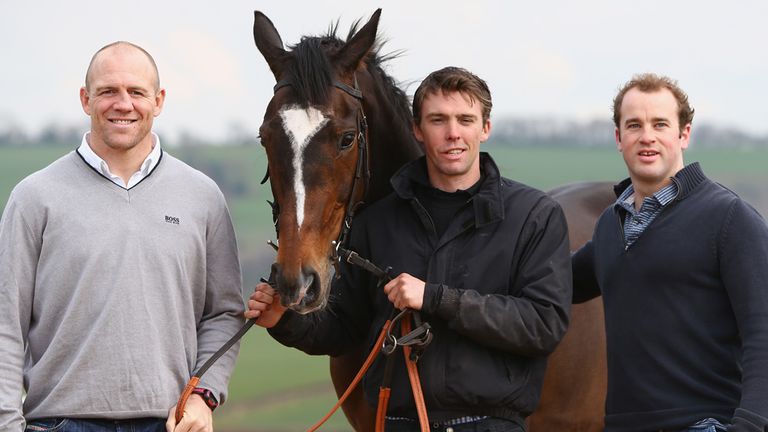 Rugby union ace Mike Tindall is looking forward to his first Crabbie's Grand National experience with Monbeg Dude at Aintree on Saturday week.
The former England star famously bought the horse on impulse at Brightwells back in January 2010 and his snap decision has already reaped rich reward, with victory in last season's Coral Welsh National a particular highlight.
The Michael Scudamore-trained nine-year-old has won one of his four outings this term, triumphing at Cheltenham in December, but part-owner Tindall admits he would not be in his current position were it not for his wife, Zara Phillips.
The pair married in July 2011, and Tindall says the Queen's granddaughter sparked his interest in the sport.
He said: "From where I come from, we never went racing much as I was growing up, although obviously we took an interest in the National. But I got more into it when I started going out with Zara, who is very into racing and goes to Cheltenham every year.
"Gradually through that I got to meet some of the jockeys and then the trainers and it's gone from there. Now when I go home I'll switch on Racing UK, At The Races or Channel 4 Racing and watch what has been going on in the races. It's an education and I'm still learning.
"James (Simpson-Daniel, Gloucester wing), me and Zara were at the sale with Scu and he was an impulse buy, all the other horses that night made £20,000-plus so I thought I would be out-bid. But the bidding suddenly stopped with him. Zara wasn't happy when I got landed with him!
"I went to look at him in the stable and he looked tiny. We then had to find a way of transporting him so Scu had to drive home and come back with the box. 
"It took a while for us to work out the horse but he'd won a point-to-point in Ireland and is a battler. I don't know much about horses, but one thing I learned from Zara with eventers is that is you have one that tries you are 90 per cent there and he is a trier."
Phillips is a renowned equestrienne, who boasts a three-day eventing world title and a silver medal from the London Olympics among her achievements.
She has been putting those skills to good use with Monbeg Dude, but was keen to downplay her role in the gelding's noticeably improved jumping following his Cheltenham success.
Tindall, speaking as the press and media descended on Scudamore's Ross-on-Wye yard, said: "After the Welsh National, Zara said he was not quite respecting his fences and was lazy with his jumping. So she started doing some pole work with him and getting him sharp on his feet.
"The progression is there to see, now he bounces over his fences. He travels a lot better now and is conserving his energy and speed. He goes to Gatcombe most Mondays to do it, in the outdoor arena. He was there a couple of days ago and will go on Monday ahead of Aintree."
Tindall is currently a player-coach with Gloucester so should Monbeg Dude win, his celebrations will have to wait as his side play Wasps the following day.
He said: "I've never been to the Grand National before and it's just something having a runner. It's going to be tight because I'll be training early on Saturday but I'll get up there and watch the race. Unfortunately, if we do well I'll have to come straight back down and we'll have to delay the celebrations."
Monbeg Dude's hopes of Aintree glory were augmented on Wednesday when Scudamore announced he had secured the services of Paul Carberry for the Grade Three feature.
Carberry, who won the world's greatest steeplechase in 1999 on Bobbyjo, trained by his father, Tommy, was in the plate for his Welsh National success and has ridden on two other occasions, most recently when the combination finished fifth in the Grimthorpe Chase at Doncaster.
Scudamore said: "Paul is going to ride and I'm very happy to have him. Someone with Paul's skill, experience and craft is not a bad man to have on board. 
"I think this is one of the best Nationals ever and it's a hugely competitive race. But he deserves to take his chance and there are 39 others and 30 fences to get in the way.
"He goes there with a major chance on form, he stays, I hope his jumping is not a problem and he goes on any ground so he ticks a lot of the boxes.
"A lot has come together with the horse and Zara's input has been huge. Her work has just made him a little more aware where his feet are over the obstacles. That's what eventing horses is all about - they have a completely different way of looking at it.
"Accuracy and speed are more the National Hunt thing while eventers look at how it is done."