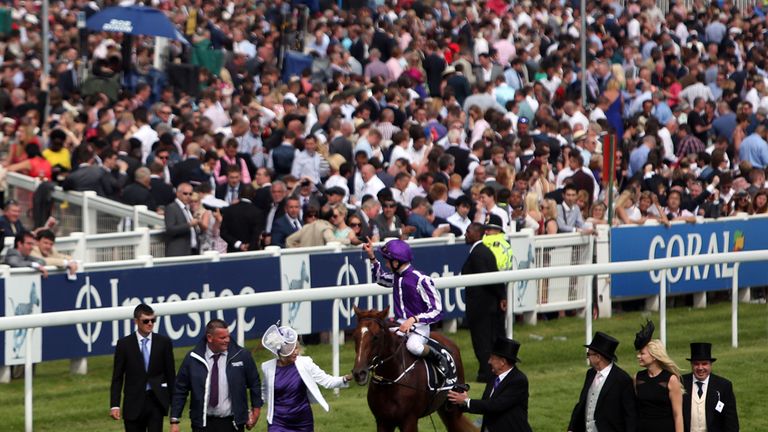 Epsom may consider moving the Investec Derby to a Saturday evening slot to reverse the declining television audience of the great race.
Managing director Rupert Trevelyan told The Times that moving the off time is likely to come under discussion in a move already taken by counterparts in Ireland.
The peak audience for this year's race last month, won by Australia, was 1.55 million, less than half that achieved by the last time the Classic was shown by the BBC.
However, any change is likely to need the approval of the Queen as the course is well aware of the influence placed on the attendance of the monarch.
"We may decide to innovate. I've never ruled anything out and staging the race later in the evening could be considered," said Trevelyan.
"The broadcasters tell us that every hour later could be worth an extra million viewers.
"The presence of the Queen is paramount and she will be consulted before we make any such change."
The Derby was moved from it's traditional Wednesday slot to a Saturday 20 years ago and some still believe a move back would be the way forward but Trevelyan dismissed such ideas.
"In the paid stands, we had the biggest crowd ever this year, so that view is misguided," he said.
"Rain in the morning reduced the walk-up crowd on The Hill but that is not a trend. The race is in good shape but we should never rule out change."
David Williams, spokesman for bookmakers Ladbrokes, said his firm would welcome an evening Investec Derby in principle - but warned it might not be an overwhelming success if it clashed with another major sporting event.
And 2015 would be one of those years as football's Champions League Final is being staged in Berlin on the same day as the Derby - Saturday, June 6.
"I would encourage them not to do it next year because it would clash with the Champions League Final. That is very late next year as it's the World Cup this year," said David Williams of Ladbrokes.
"Racing has to understand that when it goes head-to-head with big football events it comes off second-best.
"Generally we would welcome anything that looks like reinvigorating viewing figures. If you can create a narrative in a sporting day where there is a climax later in the day, it is a good thing for betting purposes.
"We have often found if you put your feature race on later in the day there is better turnover all through the day.
"Betting firms would welcome that. However, there are going to be occasional years - and 2015 would be an absolute stellar point - where it ends up clashing with something and comes off second-best, so a lot of homework has to go into this.
"We would give a tentative thumbs-up to the idea, but there are a lot of moving parts and this probably isn't going to be the panacea to solve all the ills of what is happening with summer Flat racing viewing figures.
"Racing needs to work harder than it ever has to come up with innovative ideas to restore betting interest and viewing interest. If this is one step along that road let's get it on."
Currabeg trainer John Oxx has had runners in the Irish Derby since it switched to an evening slot, with Born To Sea second to Camelot in the 2012 renewal, and has won the Epsom Classic twice, through Sinndar in 2000 and the great Sea The Stars in 2009.
He said: "All I can say is they seem quite happy with how it is going over here, but I wouldn't have a strong view on whether it would be the right thing for Epsom to do.
"It's a slightly different situation in Ireland as they moved the race from a Sunday to a Saturday evening. On one hand it was perhaps the viewing figures, but it has also helped them get an improved corporate response.
"A lot of the old school would say when the Epsom Derby was on a Wednesday it clashed with nothing. It was a day off and a big event for everybody.
"Some people would say the problems started when they moved it to a Saturday, but I don't know. I'm sure they had good reasons for doing it.
"That's just the way things are going now. Royal Ascot finish up on a Saturday now and you get a different crowd, but it's their biggest crowd of the week.
"I have enough on my plate trying to train a winner without trying to solve all the problems in the world!"