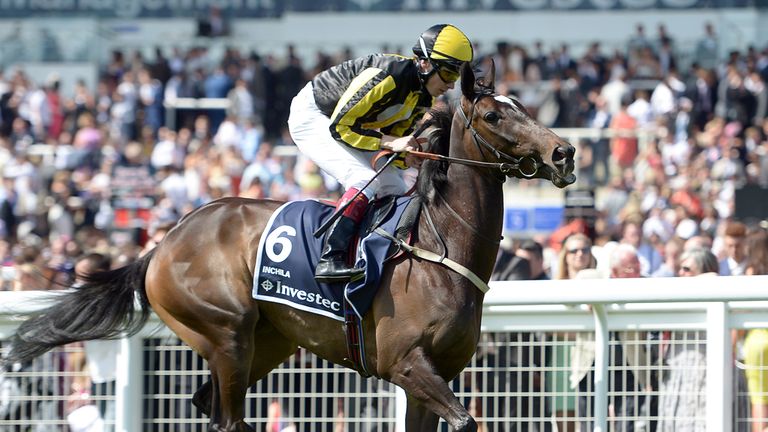 Inchila, an unlucky fourth in the Investec Oaks for Peter Chapple-Hyam, has been put down after suffering complications from an injury she sustained in the Ribblesdale Stakes at Royal Ascot.
Owned and bred by Woodcote Stud, the daughter of Dylan Thomas fractured her pelvis at Ascot but the initial diagnosis was good and connections had hoped to see her back on the track next year.
However, on further examination the injury was worse than first feared and the difficult decision was taken last week.
Barry Reilly, owner of Woodcote Stud, told Press Association Sport: "It's not good news. She had been doing well but the original injury was worse than we first thought.
"We they examined her further, which they weren't able to do for several weeks, and they found that she had a fracture right down into her hip joint.
"Last Friday we made the decision that the best thing for her was to put to sleep.
"The vets originally said she'd make a full recovery and we just wanted her back on the farm for her babies, really.
"She was going the right way but the trauma down that left side took its toll.
"She was up for five weeks and I was seeing her twice a week but I think partly exhaustion got the better of her.
"They took her down, under supervision, but when they got her back up her leg wouldn't bend.
"It's really sad and she would be a big loss to anybody, never mind a farm of our size.
"Pete was convinced she'd be much stronger next year but the worst-case scenario we thought was that we could breed from her.
"Simon Knapp (vet) and his team did a great job, but there was no other decision we could have made, the muscle wastage was very bad as she was immobile.
"I feel very sorry for Pete as he's just lost Rodrigo De Triano as well, things like this hit you hard."