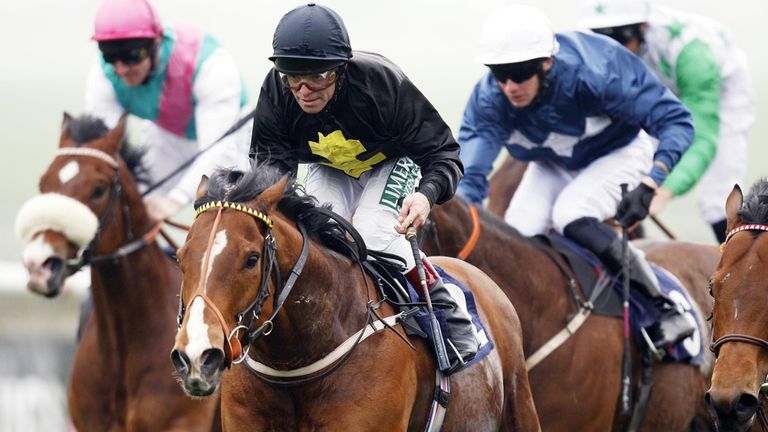 A review of the action from Thirsk where popular veteran Tax Free bowed out with a ninth placed finish.
Tax Free could not quite finish what he started at Thirsk as the Nicholls family's star sprinter ended his racing career.
It was in April 2005 that Tax Free made a successful debut at the same North Yorkshire track, and in 94 more races he won 17 further times, including four Group races, and finished fourth in the 2009 Nunthorpe.
Now 12, Tax Free was given a warm round of applause by his local crowd after showing up well but eventually finishing ninth in the Download New Racing UK iPad App Handicap.
He will now be looked after by jockey Adrian Nicholls, who said: "It's like the end of an era - it seems a lot of has water gone under the bridge since he first came here. He owes me nothing and now he can go out in the field with all his pals.
"You've got to stop at some point, he's taken me to some of the best racecourses in the world. It's sad to see him retire but I wouldn't want to see him rated 60 and running round the lesser tracks.
"We decided to come here as it's local, it's nice to see him finish here."
Reflecting on the run, he told Racing UK: "He actually ran pretty well on ground probably not quite for him. From day one he's been a legend. He lobs to the start, stands there - he's a push-button ride.
"The day he beat Dandy Man in Naas, there was so much talk about Dandy Man, Sheikh Mohammed had bought him and I went past him.
"And the day in France when he won a Group Two - it wouldn't have mattered that day whether it was a Group Two or a Group One."
The eventual winner was Jim Goldie's Go Go Green (14-1) who had been unlucky at Ayr on his previous run.
Jamie Spencer stopped off for a double in the middle of a hectic spell even by the standards of an international jockey.
After riding for boss Sheikh Fahad at Deauville on Friday, the Irishman flew to Arlington to partner Side Glance into third in the Arlington Million and Just The Judge to the same position in the Beverly D, and he will be back in America next weekend.
Spencer's visit was rewarded when Michael Bell's 5-4 favourite Banditry held off the running-on Adele by a neck in the Breeders Backing Racing EBF Maiden Stakes.
"We've got York this week, which is always an enjoyable few days, and then I'm going to Del Mar," said Spencer.
"It's my first time there, I'm riding Toast Of New York in the Pacific Classic. Simon Callaghan has a few runners, and I've got one for Doug O'Neill. I'm leaving on Saturday night, so it's quite a tough schedule."
Banditry had been fifth on his recent debut at Newmarket, but Adele might have got closer if Joe Fanning hadn't found a gap closed on him.
"He's quite raw, and a horse that has shown improvement with racing," said Spencer. "He's got a hood on because he can be excitable but I'm sure he won't need it in time.
"The hood makes him very lethargic, he's totally relaxed. I think he'll grow up and he's quite a good looking horse so hopefully he won't get too high a mark."
Later, Spencer grabbed the Bet On The Move - Racing UK's App Handicap on Comino (4-1).
Caius College Girl (5-1) looked a similar type to Banditry, building on her first outing but hanging in the closing stages en-route to a two and a quarter length victory in the British Stallion Studs EBF Maiden Stakes.
Jockey Graham Gibbons said: "She's done it quite well as she's always doing a bit much, she's a bit green and was hanging off the rail.
"She should get seven furlongs but won't help herself get it. The bit had slipped from her mouth but she went straight enough."
A great finish to the Racing UK Anywhere Available Now Handicap saw Conor Dore's A Little Bit Dusty (14-1) sneak a neck past Midnight Warrior while the march and march of David O'Meara continued with Shouranour (11-2) in the herriotworld.com Handicap.