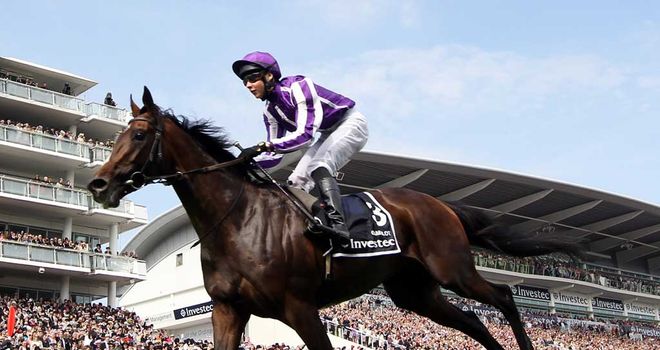 Camelot: Bidding to become first Triple Crown winner since 1970
Ahead of Camelot's historic Triple Crown bid, trainer Aidan O'Brien says the colt "is like no other horse".
Camelot faces his date with destiny in the Ladbrokes St Leger on Saturday as he seeks to end a 42-year wait and emulate the legendary Nijinsky in claiming the coveted Triple Crown.
It also promises to be a landmark day for O'Brien from another point of view, as victory in the Leger would mean he would become the first to train all five British Classic winners in a single season.
Aside from Camelot, the O'Brien-trained Homecoming Queen won the 1000 Guineas while Was landed the Investec Oaks.
O'Brien said: "We've had great horses all through the years and you always hope something different will come along again and then when he (Camelot) arrived it was just incredible.
"He's an incredible talent really. One of those very special horses, one that only comes once in a lifetime.
"I thought it (winning the 2000 Guineas) was impossible really, I have to take my hat off to the lads for trying it.
"He went there doing half-speeds and the lads were prepared to let him go there, it was a big call and he had an awful lot to lose. It was one of those special days."
Camelot was last seen winning the Irish Derby in June. he has been given a lengthy break deliberately to prepare for the St Leger over a mile and six furlongs.
Break
O'Brien added: "In the Irish Derby I was very worried as everything was against him - the ground and he hadn't worked on grass since Epsom, so he hadn't done a lot of work in that kind of ground.
"We gave him a good break and his weight started to increase, which was unusual. He will be heavier for the Leger than he has been going into any other race but with three-year-olds they often don't change until later in the year.
"His body is built more like a miler in that he is round and strong as opposed to angular and lean. That is a little thing that would be in your mind.
"We are in the zone where you don't want to talk about things - you just want to keep everything smooth.
"We think Camelot is like no other horse. Who knows what is going to happen? - we don't take anything for granted. We will do our very best - it's all we can do."
Camelot, a son of Montjeu, will be going into the unknown trip-wise, with O'Brien conceding it is the ultimate test.
He said: "We (O'Brien and his wife Annemarie) breed horses - you don't look for just speed anymore, it is class you look for (in stallions).
"They have to have speed, stamina and courage - they are the three most important things when you are breeding horses. The Leger will expose the last two.
"To be going for the Triple Crown is something I could never dream of happening. Extreme distance can break hearts. The Triple Crown is the full test of the three-year-old."
Peak Condition
David Lanigan is confident Main Sequence is in peak condition as he prepares to cross swords with Camelot for the second time this year.
A winner on his first four racecourse appearances, Main Sequence lined up in the Investec Derby in early June protecting an unbeaten record.
While he had to taste defeat for the first time on the Epsom Downs, he ran a superb race to fill the runner-up spot, finishing some five lengths adrift of Camelot, Aidan O'Brien's colt who is bidding for Triple Crown glory this weekend.
Since that excellent effort little has gone right for Main Sequence in two subsequent starts.
The three-year-old suffered serious traffic problems when close-up fourth in the Grand Prix de Paris and was then a fast-finishing second behind the enterprisingly-ridden Thought Worthy in a slowly-run Great Voltigeur at York, another horse who reopposes on Town Moor.
Lanigan said: "He had a canter this morning and he seems in really good form, but only time will tell.
"I couldn't be happier with him going into the race and all we can hope is that he runs his race and gives a good account of himself.
"We all know Camelot is going to be very hard to beat, but it's the last British Classic, we know it's going to be hard to win, but we'll give it a go."
Like a number of his opponents, including Camelot, Main Sequence will be stepping up from a mile and a half to a mile and three-quarters for the first time.
That extra two furlongs has found out so many over the years, but Lanigan is hopeful his charge will see it out.
"I'm as confident as I can be (he'll stay the trip). You never really know until you try it but he gives every indication that it will be fine for him and he was staying on well at the end of the Derby," said the trainer.
"I think the ground should be perfect for him, so we'll keep our fingers crossed and see what happens."
Major Claims
Joining Camelot on the trip across the Irish Sea is Tommy Carmody's fast-improving colt Ursa Major.
After winning twice in handicap company at the Curragh, the son of Galileo took a step up to Pattern class in his stride when slamming the talented Hartani in the Irish St Leger Trial.
Connections did consider letting Ursa Major tackle his elders in the Irish St Leger itself this weekend, but came down on the side of a trip to Doncaster, and he has been well-backed since.
The St Leger is one of the few major race still eluding top jockey Johnny Murtagh, but he feels Ursa Major has plenty going for him.
He said: "He's a three-year-old and we're never going to have the chance to run in a Classic again.
"It's not a one-horse race, Camelot has to turn up, he has to perform and he has to run over a mile and six and a half furlongs, but obviously he has the best form by far.
"My horse is a nice stayer, he's done nothing but improve, so we're looking forward to it."
Closely Matched
The last of Sir Henry Cecil's four Leger heroes was Michelozzo in 1989 and this year he saddles Thomas Chippendale, who carries the colours of Yorkshireman Sir Robert Ogden.
Ogden's racing manager, Barry Simpson said: "We're perfectly happy with him and his work has been good.
"The ground has eased a bit, which I think is in his favour and we're looking forward to what should be a very good race.
"Realistically we know Camelot is above all the rest, but equally, if you discount the pacemaker, there are seven other horses in the race that are very closely matched.
"Strictly on form it looks as though Camelot should win and if he does, then it will be a very special achievement.
"I suppose you would say this is his ultimate test and that's what this game is all about.
"He has seven opponents who think he can be beaten, but if we can't, it looks like being a tremendous race for second."
The Godolphin team have won the St Leger on five previous occasions, but this year's representative Encke is one of the outsiders.
Trainer Mahmood Al Zarooni said: "This will be the biggest test of his career and we still don't know how good he really is. He has never been in a Group One contest before but I think that he will run a good race - he is a tough horse who always gives everything.
"The distance will be fine for him and he seems to cope with most types of ground. We can dream of beating Camelot but anything can happen in this game and our horse deserves to take his chance."
Untapped Potential
Another horse with untapped potential is the William Haggas-trained Guarantee.
The Authorized colt did not make his debut until mid-June, but since that initial second at Windsor, he has notched a hat-trick of victories, completing the treble when annihilating a good field in the Melrose Stakes at York.
Haggas said: "He's very well and will have enjoyed the rain that came on Wednesday. He's an improving young horse, but he's got another huge mountain to climb."He's really going the right way, he's on good terms with himself and if you're not in, you can't win."
John Gosden has an enviable record in the world's oldest Classic.
The master of Clarehaven has saddled Arctic Cosmos and Masked Marvel to win the last two renewals, Lucarno won for the yard in 2007 and the trainer first won the race with Shantou in 1996.
He comes into this year's race with a strong hand, with Lucarno's full-brother Thought Worthy joined by Michelangelo, as well as big outsider and likely pacemaker Dartford.
Gosden said: "Thought Worthy has been fine since York where he showed he's a very game horse. He's from a family of tough staying horses.
"We are taking on a very fine horse in Camelot and naturally all the focus has been on him and the Triple Crown. But it takes other horses to make a race and Thought Worthy will stay the trip. Whether he can stay it fast enough is the question.
"Michelangelo has done nothing wrong in his four races. He was third in the Gordon Stakes at Goodwood, which is not everybody's track.
"He was staying on well at the end of that race and so did Arctic Cosmos before winning the Leger two years ago."
William Buick was in the difficult but privileged position of being able to choose between the leading Gosden duo, siding with Thought Worthy after much deliberation.
Dettori Booked
Frankie Dettori, who partnered Shantou 16 years ago, has been booked for Michelangelo.
Buick told At The Races: "Strictly on form, Thought Worthy is the horse who won the main Leger trial, ran well in the Derby and in the King Edward at Royal Ascot so he's the form horse.
"But Michelangelo has done very little wrong in his career and is lightly raced.
"They are both in good form and doing the right things at home. They'll both be 100 per cent right on the day and it's their race - I think they'll both excel on the track and at the trip.
"Michelangelo will be benefit from a fair run gallop on a flat course, and the same applies to Thought Worthy.
"They're stepping up in trip from a mile and a half, but I've no doubts about them staying. They are both genuine, uncomplicated horses.
"We all have Camelot to beat, he's the exceptional horse in the race. It would be nice to see (a Triple Crown winner) but we'll all be doing our best to beat him."