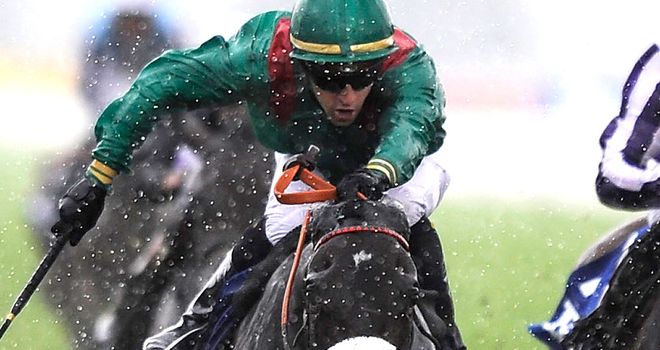 Shareta: In good order
Alain de Royer-Dupre trained Dalakhani and Zarkava and this year has a very strong hand with last year's runner-up Shareta as well as the supplemented Bayrir.
Shareta comes into the race in superb form having won the Yorkshire Oaks and the Prix Vermeille on her last two starts, while Bayrir was second in his warm-up race in the Prix Niel.
The trainer said: "Shareta accelerated very strongly in York and she did the same in the Vermeille. Last year she was not completely the same.
"This year we decided to have two races before the big race (Arc).
"Shareta is a strong filly and she can accept everything (during a race). It is very interesting to have a filly like that in a big race.
"Last year we had firm ground and the pace was very strong. I think good to soft is OK, but if it was very soft I'm not sure it would be the best for my filly.
"The draw is not so good (stall 11), but it is not a major problem for her as she does not pull in her races so you can sit close to the pace if you need to."
Shareta will be partnered by Christophe Lemaire, who said: "I think we can be very confident because she has been very good this year - better than last year.
"Her last two races were really good, especially in the Prix Vermeille when she really impressed me
"When I asked her to go, she won by a good margin.
"If she's 100% in the Arc - and that is what I expect - she will have a very good chance."
De Royer-Dupre was not initially planning to run Bayrir this weekend, but has been so thrilled by his progress since the Prix Niel he decided to add him to the race.
He said: "We decided to go with Bayrir as he was not completely fit for the Niel and he has come out of that race looking so well, we decided to change our plans.
"We want to go to the Breeders' Cup with him, but he is so well I did not want to wait all that time without running him again.
"He is very well but the draw for him (stall 14) is very bad."
Bayrir's Prix Niel conqueror was Jean-Pierre Gauvin's French Derby hero Saonois (stall two), who was also supplemented for the Arc at great cost.
"He had a small blow out this morning (Thursday) in view to Sunday, and we are extremely pleased with him as he was very relaxed," Gauvin told Turfcom.
"We have done everything we can for his preparation, and now we just hope everything goes smoothly. I am very worried about the predicted soft ground however, which is a major concern as he will not be at his best on it."
Andre Fabre is the most successful trainer in Arc history having saddled no less than seven previous winners, the latest being Rail Link in 2006.
His two contenders this year are the Godolphin-owned Masterstroke, winner of the Grand Prix de Deauville on his latest start, and Meandre, sixth in last year's Arc and a winner of two Group Ones this year.
They are in stalls 17 and 13 respectively.
Fabre said: "Masterstroke has had a light campaign and he is a progressive horse.
"I have been happy with his preparation and although he has been running on good ground this year, I don't think the softer ground should be a worry for him.
"It is a step up in class for him, but I hope he has a nice chance. This is the right race for him to go for.
"I think Meandre is going to run well and he has also had quite a light campaign.
"I do not think he is a world-beater, but he is a dual Group One winner this year, he has experience and he likes Longchamp, so there are plenty of positives.
"I was happy with his run in the Prix Foy, which was not run at a fast pace. I think Orfevre will improve for that run, but I do not think there will be a furlong between him and Meandre on Sunday.
"I just hope the race is a true race and run at a good pace.
"I am looking forward to seeing Camelot. There is no Frankel, but we have Camelot and it should be an interesting race."
Nicolas Clement won the Arc with Saumarez all the way back in 1990 and is this year looking forward to saddling Yellow And Green (stall three), fourth behind Shareta in the Prix Vermeille.
"It was a team effort and a team decision (to run in the Arc). We said if she was in the first three in the Vermeille she would go for the Arc, but she was such a good fourth, we decided to go for it," said Clement.
"The filly has taken the race very well and it looks pretty open. More than anything I think she has come on a lot for her last race. I had her ready but I know that she's even better now.
"Her running style is to come from behind and I didn't want her to have too hard a race. I think there's improvement in her.
"The faster the pace the better, and ideally you would be hoping for a bit of rain, as with her running style of coming from behind, would be much better on a soft surface.
"The owner is not against a challenge. We are hopeful she can do a good job in the Arc and we would recognise her as one of the best outsiders.
"She gets better with every race, so we hope for the best."