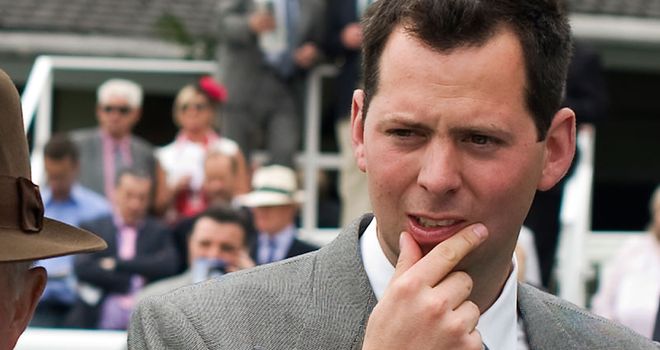 Hills: Big chance to win the Lincoln with Captain Bertie
Charlie Hills believes he has an excellent chance of upholding family honour when he saddles Captain Bertie in the William Hill Lincoln at Doncaster on Saturday.
The five-year-old has been all the rage this week and has been backed down to clear favourite for the first big race of the new Flat season that was put back a week because of snow.
It is 45 years since his father, Barry, landed a colossal punt in the Lincoln with Frankincense when he was assistant to John Oxley, with the winnings giving him the funds to launch his training career.
Hills won the Lincoln in his own right with Pablo in 2003 before his retirement and now could be the time for his son to add his name to the race's roll of honour.
"Captain Bertie is ready to go and I'm very pleased with him at home," said the Lambourn trainer.
"The ground shouldn't be too much of a problem and the draw (stall seven) looks good.
"There are fancied horses around him and there is plenty of pace, so we can't complain about that. He was drawn 21 last week, so it's probably worked out well for us.
"We know our horse goes well fresh and his work has been good.
"It's not an easy race to win but I don't think there'll be any excuses for our horse."Captain Bertie's main market rivals are the Sheikh Hamdan Al Maktoum-owned and John Gosden-trained pair of Lahaag and Eshtibaak.
The owner's retained jockey Paul Hanagan plumped for the latter last week but will be in action at the Dubai World Cup meeting in Meydan, leaving Dane O'Neill to take his mount.
"I don't think anything has really changed since last week. Both horses are in good form and we just have to hope for a bit of luck," said the owner's racing manager Angus Gold.
"I think we all know Eshtibaak probably wants a bit further, but I would imagine the ground is going to be soft and that should play to his strengths.
"Lahaag was a nice, progressive horse last year and we just have to hope he can continue going the right way."
Asked which he thought had the best chance, Gold said: "Paul (Hanagan) chose Eshtibaak out of the two last week and I'm not going to argue as he knows far more about the horses than me."
Roger Varian is represented by Gladys' Girl, who has not run since landing a seven-furlong handicap on this course in July 2011.
"It's not ideal having to wait an extra week, but it's the same for everyone," said Varian.
"Our mare has been off for so long anyway, but she's in good form at home and she's definitely a mare with ability.
"It's a very tough and competitive race for her to come back in, but I hope she'll run well and the main thing is she comes through it in one piece and we can look forward to the rest of the season with her."
Chapter Seven has attracted plenty of support, having got the better of Lahaag at York last October.
Bought out of Richard Fahey's stable for 95,000 guineas after that success by Pearl Bloodstock, he had his first run since joining Stuart Williams stable when sixth to True To Form at Lingfield in December.
"He's as well as I can have him for his first run of the year and he hasn't been off as long as some of the other horses as he ran just before Christmas," Williams told At The Races.
"He will appreciate the ground and it's an obvious place to start his campaign. They will go a good clip from the start and I think fitter horses will come to the fore."
Strictly Silver has been a leading fancy since winning the Lincoln Trial at Wolverhampton earlier this month.
His trainer Alan Bailey is pleased to see the ground is less testing than it was a week ago.
"There's nothing you can do about the draw (stall 22), so there's no point worrying about," said Bailey.
"We don't know how it's going to work out, I'd imagine they'll come up the middle, but our horse has enough pace to lay up and get a nice position.
"He was in good form last week and he's in good form this week. I was very happy with how he worked on Tuesday.
"I was actually going to take him out last Saturday because of the ground. It shouldn't be as bad this week, so in that respect, maybe it's worked in our favour."
Declan Carroll feels the extra week has been beneficial to the prospects of Swiftly Done.
"He's in good form. We've managed to get another bit of work in him, so the extra week might actually have helped us. It certainly hasn't been a hindrance," said the East Yorkshire trainer.
"He seems in good shape, but it is the start of the season and I'm sure he'll come on for the run.
"He's drawn in stall five, last week he was in the high-teens. I don't know how the draw is going to work out - we'll have to watch the Spring Mile and see.
"I actually think the ground could be more testing than last week as it's drying out and it could be very tacky.
"The mile is going to take a bit of getting."
The defection of horses higher in the handicap means that Chosen Character is promoted from the Spring Mile to the big one.
"He was in the Spring Mile last week and at least this week he gets in the big one, which is a good thing I suppose," said his trainer Tom Dascombe.
"We've had awful weather here this week, so we haven't done a lot with him. He's had an easy piece of work, a couple of canters and that's it.
"We'll go there hoping for the best and hopefully he has a bit of a chance. All ground comes alike to him."
Belgian Bill has been switched to Kempton giving Jack's Revenge the opportunity to run for the George Baker stable.
"He sneaks in at the bottom and I think he'll go there with a good chance," said the Manton trainer.
"He loves the hurly burly of the big handicaps. We needed another 10 days with him, so maybe the weather has helped us out for once.
"He won't mind it if it's on the soft side of good. He won on bottomless ground at the July meeting."