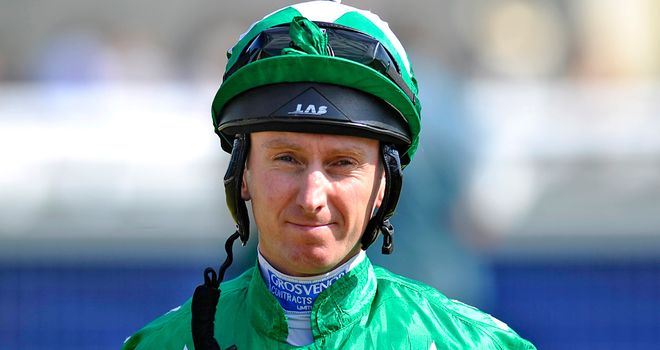 Martin Dwyer: Rides Stepper Point
Martin Dwyer returns to the saddle at Lingfield on Saturday when he partners Stepper Point in the bookmakers.co.uk Hever Sprint Stakes.
It has been a torrid last 12 months for Dwyer, who first had to endure the trials and tribulations of a lengthy ban the jockey received in India before he sustained a serious injury from a fall in early January.
But after being given the all-clear following a concussion test on Thursday, the Derby-winning rider will return to action on Stepper Point, winner of the Beverley Bullet last season and trained by his father-in law, William Muir.
Muir said: "I'm pleased for Martin, it's a nice ride to come back on. He hasn't been riding out, but he's been at Oaksey House getting very fit there and I've been keeping an eye on him.
"He's had a poor old time of it recently but what doesn't kill you makes you stronger. He's ready."
Of Stepper Point, who has not been seen since finishing last in the Prix de l'Abbaye at Longhchamp in October, Muir said: "The horse is working nicely but he won't be fully tuned up. We took the decision to keep him rather than sell. We've had him gelded and we'll be running at all the nice places.
"If he's lucky enough to win then he'll go to the final on Good Friday at Lingfield, but if not we'll probably go for the Palace House at the Craven meeting at Newmarket.
"He's got a 3lb penalty so it's going to be tough. I knew he was over the top when he ran in the Abbaye. I could see the change in him from him leaving the yard to putting the saddle on.
"He'd run well a week earlier so it just shows how quick they go."
Last year's winner Ladies Are Forever is back once again and trainer Geoff Oldroyd believes she will take all the beating.
She only managed sixth on her comeback, in a race she had won a year earlier, but having been drawn out wide that day Oldroyd was happy enough with her performance.
"She's fared much better in the draw (stall four) and that race has straightened her up," he said.
"The draw is always a big factor round there but we tried to get in a position early which lit her up and she raced too keen. On reflection, I thought she ran a good race and she'll be much fitter.
"She's in great form at home and I'm very hopeful. It's a bit better race than it was last year but I think she's improved a bit.
"There doesn't appear to be a Group One sprinter in there. I know they think Stepper Point could be but he's got a penalty and hasn't had a run."
Robert Cowell had three entered at the five-day stage but relies solely upon Silken Express.
The Cambridgeshire handler said: "Silken Express found the track a bit sharp last time and will probably do so again. She is in great form, though, but might not be quite good enough judged on the others in the race.
"She hasn't quite shown the same spark on grass as she has on the all-weather, so we are trying to do what we can and sneak a bit of black type.
"She has more chance of doing that on the all-weather than she does on the grass."