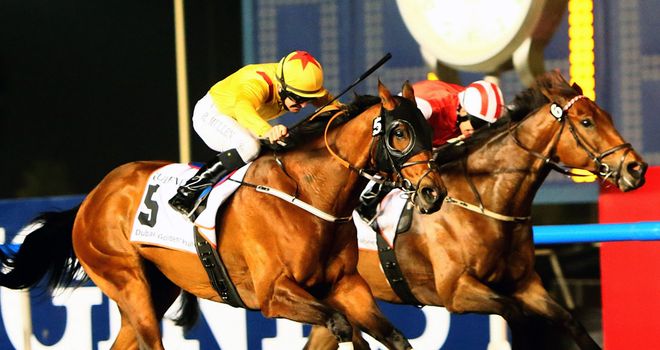 Reynaldothewizard (left) denies Balmont Mist in the race 12 months ago
It looks like a battle between Ireland and Hong Kong as Balmont Mast, Jamesie and Russian Soul take on the might of the Far East in Saturday's Dubai Golden Shaheen.
The Hong Kong challengers are at the head of the betting for the Group One Tapeta sprint, but the Emerald Isle trainers are in confident mood.
Balmont Mast was second to the local hope and re-opposing Reynaldothewizard last year and trainer Eddie Lynam said: "He didn't run as well as I was hoping at the Dubai World Cup Carnival.
"I don't like making excuses but he has been giving away good early positions. He has a good draw if he does things right in the first 100m. He needs to get a good early position because he's a strong finisher."
Jamesie has made great progress for David Marnane, who said: "He's been very consistent, and thrived over here in Dubai.
"He's put on about 25 kilos and improved with every run, although he'll need to improve again.
"He's learning to relax in his races now and learning how to sprint. A good strong pace in the race would help his chances."
Russian Soul was sixth, behind Hong Kong's Rich Tapestry and Reynaldothewizard on Super Saturday, but trainer Mick Halford said: "He got caught out wide on his last start and when he didn't get any cover, he couldn't finish his race as well as he can.
"He will wear blinkers for the first time on Saturday night and they will hopefully sharpen him up but it will be the best race he has run in since Dubai World Cup night last year."
Rich Tapestry's trainer Michael Chang is a little worried about his draw in stall 12.
"I'd say he has improved physically since when he won here on Super Saturday three weeks ago," he said.
"He would need to be at his best to win again, though, especially from gate 12 and with the other horses probably having some more improvement. He has already done well in winning the Group Three but it would be amazing to win the big one."
His compatriot Sterling City appeared unlucky to finish only third to Lucky Nine on his Dubai warm-up back at home and trainer John Moore said: "He didn't travel the best of my three but he's picked up well and I'm happy with how he is. He has a good gate to compensate and I think he's a contender."
Jockey Richard Mullen believes Reynaldothewizard is returning to form at the right time and said: "It was always the plan for this to be his third start as his third start last season was his best we thought. He needed his first run badly but ran very well on Super Saturday this year.
"Obviously he won this last year and it would be great to win it again."