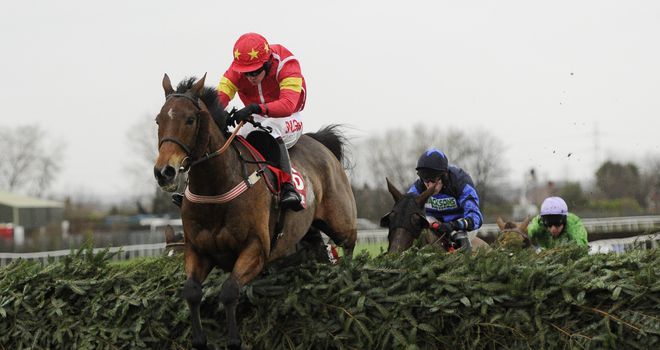 Highland Lodge and Henry Brooke jump the final fence as they win the Becher Chase in 2015.
Henry Brooke finished fourth on his first ride back at Catterick just seven weeks after being placed in an induced coma.
The 25-year-old fell from Old Storm at the second fence of a two-and-a-half-mile handicap chase at Hexham on October 8 and was also kicked by another horse when he hit the ground.
Racing was delayed for almost two hours while he was treated by on-course medical staff before he could be airlifted to Royal Victoria Infirmary, in Newcastle.
However, the rider has made a swift recovery and returned aboard the Martin Todhunter-trainer Sophie Olivia in the Racing Again 13th December Intermediate Open National Hunt Flat Race, which was won impressivel by Getaway Whiskey.
Brooke's biggest win came when riding Highland Lodge in the Becher Chase at Aintree a year ago this weekend and the promise of teaming up with that horse again helped to speed his recovery.
"It was seven weeks ago and they placed me in a coma," said Brooke.
"I broke nine ribs, punctured a lung and chipped a bit of bone off my right scapula. I got a proper bashing. I was in hospital just a week and then I discharged myself as I'd already lost a stone. I've put that back on already.
"I got myself straight into Jack Berry House and without it I wouldn't have been back this quick. It's an unbelievable facility. I was there for three weeks solid, you can stay there like a hotel and it did me the world of good.
"Firstly I was aiming to come back on the 20th but that wasn't realistic, and then the Becher Chase looked the logical aim.
"Jimmy Moffatt said all the way through that if I made it back, the ride was mine and that was the perfect motivation. I owe him a thank you.
"I've always ridden for Martin Todhunter and when he had a runner today he said I could ride it. He's a big supporter of mine through the summer.
"I'm hoping to ride one for Donald McCain in the Grand Sefton, too."
Speaking on his way back into the weighing room, Brooke added: "That felt good, I feel fine. I'm fit enough, I just need to get that race fitness which will come in time.
"I've got three rides tomorrow and I can't wait for the weekend. It will be nice to just get back to normal with no fuss.
"I went to ride Highland Lodge the other day and he felt really good, better than he ever felt last year."