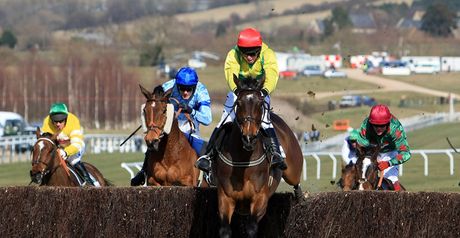 Sizing Europe puts in a mighty leap in the Arkle.
Henry de Bromhead's unwavering belief in Sizing Europe could finally be appreciated by those at the Cheltenham Festival on Tuesday as he played the starring role in the Irish Independent Arkle Challenge Trophy.
Two years ago the gelding was the 2-1 favourite for the Champion Hurdle but ended up finishing tailed off and had never been able to quite regain his momentum until switching to fences this term.
Other disappointments included missing the 2009 Champion through illness, but the incredible cruising speed he had displayed during other major hurdling victories was well and truly in evidence here.
Any criticism of the horse to whom he owes so much has slightly irked the laid-back De Bromhead, but the joy of his and jockey Andrew Lynch's first Festival winner far outweighed any ill feeling.
All the Irish money came elsewhere, for 5-2 favourite Captain Cee Bee, who many felt had been unlucky when falling at the last alongside Sizing Europe at Leopardstown over Christmas, but mistakes crept back into his opportunity for revenge and he never looked the likely winner, eventually finishing eighth.
Trainer Eddie Harty later revealed he had burst a blood vessel.
Meanwhile, Sizing Europe (6-1) was tanking alongside Mad Max at the head of the field until his giant foe made a dreadful mistake at the tricky second-last and Lynch found himself in front.
Steel rather than class had to come to the fore from hereon as Henrietta Knight's Somersby regathered himself for a desperate final lunge and Sizing Europe only contained him by three-quarters of a length at the post.
De Bromhead said: "The roar when he passed the line was phenomenal. He ran with the choke out a bit today, but he is probably better that way than when he is put to sleep.
"Andrew got such a leap out of him at the top of the hill, I've never seen anything like it."
Reflecting on previous memories, he continued: "He is like one of our children at home and has put us on the map
"I'm never confident, but it has just been disappointing for the last two years. There has always been a valid reason and I just wanted him to show what he can do.
"He had problems with the ligaments in his back in the Champion Hurdle and then just some silly problems last year.
"I think we have learned to manage him properly and he is stronger now.
"We've always left no stone unturned with him, but I suppose now we leave no pebble unturned."
Looking towards the future, the trainer added: "We'll celebrate tonight, then talk to Alan and Ann Potts (owners).
"The plan had always been to go to Punchestown but we'll see.
"Hopefully he'll be back next year for the Queen Mother but I think Alan and Ann would love to try him over further. He won over two and a half first time over fences, so who knows."
Lynch, 25, was born a stone's throw from the home of the legendary Arkle, and is a rising star in Ireland.
He added: "He was good over hurdles but he was always going to be a chaser. It's just an unbelievable feeling.
"The last day at Leopardstown, he never jumped a fence and people were knocking him, saying he was soft and that. We knew he wasn't and that he was back to his best."
Knight is now thinking about Somersby following in the hoofprints of Best Mate and heading for the Cheltenham Gold Cup.
"I shouldn't think he will do much more this year, but next year we will target him towards the Gold Cup," Knight said.
"We just wanted the post a little further up the hill. He had a very good run, except for getting slightly close to one of the open ditches. But the winner ran in the Champion Hurdle and won the Irish Champion, so there was no disgrace whatsoever. This is very exciting for the future."
Osana, 2008 Champion Hurdle runner-up, was third.
He had subsequently moved from David Pipe to Edward O'Grady, who reflected: "It is the best run he has had from me.
"It has taken me time to get to know him - he's getting a little grosser as he gets older and takes a lot of work. We've got Aintree and the Powers Gold Cup now - maybe we'll see where Sizing Europe goes."
Harty said of Captain Cee Bee: "He burst a blood vessel and unfortunately that is one thing you cannot legislate for."