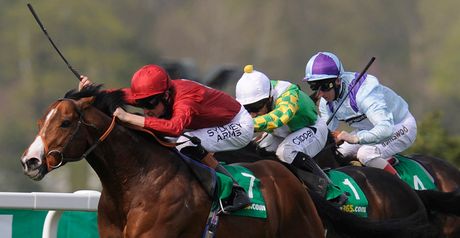 Paco Boy quickens clear of his rivals.
Paco Boy showed his rivals a clean pair of heels as he registered back-to-back victories in the bet365 Mile at Sandown.
Sent off the 11-10 favourite, Richard Hannon's charge was having his first start since finishing second in the Sussex Stakes 269 days ago.
Richard Hughes let Paco Boy see plenty of daylight as Cat Junior went out in front and Pressing was the first to lay his cards on the table, going on with Border Patrol two furlongs out.
Paco Boy was travelling sweetly for Hughes and when he gave him the signal a furlong out, the response was immediate and the five-year-old quickly pulled three and a quarter lengths clear.
Pressing kept on for second while The Cheka, who was also returning from a long lay-off, finished a creditable third.
Richard Hannon jnr, son and assistant to the winning trainer, said: "I just spoke to Dad on the phone and he agreed with me that the horse is definitely better this year.
"He will go to the Lockinge now and I wish that race had been today as he was so well. He's been gasping for a race for the last six to eight weeks and he kicked two windows out of his box as he's so fresh.
"I think he will struggle to find one to beat him after today.
"I know he was beaten in the Lockinge last year but there were complications before the race. He didn't look well on the morning but we took a risk and ran him.
"After the Lockinge there are races like the Queen Anne and the Jacques le Marios and connections are looking at all sorts of races in all sorts of places."
Pressing's trainer Michael Jarvis said: "I'm delighted with that and he'll go to Italy now, either for a Group One or the Group Two that he won last year.
"He travels well and I suspect that he'll be going abroad a lot again this season."
Eve Johnson Houghton, trainer of The Cheka, added: "You can't be anything other than thrilled and it's just lack of experience that's told today.
"I loved the way he finished and Kieren (Fallon) said he'll be better on a straight mile, so we'll go for the Lockinge at Newbury next."