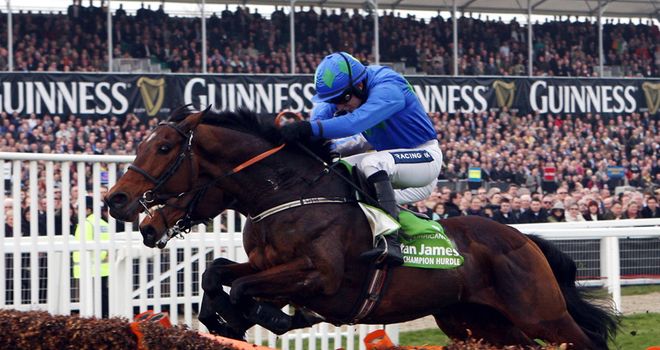 Hurricane Fly: Champion Hurdle delight
Hurricane Fly was a brilliant winner from Peddlers Cross in the Stan James Champion Hurdle at Cheltenham.
The great hope of Ireland was sent off the 11-4 favourite and he cruised around in the hands of Ruby Walsh in mid-pack as Overturn set a strong pace up front as pacemaker for the eventual runner-up.
Walsh creeped closer coming down the hill and moved into a challenging position on the home turn tucked in behind Peddlers Cross.
He pounced at the last still on the bridle and was always holding the second as he won by a cosy one and quarter lengths.
Oscar Whisky produced a personal best in third place with Thousand Stars claiming fourth.
Walsh said: "He never settled really and ran keen, but we know he has the speed and class.
"He's shown the ability that myself, Willie Mullins and Paul Townend always believed he had. He's a deserved champion and a right little horse.
"He's only small but he has a big heart and he needed it today. I probably got there a fraction too soon, but he never gave me a chance early doors."
Rather than exuding confidence beforehand, Mullins was just relieved to get Hurricane Fly to Cheltenham after missing the previous two Festivals following setbacks.
Mullins said: "We had no excuses, everything had gone right the whole year. It was just great to get here and the relief even when he left the parade ring was enormous.
"I just didn't want something stupid to happen coming here, a kick or a cough. He's got speed, stamina and he jumps. Today was the day. I am just delighted he got the chance to show what he can do.
"I didn't give Ruby any instructions, I said you know what to do so just do it. There's no better man to leave it to."
Mullins went on: "He's done everything right all year and he's answered all the questions.
"I know I hadn't travelled him to England but I wasn't keen to and people were wondering whether a son of Montjeu could win around here, but nearly every horse I've brought over here, their sires hadn't had a winner here either, so I put a line through that.
"I'm just delighted we got him here to show everyone what he can do as my whole focus this year was to get him here.
"Paul Townend has done a great job on him and rode him pretty much every day this year.
"It wasn't a hard decision to let Ruby ride him. Paul has had a fantastic innings while Ruby has been out and hopefully we can make him champion jockey in Ireland, but you can't leave Ruby Walsh on the sidelines when you have a Champion Hurdle favourite.
"The horse has been a bit unlucky with a suspensory ligament injury and a splint. He's just hard on himself - he's like a rubber ball to sit on.
"He's just one of those horses that has to be doing something all the time and in his work you can't ask him everything as he'll give you too much and that's why he injures himself.
"I don't think he's done full-speed work at home all year, he just does it half-speed.
"This has definitely been one of the most nerve-wracking days. The minutes were like hours towards the end, but once I legged Ruby up and let him off down to the start I was relieved."
McCain said: "I am happy with the run, but I am so disappointed for the horse. He has tried so hard, he was off the bridle turning in and he still had another go after the last.
"Overturn was not in the race as a pacemaker, I was quite upset when people were saying he was. He has his own way of racing and that's how he has to run. He would have finished closer on better ground.
"I'd like to say well done to Willie, and Jason (Maguire) said he wouldn't have changed a thing if we had another go.
"We will get him home now and see how he is. He has obviously just had the hardest race of his life, because that is the first time he has been beaten, but if there is a good way of getting beat that is it.
"I don't know about chasing yet, we will just weigh everything up."