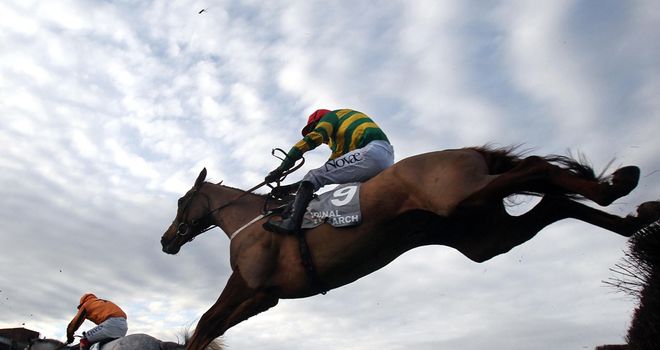 Quantitativeeasing: Cheltenham winner
Quantitativeeasing (6/1) won a thrilling renewal of the Spinal Research The Atlantic 4 Gold Cup at Cheltenham on Saturday.
Running in owner JP McManus' famous green and gold colours but with red cap, Quantitativeeasing was considered second best to Sunnyhillboy by AP McCoy and the betting public.
Yet while the gambled on 7/2 favourite failed to fire Quantitativeeasing stayed on best of all to grab the prize under Barry Geraghty.
Roudoudou Ville had looked to have slipped the field rounding the home turn but he was caught up the hill, as Quantitativeeasing threaded himself between that horse and Medermit in the final 50 yards.
Rough race
Geraghty said: "We knew he had a chance, but I didn't think we had much of a chance four or five out.
"I struggled a bit through the race but I knew turning in if I wasn't far off I'd have a chance. I pinged the last few but was I struggling a bit before then, it was a rough race if you weren't travelling.""
Henderson said: "It was great race and a great ride. I feel sorry for AP (McCoy), it was his idea I suppose (to ride Sunnyhillboy). I thought he would ride our horse with it having 10st 7lb and the other horse 10st 4lb.
"The horse has been very consistent and you'd have to say he deserves one. He was second at the Festival and in the Paddy Power, so he's got one back at last.
"They went a really good gallop, it looked as if he was further back than intended but only because they were going so quick. There was always a chance they'd come together at the top of the hill.
"It's always nice (to win on a Saturday)."
Delight
McManus, also the owner of Sunnyhillboy, said: "I didn't really know which one AP was going to pick, I got the impression it was going to be a toss-up and you don't always make the right decision.
"I'm sure he'll be happy for me anyway."
Alan King said of Medermit: "He has run a marvellous race. He missed one on the back straight but he never lets you down.
"I suppose we will work back from the Ryanair now, although I have always wanted to try him at three miles at some point."
Victor Dartnall said of Roudoudou Ville: "The jockey lost his iron and as soon as he got it back in it set the horse alight, if he could have kept him relaxed going down the hill it might have been a different story. But that's just the way it goes."