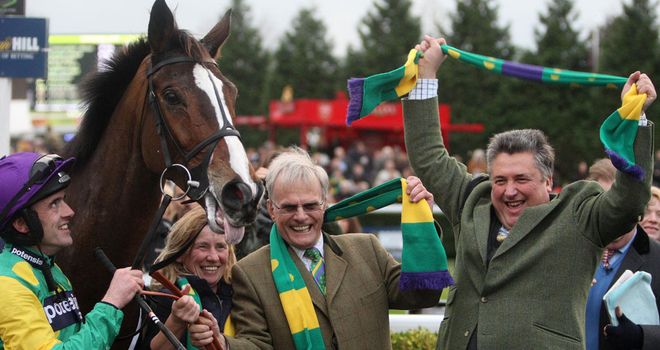 Kauto Star's connections celebrate
Paul Nicholls' Kauto Star won his fifth William Hill King George VI Chase in stunning fashion at Kempton on Boxing Day.
The 11-year-old won four renewals of the Grade One contest in consecutive years from 2006-2009 but could only manage third in last season's race behind Long Run.
Nicky Henderson's horse went onto win the Cheltenham Gold Cup and was sent off the evens favourite to make it back-to-back wins at Kempton under Sam Waley-Cohen.
Yet Kauto Star showed at Haydock in the Betfair Chase last month that he wasn't a spent force and that form proved to be spot on as he beat Long Run again under an ecstatic Ruby Walsh.
The winning distance was only a length-and-a-quarter this time as Long Run stayed on at the business end but he didn't have enough in the tank to deny Kauto Star another golden day at Kempton.
Sky Bet go 5/1 from 10/1 about Kauto Star for the Cheltenham Gold Cup with Long Run unchanged at 5/2.
Ecstatic
Nicholls said: "He's just awesome and I knew we had him in serious order.
"I don't know why he wasn't quite right last year.
"It was a massive plus having Ruby (Walsh) here today and it's just unbelievable.
"It's amazing. He's just the best.
"If he gets to Cheltenham in that form he'll be the one to beat (in the Gold Cup)."
Reflecting on Punchestown, Nicholls said: "A lot of horses do run flat at the end of the year and I said to Clive (Smith, owner) that unless everything was right I would retire him, but he was just so well that I told him we had to keep going.
"I promise you that the slightest sign he is losing his enthusiasm and we will call it a day.
"I will never have another horse like him and although he is 11 he has been acting like an eight-year-old at home."
Master Minded, also representing Nicholls and Smith, suffered an injury during the race when struck into and was taken for treatment in Newmarket.
Nicholls said he believed the injury could be career-threatening but not life-threatening.
Amazing
Walsh said of Kauto Star: "He's an amazing horse. "I said to Clive I don't know how he'll run, but he looked a million dollars and he felt great. He jumped super and travelled great.
"This is a fairytale. He's a wonderful horse and it's a credit to the people who work with him every day.
"He's beaten a six-year-old (Long Run) and he's 12 next week. To keep a horse going as long as that is amazing.
"You can say what you want about the best steeplechasers of all time, but he's outlasted them all.
"He's lasted longer than any other horse and that's what makes him so brilliant.
"This horse is as tough as nails and he's exceptional."
Magnificent
Smith said: "I knew this was the biggest day of my racing life - 24 years or so. It's unbelievable and I'm so proud. He's such a magnificent animal.
"He's got such a heart. He wants to go on. He's a lion.
"I'm so pleased, I can't tell you how excited I am. I'm shaking."
Decider
Henderson said of Long Run: "The score is two-all and the decider will be played out in the Cotswolds.
"To be positive we have improved seven lengths from Haydock and need to find another one or two, and have three months to do that in.
"I felt we were getting back to him a bit and Sam (Waley-Cohen, jockey) said that if he had really winged the last it could have been close.
"Today Kauto Star put more pressure on us from a long way out, but I was encouraged that Long Run finished his race really well and the hill is going to help us at Cheltenham."
Pleased
Captain Chris was a staying-on third and his trainer Philip Hobbs said: "He really wanted to get up the inner and he seemed to be struggling before coming back at them.
"I think we need to get another run into him ahead of Cheltenham, for experience sake as much as anything."
Henrietta Knight's Somersby was fourth and the Wantage trainer said: "He definitely stays three miles and I shall give him a holiday now with the aim of taking him fresh to Cheltenham for the Gold Cup."