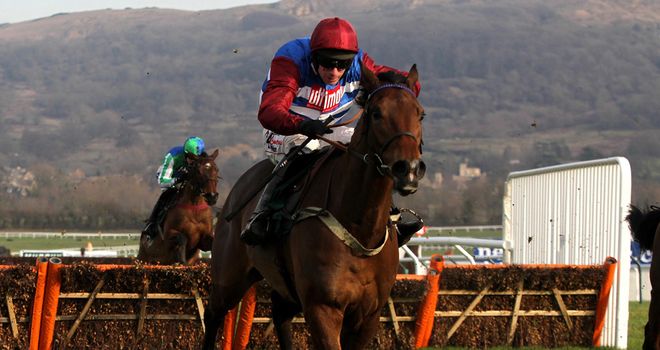 Grumeti: Awarded the race in the stewards' room
Grumeti was awarded the JCB Triumph Hurdle Trial at Cheltenham after a stewards' enquiry.
The orginial first-past-the-post was the Paul Nicholls-trained Pearl Swan, but he hung to his right on the run-in under Ruby Walsh and gave the runner-up a couple of hefty bumps in the process.
Just a short-head separated them at the line but the stewards were straight into action and saw enough to reverse the result after an enquiry.
The front-running Hollow Tree kept on to take third while the disappointment of the race was Baby Mix, who faded tamely before the last after racing freely.
King said before the result was revised: "You're always disappointed when you get beaten a short head, but he's done very little wrong and the winner did look good at Taunton.
"My gut feeling is that he could do with another run before the Triumph just for a bit of match practice."
He later added: "I haven't seen the head-on. It's not a particularly nice way to win a race but if it cost us, then so be it.
"It won't do him any harm having a proper race. I've gone straight from this to the Triumph in the past, but horses like Katchit and Franchoek had already had four or five runs."
Slightly Unbalanced
His rider Wayne Hutchinson said: "I think I'd have won without the interference. My lad became slightly unbalanced.
"Once you've lost your momentum, it's very hard to get it back.
"I was very happy with him and it was an afterthought coming here. I'm sure he wants another run to sharpen him up but we've got a good horse on our hands."
Nicholls said: "He only ran last week so it was too soon to run him really but I wanted to see where we stood.
"I just told Ruby to drop him in and see what happens.
"With two quick runs obviously he'll go straight to the Triumph now.
"I just thought he ran a little flat and didn't jump as well as he might. I think I can improve him enormously."
The winner and runner-up are 9-1 with Sky Bet for the Triumph Hurdle at the Festival while Walsh was handed a three-day ban for his ride on Pearl Swan.