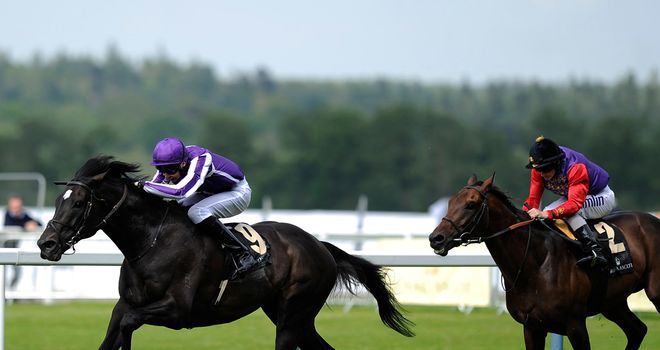 So You Think: Prince of Wales's winner
So You Think was a fantastic winner of the 150th Anniversary Of Prince Of Wales's Stakes at Royal Ascot on Wednesday.
The High Chaparral horse was winning his fifth Group One in Europe since joining Ballydoyle and he did it in great style, seeing off the Queen's Carlton House with a thrilling late burst.
Joseph O'Brien was always going well just tracking his pacemaker Robin Hood and was noticeably on the bridle in the straight as the rest of the field were under pressure.
Ryan Moore switched Carlton House to the rail and hit the front momentarily before O'Brien really asked the 4-5 favourite to go and win his race.
That he did, by two and a quarter lengths, with Carlton House (7-2) holding on to second from the fast-finishing Farhh (6-1).
Advice taken
O'Brien snr said: "We expected a big run today, we felt like we had him in a place that he was never in before with us, which is incredible.
"I think we've had him a year and a half and it's taken me that long to learn how to train him.
"We went back and listened to what everybody was saying about him, listened to what Bart (Cummings, former trainer) was saying and telling us what to do and what not to do. We listened at the end.
"We felt he was in a place today he's never been in before.
"I was delighted to hear what Bart had to say as he was speaking from the heart and I was probably over-working the horse and galloping the speed out of him instead of letting him be natural.
"Everyone was of the opinion before we got him that he was all speed but I started off on the wrong leg with him and tried to make him stay a mile and a half and did too much with him.
"We knew we only had a few runs left (before retiring to stud), maybe today and Sandown (Eclipse) to get him back, so we listened to them and Joseph and the lads were confident it was going to come.
"It will be the boys decision when he goes to stud, but Sandown is in our head as a cut-off point. We'll be pleading hard now that we have him in this place but it's a business decision.
"We're just delighted to get him back and all I can say is sorry it took me so long to get him back to where everyone in Australia said he was. If he wasn't such a great horse I'd have made a right mess of him.
"He's one of those special horses that can travel and has class.
"We were delighted with the ride he got, Joseph knew what he wanted to do."
Delight
Winning rider O'Brien jnr said: "My horse relaxed lovely and quickened up very well.
"Ryan (Moore, on Carlton House) got a split on the inside and I just had to come around Johnny (Murtagh, on Big Blue Kitten) but once he could see the horse on his inside he was never going to be beat.
"I just wanted to get him into a rhythm and get him relaxed, he has loads of class and can quicken and when things work out he's an exceptional horse.
"It's been a great season and I'm very lucky to get to ride some exceptional horse. I owe a big thanks to Mr and Mrs Magnier, Mr and Mrs Tabor and Mr and Mrs Smith for giving me some nice opportunities."
Gallant
Sir Michael Stoute, trainer of Carlton House, said: "He couldn't get enough cover as he was a bit off the fence but he was second best, it's as simple as that.
"Ryan gave him a great ride, he had every chance but he just found one too good."
Saeed bin Suroor said of Farhh: "We are delighted with him, he had been physically weak which is why he hasn't had many runs, but he's much stronger this year and when he won easily at Thirsk we thought he would be up to running in Group One races.
"He has shown today he is good enough for those races between 10 and 12 furlongs. We might look at the King George for him."
Alain de Royer-Dupre said of fourth home Reliable Man: "The horse has now come back to what he was last year. He needs races with lots of pace and we'll go for other top 10-furlong races now - we'll probably go for the Juddmonte at York."