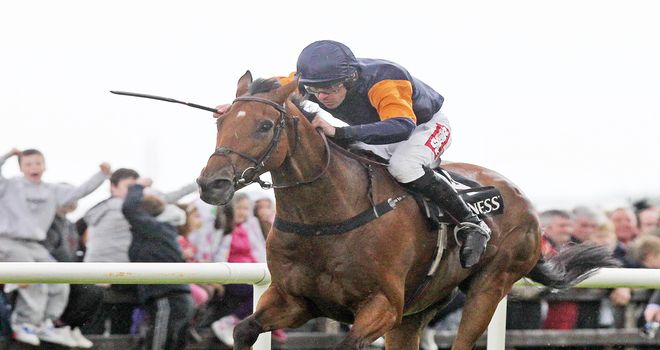 Rebel Fitz: Survived a late scare to win the Galway Hurdle
Rebel Fitz just managed to hold off the late thrust of Cause Of Causes to take the honours in an incident-packed Guinness Galway Hurdle.
The strongly-supported favourite Drive Time and Ruby Walsh suffered a nasty fall before the race really began in earnest, bringing down another leading hope in Donald McCain's British challenger Lexi's Boy under Jason Maguire.
The Michael Winters-trained Rebel Fitz was an 11-2 chance to follow up his victory in the Grimes Hurdle at Tipperary less than a fortnight ago and travelled sweetly in the hands of Davy Russell.
The champion jockey sent his mount to the lead and looked set to run out a ready winner after safely negotiating the final flight.
Russell was celebrating with a few strides to go, but he had not seen Cause Of Causes absolutely flying home on the short run-in.
The rider was able to breathe a sigh of relief, however, as Rebel Fitz hung on by a diminishing head.
The veteran Captain Cee Bee ran a highly creditable race to finish third, with fellow JP McManus-owned runner Plan A in fourth.
Fantastic Rehearsal
Winters said: "We enjoyed the build up to it and we had a fantastic rehearsal and the owners really enjoyed it as well.
"The horse's health was very well and I was often fretting a lot more going to a point-to-point
"Coming down the hill I thought we were beat and I thought on the line we were beaten.
"Our crowd were like lunatics around me and they thought he won.
"He is named after John Fitzgibbon, the Cork hurler and he is Cork through and through.
"Brian (Sweetnam), his owner, is a banker in London and he is going back to work tomorrow.
"The horse was so relaxed this morning I was even a bit worried. I was relieved to see him a little on his toes at the races.
"When he won his bumper in Listowel I said he looked like the next Master Minded. He showed a Cork dash like (Cork hurler) Jimmy Barry Murphy.
"The original plan was to go to Tipperary in the middle of October for a 40,000 euro hurdle race. I'm not sure if he's qualified for that now but he'll get a break anyhow.
"We thought about going chasing but we've stayed over hurdles as the prize-money is so good."
No Instructions
He added: "We gave Davy no instructions, you leave it to the jockey. Davy rode a great race and in fairness, at that level of jockeys, you've no business trying to interfere with them or tell them something because they know their job.
"You'd be only messing or tempting fate maybe."
Russell said: "That was a marvellous win. Rebel Fitz is a classy horse trained by a very shrewd man and he is owned by a wonderful bunch of people - that's what Galway is all about.
"There's no point in me making up stories saying I knew what was happening (referring to Davy Condon finishing fast on his outside on eventual second Cause Of Causes) because I didn't.
"I'd want a kick up the backside, that's what I'd want. It'll never happen again anyway.
"I had a look at the screen and I was well clear but obviously Davy sprouted wings."