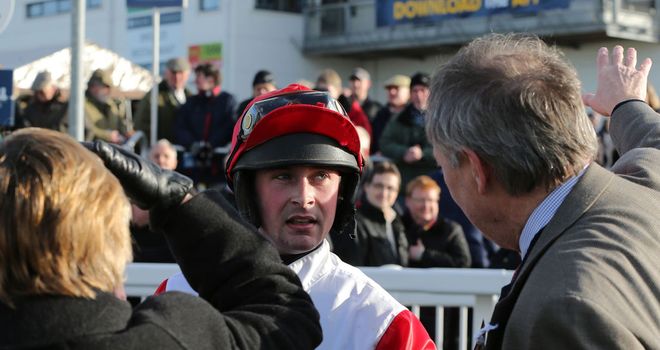 Nico De Boinville talks to winning connections after the race
Carruthers and amateur rider Nico De Boinville produced a stirring performance from the front to win the West Wales National.
The former Hennessy Cognac Gold Cup hero was soon clear with Shaking Hands and with a circuit to go the pair were some 25 lengths up on their rivals.
By the time they came round into the home straight for the final time, Carruthers had shaken off his rival but it was Cannington Brook who emerged from out of the closing pack to throw down a challenge.
Quickly closing up to within a couple of lengths of the winner, it looked as if the writing might be on the wall for the winner. But responding gamely to his rider's urgings, Carruthers rallied on the run from the final fence to hold on by two and a quarter lengths with a yawning 32-length back to the remainder, headed by favourite Alfie Spinner.
"He just loves it," De Boinville said. "To be honest, I was wondering if we were going to get home as we'd gone a good gallop but when he heard the other horse coming, he went on again.
"He kept on pulling out more and he's a horse with real heart. He's a pleasure to ride. He's popular with the public and it's just a thrill."