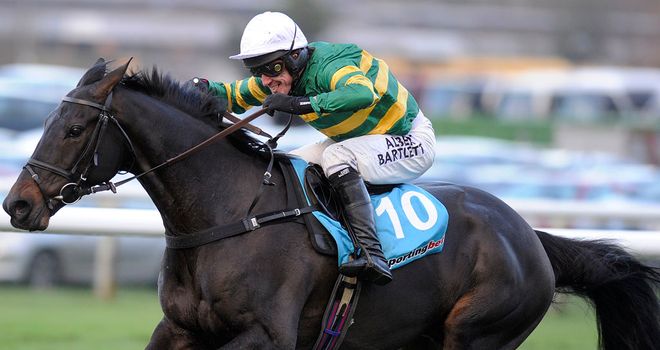 At Fishers Cross: A ready winner of the Albert Bartlett
Tony McCoy rode his first winner of the Cheltenham Festival as At Fishers Crossed obliged in the Albert Bartlett Novices' Hurdle.
The 11/8 favourite's task was made easier with three morning withdrawals from the three-mile contest and was simplified further when leading fancy Our Vinnie was brought down at the last hurdle before the field headed out on their final circuit.
Very well backed with The New One franking his form earlier in the week, supporters could have been forgiven for having one or two anxious moments in the first part of the race with his hurdling sloppier than many of his rivals.
O'Faolains Boy had set a sensible gallop in the conditions and he was still in there pitching coming down the hill but At Fishers Cross was still moving well, Sam Twiston-Davies had taken a look over his shoulder for dangers aboard African Gold and Inish Island was creeping into it.
African Gold was joined by McCoy approaching the final hurdle and the five year old couldn't repel the challenge of his year older rival who ran on strongly up the hill to provide trainer Rebecca Curtis with a second Festival success.
The winning margin was four and a half lengths with African Gold gamely repelling Inish Island for second.
McCoy was quick to reaffirm his thoughts are with amateur rider JT McNamara, who suffered a serious neck injury in a fall on Thursday and is firmly associated with the At Fishers Cross colours of owner JP McManus.
McCoy said: "It's very hard to be happy on a day like today with what happened to John Thomas McNamara and on this day last year Campbell Gillies won this race.
"You've got to enjoy these moments. I'm very pleased to ride a winner for JP as he was in tears last night over what had happened to John Thomas."
McManus said: "We're all thinking of JT and what he's going through, we feel guilty being here today, we feel we should be doing something for him.
"All our prayers are with him and hopefully they will be answered. Those jockeys, they give us so much - they give us so much pleasure, as everybody does in the game. We should be so thankful to them all.
"To Caroline (McNamara's wife) and her family, we are thinking of you all. He will remain in our thoughts and in our prayers."
Of the winner, McManus added: "He (McCoy) rode him like the best horse in the race. I thought of him as being a Pertemps horse or something like that (earlier in his career), but he's worked his way into it and on that ground he's a pretty good horse."