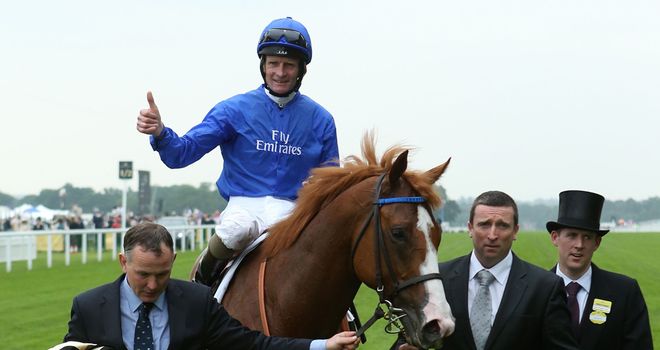 Dawn Approach: St James's Palace winner
Dawn Approach restored some lustre to his tarnished reputation with victory in an incredible finish to the St James's Palace Stakes at Royal Ascot.
Jim Bolger's 2000 Guineas hero had run deplorably when far too keen in the Investec Derby at Epsom, but was strongly-backed as the 5/4 favourite to get back on the winning trail returning to a mile just 17 days later.
Once again pulling for his head in the early stages, the three-year-old got seriously squeezed for room in the straight, in an incident which also hampered Toronado, but picked up well in the hands of Kevin Manning.
Toronado made a real race of it on his outside as the two battled all the way to the line, with Dawn Approach triumphing by just a short head.
Mars (10/1) stayed on late to deny Mshawish third.
The stewards held an enquiry into the interference but allowed the final placings to remain unaltered.
Manning said: "It was so disappointing in the Derby. It was a big blow to everybody. I've had three weeks to think about it, but I still don't have the answer.
"Once I got my head in front and Richard (Hughes, on Toronado) was fighting me, he was always holding on.
"He's a real battler. I wasn't sure I'd won, but I thought he had.
"Today he got a little bit lit up coming down the hill as any horse might, but when I asked him to quicken up he felt like the same horse he'd been in the 2000 Guineas."
Bolger revealed that he had received plenty of encouragement from within his team, when he first mooted the idea of making such a quick reappearance with Dawn Approach.
"One of my staff in particular, Pat O'Donovan, was very brave because he was happy to ride the horse out in a hackamore [a type of bridle without a bit] after Epsom for nearly a week because his mouth was so sore," he said.
"At the end of that first week, we thought Royal Ascot might be on the agenda.
"I have to say I had a lot of encouragement from my staff to let him run again. They were anxious to get back into the fray.
"I sent a text to Simon Crisford, I told him he was in for a surprise and I think he read between the lines so that when I rang him the next day and told him I wanted to go to Ascot, he said he would talk to Sheikh Mohammed."
The trainer was reluctant to name any future targets for Dawn Approach.
"It's all a little more pleasant today, I have to say," he said. "We'll play it by ear and at some stage we'll take some more chances."
Sheikh Mohammed, whose Godolphin operation owns Dawn Approach, said: "Jim bred the horse and he knows the horse very well so we decided to run him.
"That proves to me he's the best miler in the world."