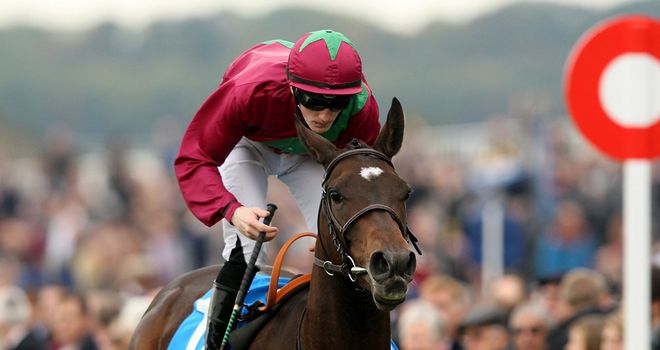 Fiesolana: Came home two lengths clear in the Challenge Stakes
Fiesolana won her fifth race of the season when taking the Dubai Challenge Stakes, the opening race on Future Champions Day at Newmarket.
Billy Lee travelled comfortably aboard the 3/1 favourite who went to the front over a furlong out and showed tremendous resolution to fend off German raider Amarillo (8-1) and win, going way, by two lengths.
Libranno (20/1) fared best of those racing up with the pace in third with Ayr Gold Cup hero Highland Colori running a solid race in fourth.
Morning favourite Darwin was a non-runner because of the rain-softened ground.
"She's done it well. They went a good gallop, She settled well, she was going easily but doesn't do a lot when she gets to the front so I bided my time, then she picked up great," said Lee.
"She doesn't do a whole lot but if they come to her, she'll find more. She's been great to me this year."
Winning trainer Willie McCreery added "That was absolutely fantastic. I'm delighted. Mares like that are hard to replace, she's beaten the lads there. She's in the December Sales and I don't think there's anything else for her after this."