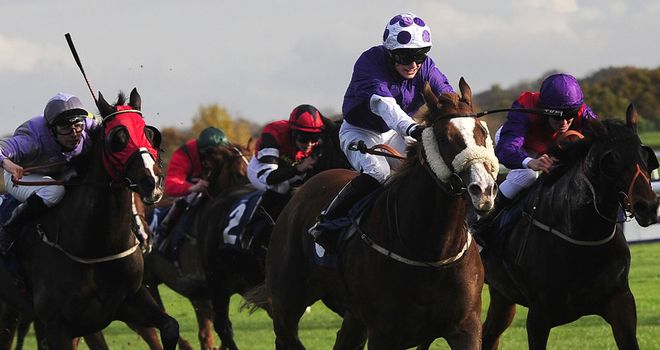 Chookie Royale: Won at Wolverhampton
Chookie Royale was not for catching in the Wolverhampton straight in the Ladbrokes Lady Wulfruna Stakes on Saturday.
The 4-1 favourite opened up a big advantage rounding the home turn and the chasing pack couldn't make any significant inroads in behind.
Dr Red Eye took them along in the early stages but he was overtaken by Chookie Royale when Tom Eaves made his race-winning move.
Hasopop (9-2) had travelled well and moved up to take second, a position he held on to well after late pressure from Bertiewhittle (5-1).
Eaves commented: "We didn't think that he stayed last time but, at the same time, we thought that we were coming back to the minimum distance for him today.
"That's why I wanted to commit him a long way out and he was idling a little bit in the last furlong. He's progressing well.
"At the end of the day, it is a Listed race and I didn't think that it would be a walk in the park but I did expect him to win.
"I think we are probably heading to Good Friday. It's up to Keith and the owners - they will put him in the right place.
"I couldn't see why he wouldn't run as well on turf. He's pretty versatile here and at Lingfield Park and I think that he has improved."
Winning trainer Keith Dalgleish said: "I am delighted with Chookie Royale - it was a decisive win.
"Last time, the race did not pan out for him and he probably didn't stay a mile and a quarter.
"His record at Wolverhampton is fantastic and it is just a shame the final isn't there. He is more than adequate at a mile.
"He got a good position today and Tom kicked early to try and nick the race, knowing that Chookie Royale would definitely stay.
"That worked out and the £150,000 mile final on Good Friday is the plan now. We will ride him the same way, prominent, and try and keep it simple. He seems to settle better that way.
"He has thrived on the All-Weather and improved in the last six months."