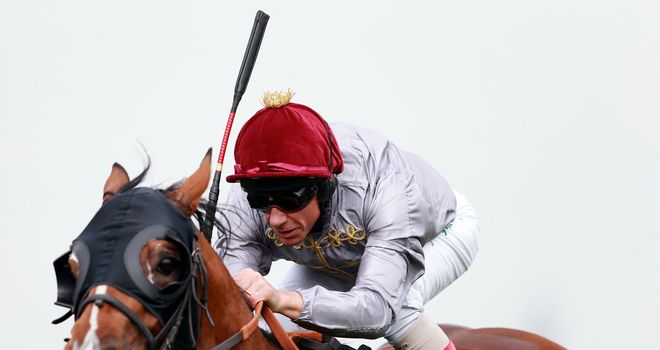 Olympic Glory and Frankie Dettori storm to Lockinge glory
Frankie Dettori claimed the 200th Group One of his distinguished career, but the first in Britain for the Qatari owners whose support he hopes will keep him at the top of the sport for years to come as Olympic Glory ran out a convincing winner of the JLT Lockinge Stakes.
Stablemate Montiridge was to the fore along with Top Notch Tonto in the early stages as the field set off at a fairly sedate pace.
But despite the ordinary fractions, Olympic Glory travelled nicely under Dettori and when Montiridge began to backpedal with a couple of furlongs to go and he cruised into the lead, quickly putting the race to bed.
The remarkable Tullius kept on well to finish second, the same place he had occupied in the Lincoln Handicap only a couple of months ago, while the Aidan O'Brien-trained Verrazano made late gains for third.
"All the way I'm thinking to myself 'There's no pace, this is going to be complicated', but it was just as easy as riding work," said Dettori, whose father Gianfranco was visiting Britain for the first time in two years in order to watch the victory.
"He goes on any ground, he's uncomplicated, he's a jockeys' dream. I'll be surprised if he's not champion miler again," was the Italian's assessment.
"I'd been stuck on 199 for about two years, so this is brilliant. A great achievement.
"I was on by far the best horse. I knew he had a good kick and that's what he did - he put the race to bed straight away.
"He's so versatile. He goes on anything. The ground with him is not an issue and that makes everybody's life easy."
In contrast, winning trainer Richard Hannon admitted that he had been failing the strain in the build-up to the race.
"I just said to the sheikh that I don't think I've enjoyed a day's racing less in my life," he told Channel 4. "It's just the pressure.
"The blinkers have just rejuvenated him.
"These good horses and big races get him [owner Sheikh Joaan Al-Thani] going - they get us all going. It's great to run these good horses as often as we can.
"He's in the Queen Anne and the mile-and-a-quarter race and Toronado's in there as well, but we'll have to see. "