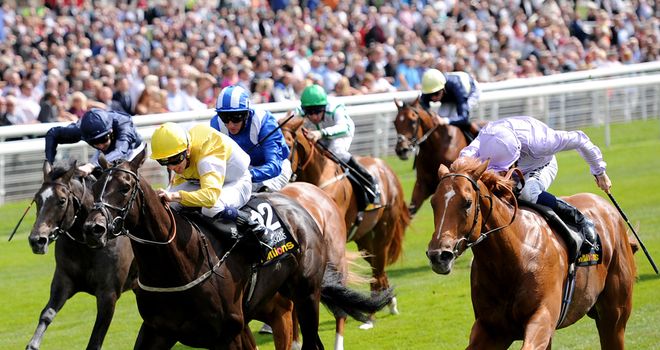 Dutch Connection ridden by William Buick (right) arrives late to nab Tocoolforschool ridden by Ben Curtis to win the Acomb Stakes.
Dutch Connection posted a new juvenile course record time when collaring Toocoolforschool to win the Tattersalls Acomb Stakes.
The likes of Basateen, Jamaica and Growl all turned up on the Knavesmire with big reputations, but it was Charlie Hills' youngster who came out on top.
For most of the last furlong there appeared to be an even bigger shock on the cards after Karl Burke's Toocoolforschool shook off Basateen, but William Buick played his hand last of all aboard the winner.
The judge called a photo-finish but Dutch Connection (16/1) beat the 33/1 chance by a head, with 6/4 favourite Basateen third.
Buick said: "It was a good race, a step up from anything he's done in the past. He tries very hard and he's uncomplicated, which is a great attribute for a two-year-old."
Hills said: "He has been improving mentally all year and I was pleased with the way he performed at Goodwood. He's come on a long way just recently.
"He's such an honest horse. He really ground it out. We won't be rushing him out on to the track too soon, we'll probably give him one more run."
Looking forward to a big week for his stable, Hills added: "It's all coming together."
Hills will now consider sending Dutch Connection to France or Newmarket. He said: "He's still a big frame of a horse and he'll get a mile, but I don't think I want to be doing that yet.
"He's in the Jean-Luc Lagardere and the Dewhurst, it'll be that sort of thing."
Burke said of the runner-up: "We thought a lot of him, that's why we came here.
"I did think he was better than the handicapper said, but he has still exceeded my expectations there.
"He's quite gawky, and perhaps he was just in front 100 yards too soon but he has run a great race and we know he belongs in this company now."