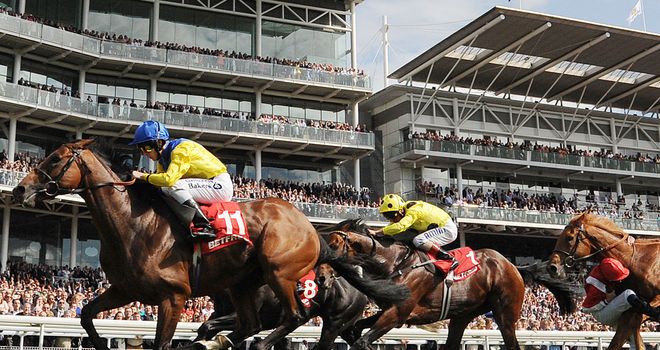 Vent de Force wins the Betfred Melrose Stakes as Joe Doyle falls from Mantou in fourth place.
Vent De Force (16/1) held off the challenge of Adventure Seeker in a dramatic renewal of the Betfred Melrose Stakes.
The well-backed Uradel took the field along in the early stages at a decent clip, but turning for home his rivals were queueing up to throw down their challenges.
Favourite Connecticut was among those to throw down their challenge, but it was Vent De Force and Richard Kingscote who ultimately prevailed by three-quarters of a length from the never-nearer Adventure Seeker (8/1).
Connecticut held on for third, but it was Kashmiri Sunset (20/1) who was handed fourth spot, much to the despair of each-way backers of Mantou, whose slipping saddle finally threw jockey Joe Doyle off almost right on the winning line.
A video replay showed that Doyle's foot had briefly touched before just before the line, meaning the young apprentice's efforts to stay on board had proved just in vain.
Happily despite having to take evasive action as the remainder galloped past him at full pelt, Doyle was none the worse and able to make his way to his feet seconds later with the help of a racecourse doctor.
Doyle said: "The horse was running a really nice race and would definitely have been in the four, but these things happen.
"About half a furlong out I felt it (the saddle) going back a bit, I thought it would be okay but just before the line it was gone and I didn't stand much of a chance beyond that.
"I knew I was close to the line and I was trying to hang on, but gravity took over then.
"That's my first fall as a professional on the Flat, it was scary and hopefully I won't have too many more of them!"
Having disappointed in the Bahrain Trophy, Vent De Force was relatively unconsidered in this big field.
"I blamed myself for running him the last day," said winning trainer Hughie Morrison.
"We nearly didn't run him on the ground, so it's a pleasant surprise. He's in the Cesarewitch, but he'd need a two-stone penalty for that."