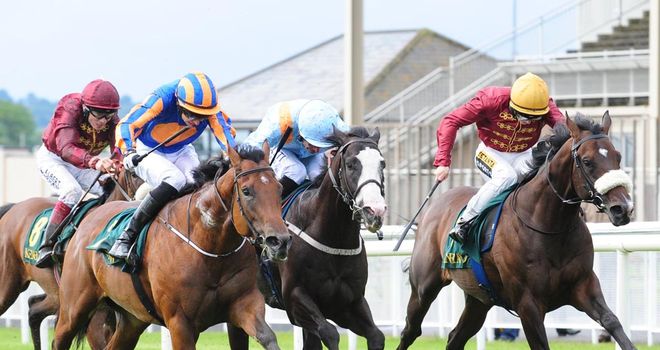 Cappella Sansevero (right) won at the Curragh
Andrea Atzeni landed a first notable success for Qatar Racing when steering Cappella Sansevero home in the Nestle Supporting Irish Autism Action Round Tower Stakes.
Atzeni is to replace Jamie Spencer as retained jockey for the increasingly influential operation in 2015 and wasted little time in showing why he has been appointed
He asked the 6-4 favourite to squeeze through a gap to make his challenge and the Ger Lyons-trained colt was in command at the line as he proved too strong for Rapid Applause.
Lyons said: "It's straightforward when you know the horse, but in fairness to Andrea I asked him to do something we hadn't done before which was to drop him in and produce him late.
"He pulls up when he gets to the front. Eddie Lynam says he is a bit like Slade Power. When he gets to the front he pricks his ears and thinks he's done enough - there is nothing ungenuine about it.
"We always liked him, but it was nice to get a fresh perspective about the horse today and Andrea said he was a lovely horse, rides like a three-year-old and will get further.
"It's all systems go for the Middle Park. The one I thought we might win was the Phoenix, but I'd gladly take the Middle Park!
"He's the right horse to go for it. He's not ground dependent. He idled in front a bit in the Phoenix and past the post he was in front again. That might have been the one that got away.
"The only hard race he's had was the Coventry when he got a smack for the first time. I'm not saying he would have beat the winner, but he would have been a better second.
"Then the trainer got a brain freeze and went for the Railway instead of waiting for the Anglesey as was the original plan.
"If you take the Railway out his record is as good as there is around."