Challenge Cup: Stroll for Wakefield Trinity Wildcats
Lee Smith scored 26 points as Wakefield eased into round five of the Challenge Cup with a 66-6 win over Hemel Stags.
Last Updated: 20/04/13 8:55pm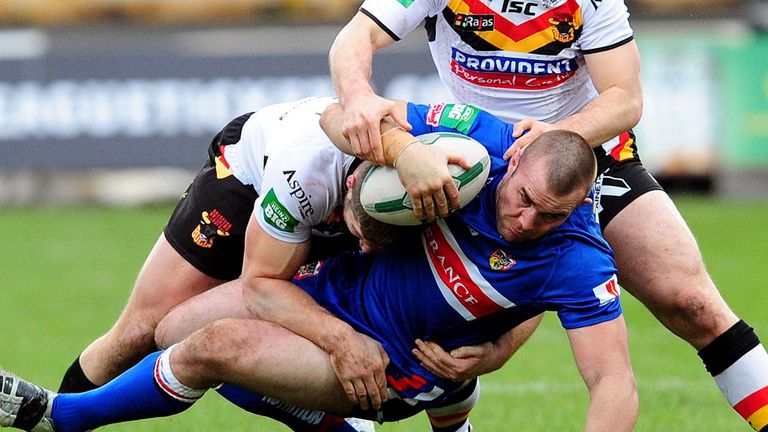 Smith, new signing Jon Molloy and Liam Kay each grabbed two tries, while five other players touched down for the Super League side.
Aaron Small claimed a spectacular breakaway try for Hemel, who are still in the infancy of their semi-professional existence but made life difficult at times for their more illustrious opponents.
The Stags, who forfeited home advantage to play in the game's heartland in front of a big crowd, started brightly and held their own for 10 minutes until Kay, with just one previous first-team appearance under his belt, broke through the middle from halfway and sent Molloy over for his maiden try for the Wildcats.
Matty Wildie crossed from dummy half shortly afterwards, then Justin Poore ran on to a Wildie pass to go in beside the posts.
The biggest cheer of the half went up when an errant Smith pass was juggled into the grasp of Small, who raced 60 metres to score for the Hertfordshire club, with Mike Bishay converting.
Normal service was resumed on the half hour when Frankie Mariano strode powerfully through the visitors' back line, thumping fullback Mike Forgham out of the way en-route to try number four for Wakefield.
The second half began with a thunderous hit from teenager Ben Shulver which clattered Bishay to the ground and left the diminutive halfback dazed for several minutes.
Smith set the scoreboard in motion again by scrambling over after Mariano had diverted the attention of four tacklers.
Hemel defended three straight sets on their line before Kay capitalised on an overlap to claim his first Wildcats try just before the hour.
Molloy, Smith and Kay claimed their second tries, Kyle Trout joined the scorers with a fine solo effort and Shulver notched a debut try as Trinity hit five more tries in nine minutes against the now visibly tiring Stags.